Posted on Oct 22 2014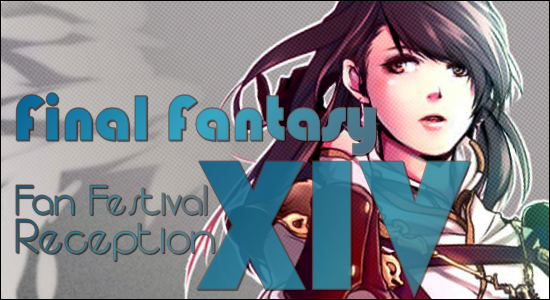 Square Enix announced four months ago that they would be holding a Fan Festival in several locations for their two million users. Among the locations was Las Vegas, NV with London and Japan following behind, and our very own Kanashimi was able to attend the gathering, which celebrated a game that's gone through a total rebirth since its original release.
---
I arrived at 5:30 PM on Friday, October 17th, despite the concern that registration lines were lasting hours. I assumed I was in the clear with my VIP ticket in hand, but there was still a bit of dread lingering from the photos being posted on Reddit and Final Fantasy XIV's official forums. As soon as I arrived I was ushered into a very short line by a crew member adorned in red. That was a trending theme through the weekend as staff was very easy to find at any time. Their t-shirt was individual enough considering the one given to players was black with a huge display of, "Warrior Of Light" on the back.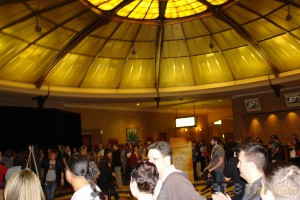 Before getting such a prize however, there was a large cheer that began subtly and as a wave moved through the crowd. Sadly, not being the tallest woman alive, I wasn't sure what he hubbub was about until I spotted bright auburn tresses between the other people in line. I knew then that Naoki Yoshida, favorably known by the community as Yoshi-P, and the rest of the development team were walking by. I was able to take a blind shot over the crowd in hopes of getting a sneak-peek of them, assuming they would be far too busy to really meet with people among the weekend, but that was a concern that was swiftly squashed through my adventure.
As the tidal wave of screams passed by, but there was a separate line to retrieve my tote bag, which included the previously mentioned shirt except mine was donned with glitter and gold to display my VIP claim. Since ticket sales were limited, I knew my bag was safe, and opted instead to find the area where signings were to take place. I knew Saturday and Sunday would be busy with events, and the wisest decision was to get this out of the way. As I pulled into line I brought out my newly purchased Final Fantasy XIV: A Realm Reborn Eorzea Collection 2014 Mirage Rhythm & Housing Catalog, since, like many players, I didn't have a physical copy of the game. My copies for PlayStation 3, PlayStation 4, and PC are all digital, which is a travesty to a collector like me, but those gosh darn sales!
I noticed immediately in line how many people already had groups, but I was on my own to experience the event, or at least I thought. Waiting for my turn to get my item signed, the couple in front of me, whom I'll refer to as J-A and J-B, struck up a conversation with me. I thought of it initially as just pleasantries, as I've made many friends in line only to never hear from them again after the wait is over. We discussed about which servers we were on, what events we were looking forward to, and where we came from. It wasn't even that lengthy of an interval and yet the topics kept changing. Our feverish talk caught the ear of someone ahead of us who asked if they could see my book to which I obliged. Suddenly, I had swiftly made friends with more people than I expected to in a weekend, much less in fifteen minutes. This is where I began to see the differences of a normal pop-culture, anime, or comic convention and one that focused on a sole subject. Before our groups were separated, we exchanged contact and agreed to meet up the next day before the doors opened.
My group was led to the next area where the developers were waiting. We were guided in a back-like inside alleyway where a few of us made jokes about why we weren't seeing anyone emerge until we reached a dressing room of sorts. Sitting from right to left was Masayoshi Soken, who is known for composing most of the music for Final Fantasy XIV: A Realm Reborn and also a lover of knee-socks as I was about to discover. Next to him was Mitsutoshi Gondai, the battle director for the game, then Toshio "Foxclon" Murouchi who is a Senior Community Director, Michael-Christopher "Fernehalwes" Koji Fox who works in localization and is apparently one of the most comedic singers of the team, and finally Yoshi-P.
Initially when we entered, I assumed, like many foreign autograph events, any exchanges would be quiet and typically polite. As such, to ease any tension I had any formalities prepared such as the culturally appropriate bow and Japanese introduction. As I approached Soken with my book, he spotted my vlog camera and wave energetically, "Hello!" His liveliness was surprising, but wonderfully welcome. Despite being caught off guard, I did my best to introduce myself properly and he immediately responded, "Jackie-san! Yes, yes, okay!" As we discussed where he would sign, he happily filled in a section of the signature citing because I had cool socks, which made me laugh. I was unaware he was a fan; it makes me wonder if he likes the socks themselves or the skin showing between a skirt and sock. One might never know!

A small video of some of the funny interactions I had during the signing due to popular demand. This footage was initially for my own keepsake, but I still hope you enjoy!
Gondai, or Mr. G as he asked people to call him, was a little more reserved. I would discover later that he very rarely interacts with fans at this level and so he was certainly trying his best. He was cordial and willing to laugh, which made it better. Foxclon was also very polite, but Soken had to point out my socks to him, which just got everyone chuckling. Koji Fox, being native to English, was obviously willing to chat. My knowledge of the game was limited, and I was unaware at this point how much work he had done on the lore, but his insight and passion I uncovered was limitless. He informed me that this was the first catalog they had signed, which meant I got a personal honor. Yoshi-P greeted me with a firm handshake and was very eager to interact. He was often telling the others to stand quickly for group pictures. Since I had my vlogging camera, I didn't want to be selfish and asked if he would be alright with a solo picture to which he agreed readily. I left the room feeling like I had made an actual connection with them. I was a little blind-sided by their readiness to communicate despite not knowing the language fully. In my previous experiences, a foreign guest might prefer to be more quiet as not to mess up or offend in some way. A lot that had occurred thus far was lending that this event would be a new experience even for myself, someone that attends close to twenty conventions per year, and oversees a crew that goes on average to forty.
While I did eventually get my tote bag, full with random temporary tattoos, a branded power charger, and my schedule, I still felt it was imperative to go to the reception. I didn't expect much for me there when I saw it was at a pool, and a good majority of people already had their group or were drinking enthusiastically because that's a thing you do in Vegas. As someone born and raised in the area, who doesn't drink or smoke or even gamble, this was a rather typical club-like atmosphere for me. I decided to take a few pictures and circle around a few times, finding one group of fellow Siren players like myself before departing early. I knew the next day was going to be taxing considering I would be waking at 6:30 AM and heading home around 11 PM or so.
Make sure to tune in tomorrow for all the announcements, concert footage, and more!