Posted on Feb 15 2014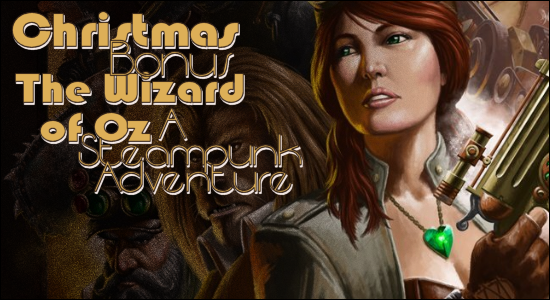 In an effort to help make you more literate, Christmas is back with another book review! Tis time we'll take a look at an audiobook read by one of the guests we've had one the show!
———————————————————————————————–
"There is no yellow brick road here. No emerald city. No lollipop guild. This is the Australis Penal Colony, a continent sized prison referred to the world over as the Outcast Zone. Built to contain the world's most dangerous criminals, OZ ended up the dumping ground for everything polite society deemed undesirable. From inside this place, a garbled message proves Dorothy's father is still alive, trapped in a prison with only one way in and no way out."
Audiobooks are a great way to enjoy reading without actually having to hold a book. Almost any popular title you can think of has been translated into audio form, and some are even read by your favorite voice actors like Michele Knotz, Todd Haberkorn or Amanda C. Miller. Amanda actually emailed me a while back and asked if we could give away a copy of this audiobook she narrated, and the best solution I could come up with was to listen for myself, give it a review and let you, the fans, comment for a chance to win. That's what's happening now by the way.
Before we get into the review, I'm gonna let you guys in on a little secret. I've never really liked the Wizard of Oz. I can't say I've even seen the whole movie despite how popular it is. I know all the basics: a girl named Dorothy gets swept away to magical land called Oz where she is accompanied by three dysfunctional companies to meet a wizard who can send her home, all the while overcoming their own personal flaws. This story is not like that story. Steampunk Oz is about a little girl, also named Dorothy, who has her father taken away from her and trapped on a county sized prison with no way out. In order to rescue him, Dorothy must make her way into Oz and find help along the way. I really like the parallels that Steampunk Oz draws from the original concept, while still maintaining a unique feel. Instead of a tin man, scarecrow and cowardly lion, this Dorothy is accompanied by two robots and a half lion, half boy hybrid. It also draws on the idea of the Wicked Witch of the West, but instead of a witch there is a Marshall plotting to take over all of Oz for herself. While I may find the classic Wizard of Oz too dull to hold my attention, Steampunk Oz was a completely unique and enjoyable experience that ends on a huge cliffhanger that I'll need to read/listen to the sequel to find out how everything plays out.
The tricky thing about audiobooks is that only one person reads them. This means that not only does the narrator have to read the whole book, they have to come up with slightly unique voices or accents for each character that appears. This is one of the reason Amanda C. Miller does so well in keeping the listener engaged in the story because as a voice actor, it's her job to use her voice to entertain. While you can also get a text version of audiobooks, listening is more useful during long trips to conventions or when you're working overnight shifts and not many people are around. With some audiobooks, like Game of Thrones for instance, the narration can tend to drag on depending on who is doing the reading. Amanda does a great job working on video games like Fire Emblem: Awakening and Danganronpa, so I was already looking forward to hearing the narration she brought to the story. Even if I had never heard her work before, I think I still would have been just as engaged as I was listening. Every character manages to sound different and unique, even the male voices, and none of the moments in the story ever sounded flat or bored. she also does the narration for the sequel that I am very much looking forward to listening to as well.
I don't want to give too much more away about the plot of Steampunk Oz, since so much can already be inferred from the fact that it's loosely based of the Wizard of Oz. Overall, I would say that it's something both fans of the original and people like me who have never cared for the movie will enjoy. The audiobook clocks in at just over seven hours long, but it's broken up into easy to digest chapters if you have shorter commutes to work or something like that. While the audiobook costs $19.95 on Audible, one lucky person who comments on this review with what they think of the concept of Oz being transformed into a Steampunk adventure is like. The winner will be chosen at random on Saturday, February 22 so make sure you don't forget to leave a comment!
———————————————————————————————–
You can purchase Steampunk Oz on Audible here.