Posted on Nov 07 2013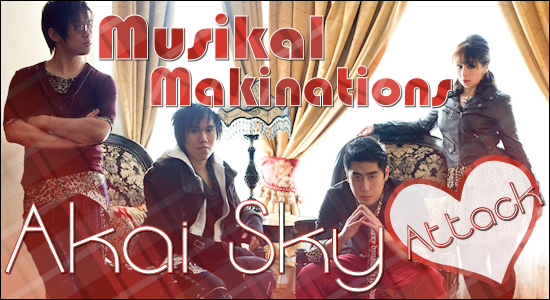 Greetings, denizens of The Fan!
This month, Musikal Makinations returns home from Youmacon 2013 just in time to hand in this months review! You say I should hire a personal assistant to stay better organized!? You're probably right!
Off we go to the review!
The Fan had the privilege of interviewing Akai Sky several months ago.
I thought to myself, "Why not complement that great interview with a review of Akai Sky's latest EP?" Logical, yes? YOU WILL SAY YES!
Akai Sky doesn't fit the mold of a typical J-rock band. In fact, they are quite out of the ordinary in that respect. Take four American musicians, combine them with an appreciation for J-rock, J-pop and heavy alternative American rock music, then add Japanese lyrics.
No, you did not just misread the previous sentence!
Sugar, spice and everything nice may be what little girls are made of (or is that The Powerpuff Girls?)
However, Akai Sky is pure rock n' roll with a classic sound that is refreshing. Though many of their songs are in Japanese, they also sing in English as well. They truly are an American J-rock band!
Akai Sky is a four piece band that made its start in 2005 founded by lead guitarist Hayashi and bassist Umi. Vocalist and rhythm guitarist Ryuusei and drummer Jinra completed the formation of the band in 2008.

From left to right: Jinra (dr.), Hayashi (gt.), Ryuusei (voc., gt.), Umi (bass)
Since 2005, Akai Sky has performed at almost 60 events ranging from conventions to venues all over the U.S. Their next live performance will be at RAMA Presents: Rockfever on November 9, 2013, 3pm at 111 Minna Gallery in San Francisco.
Akai Sky released their first EP, Tokyo Beat Riot on May 24, 2010 (which had a 2nd pressing on July 20 2012). In 2012 Akai Sky contributed to a 20th anniversary tribute album for L'Arc~En~Ciel called Vivid Covers.
This month I'll be reviewing their most recent EP, Heart, Attack!.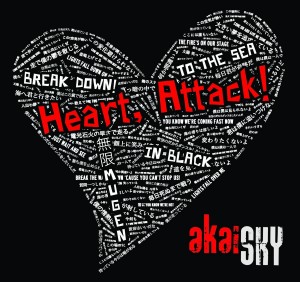 Heart, Attack!, released March 27, 2013
Tracklist:
1) Break Down
Wow, just WOW! This song made me jump up and grab my bass. Great energy right from the get go. Love the mix of Japanese and English lyrics. Ryuusei's voice is strong and clear, staying in his range. Hayashi's solos are crisp and powerful, complemented well by Ryuusei's rhythm guitar. Jinra's drums keep the upbeat song flowing at a good pace, though at times it seemed like the cymbals and hi-hats were crashing a bit too loud. Umi's bass play was just awesome. YES, I appreciate good bass play! Loved, loved the rhythm and the harmonization throughout the song. Great way to kick off the EP. Outside of the sometimes over-crashy cymbals and hi-hat play, the song was nearly perfect. Definitely adding this song to my bass playlist. (9/10)
2) In Black
In Black changes up the pace a bit. It's not as driving as Breakdown, but by no means is it ballad soft or slow. We get to hear Umi's bass much more as she takes her bass into higher notes and is not impeded by Ryuusei's and Hayashi's guitar play. Gives the song a more mellow feel. Almost felt like I was listening to a Nada Surf song…which is a GOOD thing! It was a joy to hear Hayashi's solo complemented well by Umi's bass. Jinra kept a good pace on drums and this time volume was much better on cymbals and hi-hats. Ryuusei's vocals were strong throughout. A nice change up from Break Down without losing too much steam. (9/10)
3) To The Sea
To The Sea completely changes up the pace. It's a much slower and softer song compared to the first two tracks. At least, it starts out that way with Ryuusei's voice holding well and subdued guitar, drum, and bass tracks. The song begins to level up a bit, but not in a way to ruin the mood being set. Hayashi's solo was really good, and, at around the 3 minute mark, Ryuusei joining in was just awesome. I love how they harmonize their guitars. Umi and Jinra keep the pace and harmony going well, nothing out of the ordinary in terms of what they play. But the song is still pleasant to listen to. Soothing, but not coma inducing! (8/10)
4) Mugen
Mugen starts out slow, with acoustic guitar play. But that is soon blown out of the water as the song picks up pace leading into Ryuusei's vocals. Mugen has a Gundam-theme-like feel to it. In fact, it could pass as an OP for one. But, oh, at around the 2 minute mark, I am beyond floored with Umi's bass solo with some raspy vocals from Ryuusei, which leads back into the core of the song. Great piece of editing and mixing. Really worked well. And then Hayashi's guitar solo faded out just took the song to a new level of cool. Jinra's drums kept a good pace again, and also did not overpower the gem of solos that we got to hear. Mugen was a really good song. You don't often get to hear bass solos, especially in J-rock. This song delivered. (9/10)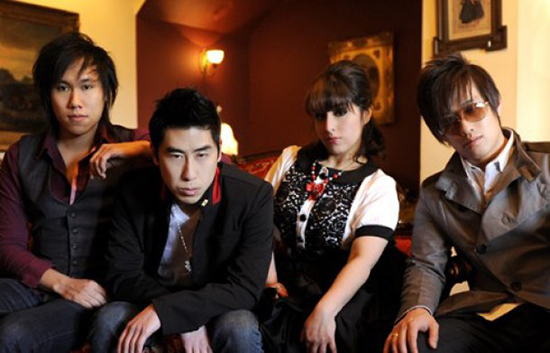 Overall, I give Akai Sky's Heart, Attack! EP a solid 9/10. Their sophmore effort clearly shows that Akai Sky is heading in the right direction. Ryuusei, Hayashi, Umi and Jinra have all improved over the first EP. Break Down is definitely my favorite song from the EP, with Mugen a sentimental second because of Umi's bass solo. I'm looking forward to what Akai Sky does next. I just hope we don't have to wait 3 years for the next EP!
Watching some of their live convention and venue footage, I hope to be able to catch a live show someday. It would be nice to see them make a trip over to the Midwest or East coast for an event! We don't bite here! Ok, maybe the vampire cat-girls might!
To find out more about Akai Sky, follow them on social media and get their music and merchandise through the following sites:
Before ending, I must mention one really cool thing that Akai Sky does for its fans. Each month they pick a fan from their website who becomes the Skyer of the month. The Skyer of the month has their picture posted on Akai Sky's website and they also post up a video of a song dedicated to the Skyer of the month on Akai Sky's YouTube page. Such a cool thing to do to interact with their fans! Head over to their website and maybe you can be serenaded via YouTube video, courtesy of Akai Sky!
Well, that's all for this months article! Thanks for taking the time to read it. As always, please post your comments, suggestions, gripes, etc. so I can fine tune my reviews!
Stay tuned for next month's review!
Until then, stay tuned to 91.8 The Fan, where you get Everything You Want, and Nothing You Don't!