Posted on Nov 09 2013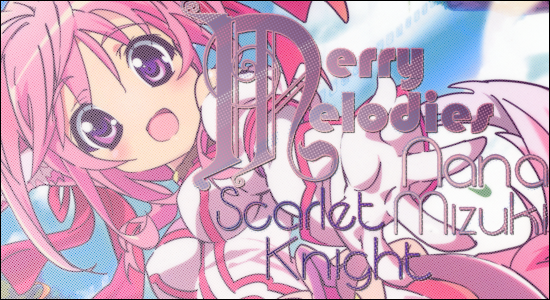 When an alternate world needs a hero to summon, Merry Melodies will be that hero!
———————————————————————————————–
Another blast from the past, Dog Days ran during the Spring 2011 anime season. I don't know how many people actually watched this show because I don't really hear it talked about that often. It has a second season that I haven't checked out yet, but I know both seasons are on Crunchyroll and both have OPs done by Nan Mizuki. Dog Days takes my favorite genre of anime and gives it a little twist. A hero summoned from another world to help fight a battle, except the battles aren't life or death struggles. They're more like competitions to see which country gets to rule. Also everyone except the hero has dog/cat ears.
Anyone who listens to the radio should know who Nana Mizuki is. She does tons of songs for anime, including Blood-C, Symphogear and the collaboration she did with TM Revolution for Valvrave. She's also a pretty awesome voice actress, showing up in even more series than she sings for and she usually ends up as a main character. I can't think of any song she's done that I dislike, especially Scarlet Knight. It's a high energy song that she's well known for to get you pumped up for the show
While I haven't gotten around to season 2 yet, I really enjoyed Dog Days. It reminds me a lot of two of my other favorite shows: MÄR and Kiba. For some reason I just love a story where a guy gets sent to another world and becomes a super awesome hero. One of the other things that's neat about Dog Days that gets shown off in the OP is that the main character uses a staff for a weapon instead of a blade like everyone else in the series. It's one of the reasons I like MÄR so much, it's a similar situation in terms of unique combat. To be honest though, I feel like the animation could show off more of the action and less of the side characters, but if that's the only shortcoming this OP has, then I would say it's pretty great overall.
———————————————————————————————–
You can watch Dog Days over on Crunchyroll. While you're at it, use our new Anime Directory to help you watch other stuff!