Posted on Oct 05 2013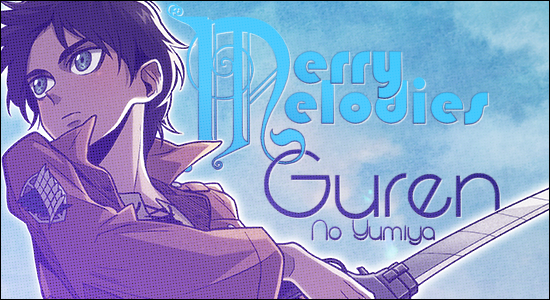 Time to join the fight against titans! The only way to get pumped is with another Merry Melodies!
———————————————————————————————–
Probably the biggest hit series in a while, Attack on Titan swept the spring and summer seasons by storm. One of the big factors for that has to be this opening. When you combine that with a series that has tons of action and giant-fighting, how can you possibly go wrong? Attack on Titan is actually a decent counterpart to Free!, our last Merry Melodies feature. While Free! is all about bright colors and happy swimming fun times, Attack on Titan is more gritty, dark and bloody. And Tumblr loves them both.
While you may not have heard of Linked Horizon before, they've actually been making music for over 10 years now. All that experience definitely shows in this song as powerful as Guren no Yumiya. This song actually pulls off one of my favorite things that few Japanese songs do often: it mixes in a foreign language to make the song hit harder. Even if it's just the opening line, "Sie sind das Essen und wir sind die Jäger!" is actually German and loosely translates to "They are the prey and we are the hunters," which perfectly fits the series.
I haven't seen all of Titan yet. My name is Christmas, have we met before? From what I have seen though, I can say that the OP fits right into my standards of being really good. It has plenty of fast paced action, showing off the main characters while not being too spoiler heavy. I'd definitely have to put it near perfection as far as openings go, to the point of apparently being able to mash with anything. I haven't seen this many MADs on YouTube since 2007, and nothing is safe from Titan's wrath. If you can think of it, it's probably been done already. And if whatever you thought of hasn't been done yet, then you should go fix that.
———————————————————————————————–
You can watch Attack on Titan over on Crunchyroll. While you're at it, use our new Anime Directory to help you watch other stuff!