Posted on Sep 01 2013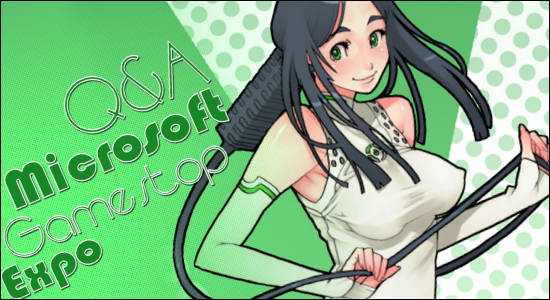 After Sony's impressive conference, Microsoft took the stage, almost immediately introducing Major Nelson (Larry Hyrb) to the stage; they only had half an hour to work with, so they moved along quickly.
Due to their small timeframe, and due to the fact that there would be plenty of playable demos on the show floor, Microsoft had decided to run a purely Q&A session in lieu of a prepared conference with trailers.
The questions took no time getting to the hard questions that many consumers have wanted to ask Microsoft. The first question asked was regarding the Kinect camera, asking if it would be active at all times. Hyrb responded that no, the camera is able to be turned off completely, adding jokingly that no one at Microsoft is interested in seeing you all the time, anyway.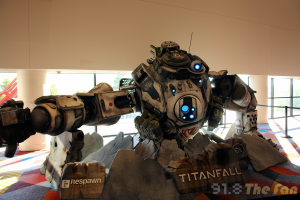 Next up was the question of how Microsoft planned to outdo the PlayStation 4 this holiday season. Hyrb said that the entire competition was going to come down to having great games, and that he believes that great launch titles such as Titanfall will set them apart.
Following came a slew of questions regarding Call of Duty. Having little or no admittable knowledge of what Infinity Ward was doing behind closed doors, Hyrb was not able to confirm "cross-generation" clan systems (Having clans be able to have members on both Xbox 360 and Xbox One), instead saying that it was a challenge that was purely up to Infinity Ward. When asked if Call of Duty: Ghosts would have dedicated servers available, he said yes, reminding the audience that the feature had been announced a week or two prior.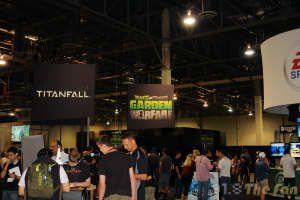 In regards to unique experiences for indie developers, he confirmed that indie devs would have access to the achievement system and Xbox Live, differing from the Xbox 360's indie program, which had no achievement access and limited access to Live. He also confirmed that indie developers would not be charged certification fees, which is a practice that many indie developers, such as Phil Fish (Fez), have recently been very vocal about.
On the subject of backwards compatibility, Major restated what Microsoft has been saying since the console has been announced: there will be no backwards compatibility with the current generation's games (including Xbox Live Arcade games), although Gamertags will be able to be used across the two platforms. He did however mention that it would be up to developers if they wanted to port their old games to the Xbox One.
When asked why the Kinect would be included in all Xbox One packages, despite not being required to have it active, Hyrb, in short, responded that it makes developers more likely to use it if they know for a fact that all Xbox One owners have one, and will be able to use it in more subtle ways. He noted that the new Kinect is "lightyears ahead" of the old model from the 360, and mentioned features such as the machine being able to recognized who is using a controller at any given time to change settings accordingly.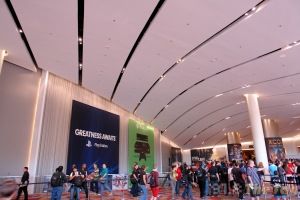 When asked about the problem of room size that plagued Kinect users with limited space, Hyrb mentioned that the Kinect can be used as little as three feet away with no issues. He highlighted features such as 1080p Skype support and the Kinect's ability to read a user's pulse.
Hyrb then answered a few questions from the crowd about accessories. He confirmed that the Xbox One can play Blu-ray discs, and that he's been using that feature personally. He also confirmed that, in addition to the 500GB hard drive built into the Xbox One, users will be able to store data on USB hard drives, but not at launch. Regarding headsets, Major Nelson said that the old accessories simply can't handle the audio quality of Xbox One's voice chat, but that they are looking into solutions for people who already own headsets.
On the matter of the hardware itself, Hyrb confirmed that having a reliable console is a top concern this time around. The team is trying their best to avoid another red-ring catastrophe, and claim that the models they are currently running have been operating relatively cool most of the time.
There were controversial questions throughout the conference. Though Major was unfamiliar with a press release mentioned regarding Microsoft agreeing to share warrant information with the government, he said that he believes that Microsoft values privacy. He did, however, respond to complaints about Microsoft "flip-flopping" on their policies,
We're happy that people are happy. The beauty of this, with software, is that we can certainly change, develop, and add things on for the future just like we did with Xbox 360. We have not deviated from our vision. We still want to go forward and give you, the gamers, the most flexible, most powerful system we can and allow you to game the way you want to game with the games you want to game with. So, it's kind of a double-edged sword since we certainly have plenty of features we're excited about. We're just gonna put them over here, we're gonna ship the console, we're gonna go look at this list, and we're gonna add them back in. That's the beauty of Xbox Live.
When a question was asked about how Don Mattrick leaving the company for Zynga would affect the Xbox brand, he said that there are plenty of people working to keep the brand healthy regardless of who leaves, such as Phil Spencer.
Finally, Hyrb answered a slew of questions about the Xbox Live service. He stated that the Xbox One has a new friends list feature similar to twitter, where someone can have unlimited followers. There is, however, a limit of 1000 on how many people one person can follow. He also mentioned that, although the Family Gold Plan (which allowed one Gold membership to be purchased for multiple accounts) would be leaving, all accounts on a console would share one gold subscription, rendering the Family Plan obsolete. He finished by confirming that there are no plans to change the cost of an Xbox Live Gold subscription, and that the Xbox team is looking into continuing the Free Games for Gold feature into the next generation.