Posted on Sep 11 2012

September 7, 2012 – Japanese all-girl visual kei band Exist†Trace performed a special concert on August 19 for their Vanguard official fan community, entitled "Vanguard Night Vol.2 -Long waited, IGU Festival on Summer Night-".
The second gathering of exist†trace fans at Shimokitazawa's Club Mosaic had the theme of "a fun and lively summer festival."
The special event was produced entirely by vocalist Jyou, who chose the theme, costumes, and set list, surprising the fans with many songs that had not been performed live for a long time.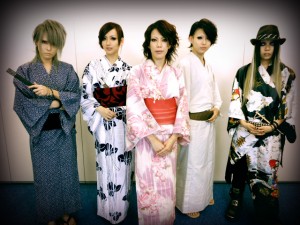 A contest event, "You are the leading part! 'You' feat. Exist†Trace," was held on that day, challenging fans to sing exist†trace songs. The winner of the contest sang the first encore song, "Wonderland," on stage along with the band.
To say thank you to the fans for accepting the singing challenge, the band performed a special cover song, "Sakaba De Dabada" by 80's super male idol Kenji Sawada. Jyou dressed like Sawada to complete the effect.
Set List
Vanguard
Judea
MC
Daybreak
Resonance
Be Naked
Hana No Sakanai Machi
Knife
MC
Mirror
Water
Sacrifice Baby
MC
Ginger
Kiss In The Dark
MC
Forward
Honey
Signal
MC Encore
Wonderland (with "Anata" contest winner)
MC
Sakaba De Dabada (Kenji Sawada cover)
MC
Orleans No Shoujo
Owari No Nai Sekai
Links
Exist†Trace Official Website
Exist†Trace Official Twitter
Exist†Trace On USA iTunes
Profile
Formed in 2003, exist†trace is one of Japan's first all-female Visual Kei rock bands.
Along with multiple tours of Japan, exist†trace has performed twice in Europe, making appearances in Berlin, Helsinki, Moscow, Paris, London, and Barcelona. In 2009, the band performed at the 2-day V-Rock Festival in Chiba, Japan.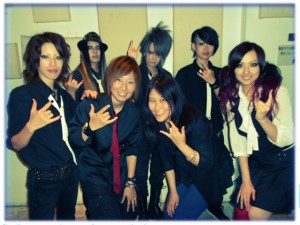 In November 2010, Exist†Trace released their album "Twin Gate" in Japan and America, followed by their first American live show for 3000 fans at Sakura-Con in Seattle in April 2011. In June of the same year, they made their major-label debut with the "True" EP on Tokuma Japan, and released a second 5-song EP "The Last Daybreak" in October 2011.
In March 2012, Exist†Trace performed their first live-house tour of America, playing New York City, Boston, Philadelphia, Pittsburgh (Hard Rock Cafe), and a special 1000-person show at Japanese culture event Tekkoshocon. Their first full-length album entitled "Virgin" was released May 23, 2012, including the song "I feel you," which was selected as the main theme for Nadeshiko Japan's 2012 guidebook DVD.
In June, 2012, over 27,000 viewers from around the world tuned in to Nico Nico Douga and American-based counterpart NicoNico.com to watch exist†trace's live-show event "Just Like a Virgin" from Tokyo's renowned live house Shibuya O-WEST.