Posted on Sep 14 2012

Los Angeles, CA, September 11, 2012 – Leading publisher of Japanese independent games, Rockin' Android, announced today that their 2D exploration-based platformer, Bunny Must Die! Chelsea and the 7 Devils, will be released for PC on October 2nd via digital distributors Desura and Gamersgate for $9.99 USD. Other distributors may follow. A Steam release of the game is being pursued via a Steam Greenlight page and will only be allowed on Steam if it receives enough positive votes. Rockin' Android is actively seeking any and all support and encourages supporters to spread the word.
"If it were up to us, Bunny Must Die! would already be on Steam.", says Adam Milecki, Editor/ Media Relations for Rockin' Android. "It's certainly of the caliber you've come to expect from Steam releases, and yet it stands apart from the crowd as its own delightfully unique experience. Unfortunately, Greenlight is the only way we can bring Bunny Must Die! to Steam, and we need every bit of support we can get. Please spread the word!"
Rockin' Android's release of Bunny Must Die! Chelsea and the 7 Devils will feature full translation, optional fully remixed soundtrack by Woofle of Gundemonium Collection fame, and optional graphical tweaks. The game is still planned for release at a later date on consoles.
More About Bunny Must Die! Chelsea And The 7 Devils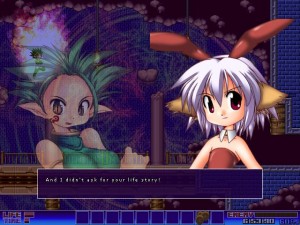 In Bunny Must Die! Chelsea and the 7 Devils, the hilariously over-the-top action-platformer game, Bunny must brave the depths of the Devils' Labyrinth and overcome the powerful 7 Devils. Battle through a large, connected map filled with unique enemies, traps, and puzzles. Use magical items like the Sylph Shooter and the Hyper Heels to give Bunny ultimate power. Manipulate the fabric of time to solve puzzles and survive. Only with your assistance can she brave this dangerous maze and defeat the 7 Devils…
For more information, visit the Bunny Must Die! Chelsea and the 7 Devils or Rockin' Android official site: www.bunnymustdie.com
About Rockin' Android, Inc.
Headquartered in Los Angeles, CA, Rockin' Android is a recently formed electronic entertainment publisher specializing in independent Japanese (or "doujin") videogames and online downloadable games that feature a combination of highly stylized anime visuals and stunning character designs with easy-to-follow interface controls. Rockin' Android launched in 2008 with the PC game release titled Suguri Perfect Edition and has gone on to release titles such as Gundemonium Collection and Crescent Pale Mist. Rockin' Android has released titles for both PC and PlayStation 3 via PlayStation Network with additional platform support planned. More information can be found at www.rockinandroid.com.