Posted on Sep 11 2012

Santa Monica, CA (September 10, 2012) – Aniplex of America has just released the product details on the upcoming release of Bakemonogatari. The critically acclaimed series directed by Madoka Magica Director Akiyuki Shinbou follows the story of a high school student named Koyomi Araragi and his encounters with girls who have apparition-related issues. The long-awaited release of this hit anime will be in a Limited Edition Blu-Ray Box Set on November 20th, 2012 and will be available through anime distributor RightStuf.com and official retailers (http://aniplexusa.com/retailers/).
This deluxe Blu-ray Box Set features the entire series (15 TV episodes) on 6 Blu-ray discs, a deluxe 36-page booklet (production designs and Ending Card Illustrations and more!), audio commentary tracks by main characters, textless openings and endings, and more! All of the discs and bonus materials will be packaged inside a study rigid box featuring original illustration by Akio Watanabe (character design).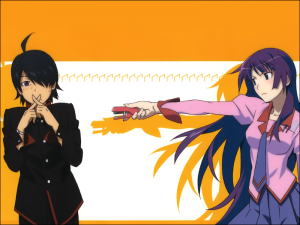 In addition, fans will be happy to know that Bakemonogatari will also be available streaming online through Crunchyroll.com and Hulu.com. The first episode of the original TV broadcast will premiere on September 14th with new episodes added each week.
"We have received numerous requests and input from the fans in North America and we are very excited to finally be able to answer these loyal fans of ours by bringing Bakemonogatari here in the US. We are certain that everyone will be pleased with this release." says Hideki Goto, the president of Animation Business of Aniplex of America. "The Bakemonogatari Limited Edition Blu-ray Box Set release is just another example of how we strive to bring the best experience while providing the fans highest quality of releases." This release is a US and Canada Exclusive and available while supplies last.
Bakemonogatari Limited Edition Blu-ray Box Set Features
Video: 16:9 HD Widescreen / 1920×1080p / MPEG-4 AVC
Audio: Japanese dialog / Linear PCM Stereo 48KHz/16bit
Subtitles: English
Includes 6 Blu-ray discs, Total length of more than 350 minutes!
Character audio commentary included (with optional subtitles)
Bonus Videos: Textless Openings and Endings, TV version previews
3 Blu-ray cases inside Rigid Box with Key art
Double Sided Blu-ray case wrap featuring main characters
36-page Deluxe Booklet (production designs and Ending Card Illustrations and more!)
The Bakemonogatari Limited Edition Blu-ray Box Set can be pre-ordered and purchased at: Rightstuf.com
For detailed information on the Bakemonogatari Limited Edition Blu-ray Box Set and to view the official trailer, visit: www.AniplexUSA.com/bakemonogatari
About Bakemonogatari
"Bakemonogatari" (translated "Ghost Story") was written by Nisioisin, one of the most popular writers in Japan, and the series consists of 5 different stories. Animation production was done at studio Shaft (Puella Magi Madoka Magica) and directed by Akiyuki Shimbou (Director of Puella Magi Madoka Magica).
Thanks to Meme Oshino, Koyomi Araragi, a high school student, is able to remain a human after coming across a female vampire…
However, since the incident, Koyomi seems to meet girls who have an apparition-related issue. Hitagi Senjyogahara doesn't weigh anything, Suruga Kanbaru's right arm becomes like that of a monkey's, and a young girl, Mayoi, cannot find her way home no matter how many times she tries. Koyomi, a Mr. Nice Guy, ends up helping each and every girl solve her problem with the help of Meme Oshino.
Staff
Original Story: Nisioisin "Bakemonogatari" (Kodansha Box)
Director: Akiyuki Shimbou
Screenplay: Fuyashi Tou, Akiyuki Shimbou
Character Design & Supervising Animation Director: Akio Watanabe
Series Director: Tatsuya Oishi
Visual Director: Nobuyuki Takeuchi
Music: Satoru Kosaki
Sound Director: Yota Tsuruoka
Art Director: Hisaharu Iijima
Color Setting: Izumi Takizawa
Visual Effects: Motoki Sakai
Director of Photography: Takayuki Aizu
Editing: Rie Matsubara
Animation Production: Shaft
Cast
Koyomi Araragi: Hiroshi Kamiya
Hitagi Senjyogahara: Chiwa Saito
Mayoi Hachikuji: Emiri Kato
Suruga Kanbaru: Miyuki Sawashiro
Nadeko Sengoku: Kana Hanazawa
Tsubasa Hanekawa: Yui Horie
Meme Oshino: Takahiro Sakurai
Karen Araragi: Eri Kitamura
Tsukihi Araragi: Yuka Iguchi
About Aniplex Of America Inc.
Aniplex of America Inc. (Santa Monica, California) is a subsidiary of Aniplex Inc. (headquartered in Tokyo, Japan), a group of Sony Music Entertainment (Japan) Inc. and leading provider of anime content and music production and distribution in Japan. Aniplex of America has launched fan-favorite DVD and Blu-Ray releases such as Gurren Lagann the Movies, Durarara!!, R.O.D series, the Garden of Sinners and Baccano! The company's ever-growing line-up of shows includes our most recent titles, Blue Exorcist, Rurouki Kenshin OVA and Movie, and Puella Magi Madoka Magica.
Official Websites
www.AniplexUSA.com/bakemonogatari
www.Youtube.com/AniplexUS
About Right Stuf Inc.
Currently celebrating its 23rd year in business, Right Stuf, Inc. was one of the first players in the U.S. Japanese Animation ("anime") industry, as both an anime producer/distributor and a retailer. Right Stuf works to promote knowledge of its own products, as well as the anime and manga industry, through its online storefront at RightStuf.com and a variety of media including podcasts and special publications. For more information, visit www.RightStuf.com.