Posted on Jun 24 2012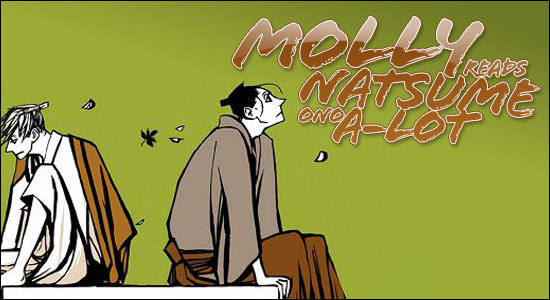 One year ago, I gave you a look into the world through the eyes of a child in Yotsuba&!. This June, we will take a look at a series of more mature works by my personal favorite mangaka, Natsume Ono. Settle down with your lemonade, because you are in for a mellow treat!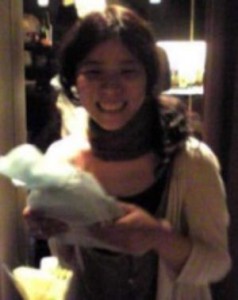 With an iconically sketchy style, Nastume Ono's work is easily identifiable on the shelf. Don't let the scribbling scrawls fool you, this woman has over nine years of experience with a pen on a professional level. She has an incredible handle on her style. If that isn't enough for you, she is a master of understated story-telling techniques. Let us look into the highlights of her works to give you a bit of insight into the world of Natsume Ono.
Despite a small number of yaoi titles under her pen name "Basso", her work often depicts the quietly normal, though sometimes eclectic, lives of mostly average people living their daily, uninterrupted lives. What separates Ono's titles from the rest of the "slice of life"-ers may be her fascination with the modern Italian lifestyle juxtaposed to that of the Japanese. Her stories, whether taking place in bustling Roma or a sleepy suburb of Tokyo, always seem to read like a journal. No flashy plot twists are necessary to tell a proper story. So what makes her understated style of story telling so satisfying from cover to cover?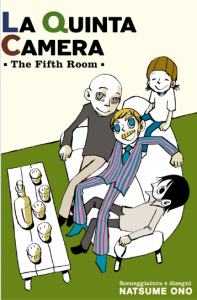 Let us begin with La Quinta Camera, her 2003 web comic that put her name on the map with her professional debut. As the title implies, this story sets itself in a town a few hours outside of Rome, Italy in a five-room apartment inhabited by four middle-aged men with distinct personalities. The story follows these four men and their many new roommates they welcome into the "fifth room" over the course of about a year. Cultures clash and mingle in a way that speaks true to real world interactions.
What makes "La Quinta Camera" so special is that this manages to demonstrate her strong story-telling abilities and how they lend themselves quite nicely in fitting her otherwise eclectic art style. Such warmth and sincerity are poured into the lineart. This story is a page-turner of a different sort.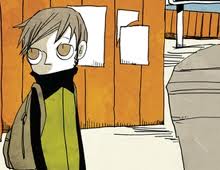 Ono's next major title came only year after the release of "Camera". I speak of her odd and humbling story, "Not Simple". This story follows Ian, a young Australian man on his search from Melbourne to England to the U.S. in search of his older sister. Ono flexes her story-telling muscles once more by allowing us to watch Ian's fractured life unfold backwards from his untimely murder resulting from mistaken identity. Framed by a reporter intent on capturing Ian's life in a novel, we watch this wide-eyed and naive boy drift through life in search of lost connections.
If the murder element turned you off, then so be it, but there is something exquisitely uncomfortable about this whole one shot that cannot be explained unless you experience this story for yourself. There is something entirely nonchalant and urgency-free that keeps the reader from putting this book down for good. It is not a train-wreck awaiting impact that you simply cannot look away from. While "Not Simple" lacks the warmth and satisfaction that "Camera" had, this story quietly taunts you with the knowledge of the end of the story from the very beginning, yet you can't help but turn to the next page. Do you think I have sung Ono's praises for her technique enough?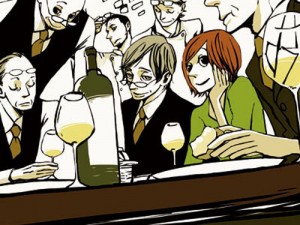 Not nearly enough, I say! Let us move onto a title featured here on Rants-a-lot two years ago Ristorante Paradiso and her subsequent title Gente. Ono plays up the drama a bit more in this comedy story of a young woman, Nicoletta, who travels to Rome for the distinct purpose of tracking down her long-distanced mother, Olga, who abandoned her as a young girl in favor of a lover who could not marry a woman with a child. Bent on revenge, Nicoletta finds herself posing as the daughter of Olga's old friend, embedding herself in the daily workings of a popular restaurant staffed by handsome, yet aged, bespectacled men. Trouble ensues as Nicoletta struggles with her feelings her the head-host and her frustrations with her lying mother.
Gente, the story's prelude, gives us a bit of detailed history into our lovely gents in glasses. Their otherwise quiet, though widely differing, lives and a taste for food, wine, and quiet acceptance all led them to one restaurant and their ultimate sense of contentment. These men of the restaurant found their home.
I won't spend too much time here as I summed up the majority of my thoughts "here". This one shot "Ristorante Paradiso was Ono's first title to get the animated treatment and was met with critical and popular acclaim despite its short run. Taking elements from "Gente", "Ristorante Paradiso" blends life-lessons with drama with culture in a way that makes "Eat, Pray, Love" look way overrated.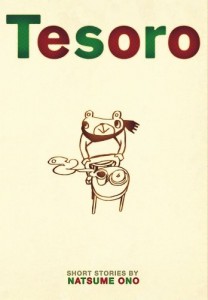 In the 2008, a collection of Ono's short (and I mean short) stories were released in one volume titled Tesoro. With works spanning from as early as 1998 to as recent as 2005, from Doujinshi to published work, these shorts showcase Ono's innate talent for story telling and her incredible grasp on her own distinct artistic style. She manages to capture the essence of a complete and satisfying story in a matter of 5-10 pages. These day-to-day anecdotes read like pages out of our own daily journals. Simple and quiet with an air of truthfulness, these short stories prove that there is always intrigue in the mundane and everyday.
"Tesoro" also gives us an in-depth look at Ono's personal evolution as an artist. In one of her earliest stories in this collection, "Your Smile Like the Cartoon" (April 1998), her artistry seems rough, her iconic style is quite discernible from very early on in her career. Lines are unfinished and jagged, hands are swollen and the backgrounds are quite simple in execution. Yet the story of a young boy and his father in a diner is deep. Ono gives us the details of the father's past, family relations and impending conflict all with a thoughtful resolution in as little as a few pages. Tesoro is a wonderful example of personal development and maturity as an artist and story-teller. It is like watching a person's history unfold before you in record time.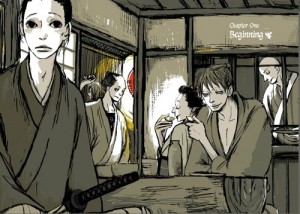 The final title I will touch on is Ono's most recent ongoing title House of Five Leaves for just a tad. I won't go too deeply into details as I am slowly losing steam and you can enjoy this Edo-set period piece in Anime form! That's right, the story of Masa, the masterless samurai that finds himself embroiled in the inner workings of the "House of Five Leaves" gang. Another reason I won't spend too much time on this is that I have yet to finish the series (up to its most recent release, that is). I can tell you, though, that if Ono's style seemed off-putting to begin with, her work has evolved into a very refined and elegant sense of fluidity in the lines and tone. I can't put my finger on it, but the serene yet entirely unique style seems to fit harmoniously with the story and its tone. This title is one to keep an eye on.
In short, Natsume Ono has proven time and again that taking a unique yet risky approach to style will only steer you wrong if the artist's whole heart isn't convinced, while, time and time again, I never fail to be late. Until next month for an ON TIME edition, may your summer be filled with wonderful stories.
Bibbles bids adieu.