Posted on May 26 2012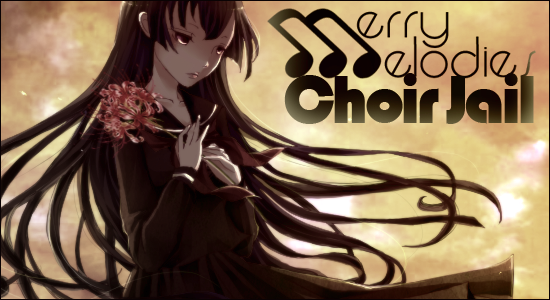 Some more recent anime songs for Merry Melodies this week, this time we'll take a look at the opening of an interesting little ghost story. It's all right here, so check it out!
———————————————————————————————–
Dusk Maiden is a neat little show, and one of my favorite this season. Other than the fact that it's an interesting supernatural comedy/mystery series, the opening is a nice display of hard rock. If you've paid attention to past Merry Melodies, you can tell that Choir Jail is right up my alley. This type of intense music lends itself well to covers as well, and I've seen a few good one in the short time it's been out,
The main idea behind this series that there exists a club the looks into all the supernatural stuff going around the school. The best part is the club president is really a ghost herself. I need to catch up to learn more, but it's a great premise that I haven't enjoyed in a while.
Back when I reviewed HaJimari no Hi, I mentioned that it had a great color scheme. Dusk Maiden is the same way, with nice dark autumn colors instead of Tegami Bachi's blues. It really gives the feeling of dusk, which is great theming. I also really like the bit where Yuuko sings along with the lyrics, and the ending for the series does it as well. It makes it seem like the songs are actually part of the series, and not just an intro and closing.
———————————————————————————————–
QUESTION TIME! What do you guys think about this one? Like I mentioned, it's neat that the character sings in the animation, but do you think?
–
You can watch Dusk Maiden of Amnesia over on Crunchyroll! While you're at it, use our new Anime Directory to help you watch other stuff! http://bit.ly/AnimeDirectory