Posted on Nov 17 2012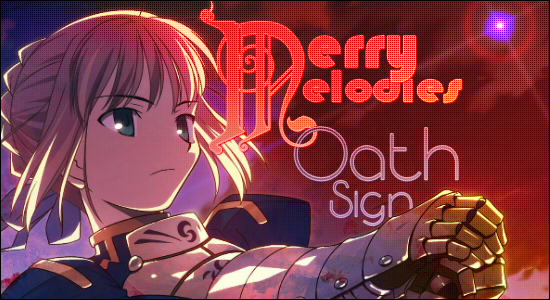 Another rousing edition of anime you should watch based on good music! It's time for Merry Melodies
———————————————————————————————–
I have not seen Fate/Stay Night, so watching the prequel is a little weird. I feel like in a way it's almost better for me to see things chronologically, so I guess that works out. If nothing else, it has great music. Fate/Zero was a little awkward since it's two seasons had a break in between them, but I quite enjoyed it. The first episode was a little off-putting, since it was 40 minutes with no musical opening, but it was necessary exposition. It's also worth it to get to something rocking like Oath Sign.
You ever have that feeling you've heard a certain singer before? LiSA may be one of those people if you didn't look too hard into Girls Dead Monster from Angel Beats! LiSA is actually the singing voice for Yui, so almost all of the GrlDeMo songs are sung by her. I know when she went to Anime Expo 2012, they were really promoting Oath Sign and didn't really mention GrlDeMo at all, which is a shame. In terms of how LiSA combines with Fate/Zero, I feel like it fits the mood well. One of my favorite things about Fate/Zero is the relationship between Rider and his master, and this OP highlights it well.
After seeing the double length character introduction episode, it's cool to see all the characters all in one short animation. It highlights the character traits of everyone you'll see for the next thirteen episodes. It also fits the stigma I've noticed that most anime that span twenty-five episodes lately have this upbeat feel with an opening to math, but halfway through they take is odd darker turn. Blue Exorcist and Durarara!! are two examples that come to mind quickly. It's not bad, it's just odd that it seems to happen often.
———————————————————————————————–
You can watch Fate/Zero soon over on Crunchyroll! While you're at it, use our new Anime Directory to help you watch other stuff!