Posted on Jun 17 2012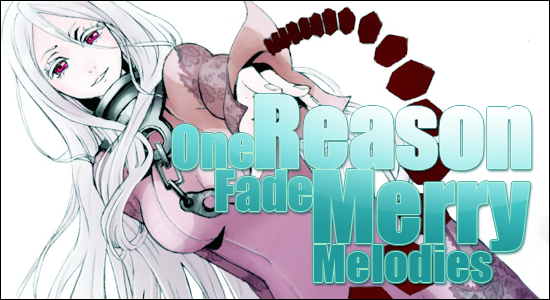 In celebration of the triumphant return of Toonami, let's take a look at one of their new flagship series, Deadman Wonderland!
———————————————————————————————–
Deadman Wonderland is a delicious little gem filled with blood, gore and even more blood. I remember waiting for it to air the first time on Crunchyroll after hearing so many good things about the manga, and now thanks to Toonami, I can have another go at it. The story centers around a young boy named Ganta, who's entire class was slaughtered before his eyes and now he's on Death Row for it. There's a lot of dark colors in the show, as well as the opening to help give it the appropriate feel.
One Reason is an interesting song for a few reasons. The first, as you can probably already tell, is that it's performed by an English singer. In fact, all of Fade's songs are in English, at least all the ones I've heard. The second interesting thing to note is that One Reason is actually a different version of another song, Black Hearts and Dollar Signs, with new lyrics. Not only does One Reason have less swearing, but it seems liek the lyrics were written specifically for the series.
It's always interesting what the animators decide to portray about a series in just 90 seconds. One Reason is good at capturing the themes of Deadman Wonderland, with all the dark red and black. It also does a good job of showing how manipulative Tamaki is, and he's shown as a pretty decent puppet master in the short amount of time they have. It also shows Ganta's struggle and how he really just wants to get out of jail. I could go on, but it's best for you to just watch Toonami for yourself. One thing that should be noted is that Adult Swim has the bad habit of cutting opening theme songs down, so the full minute and a half version won't be shown on TV every week, which is a shame.
———————————————————————————————–
QUESTION TIME! Are you hyped for Deadman being on Toonami? Have you been watching it every week?
–
You can watch Deadman Wonderland over on Funimation! While you're at it, use our new Anime Directory to help you watch other stuff! http://bit.ly/AnimeDirectory