Posted on Mar 06 2011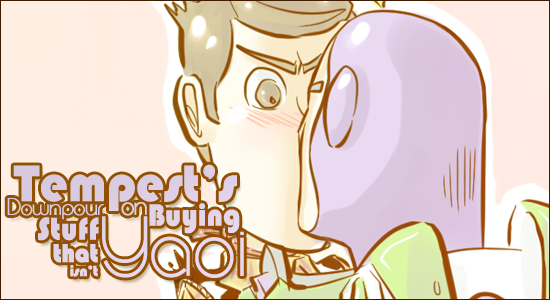 So I went to Borders the other day at the behest of my friends. I immediately migrated towards the manga section – y'know, typical otaku reaction. It had been a while since I visited an actual book store, rather than buying my manga off Amazon or from half-priced book stores.
Every title I pulled off the shelf was some crappy yaoi series. Pause. Hold on a moment, before you go jumping down my throat: I will admit that I do like certain series that are yaoi-themed (Gravitation, FAKE, Tokyo Babylon). But I don't want to waste my time on something with little to no characterization, no plot and is entirely contrived.
And that's what most yaoi shows are, am I right? It's fleeting images of pretty men acting like pretty, feminine slaves. I've met some submissive people in my time, but random uke #1 of ANY series you name takes the cake.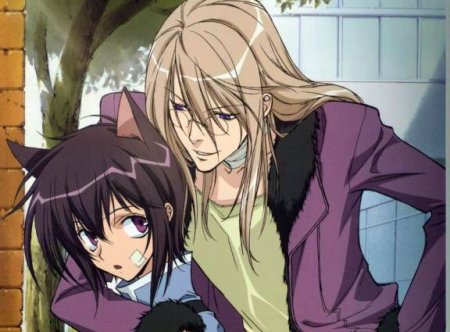 That kid is so submissive that he's sprouted kitty-boy ears.
He looks like he's the seme's son
Anyway, back to the day at the book store. I was aggravated and embarrassed – god forbid somebody mistake me for a yaoi fan even if I kinda technically am… I swore to myself I wouldn't go to the manga section of anymore bookstores for a while.
So yesterday, right, I went to Barnes and Noble. I knew what I was in for as soon as I crossed the threshold. It wasn't long before I was staring down the manga section once more. Maybe… maybe this time would be different.
I pulled the first title off the shelf. NOT YAOI, HALLELUJAH. It wasn't very interesting though. I pulled the next one off the shelf. Two guys – wait, wait… they're not touching each other. This could work out. And the art style was so pretty. I mean, not yaoi-pretty – it was oldschool anime pretty. The artistry made me want to read it.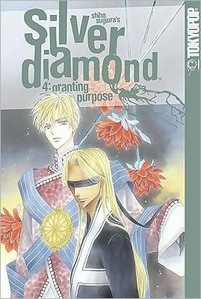 Silver Diamond looked so promising….
I opened the book…. flipped through a few pages…
"OH CRAP, THEY'RE HUGGING," I hollered across the store.
Turns out I was right – it's totally yaoi. And the plot was ripped from Kyo Kara Maoh and Fushigi Yugi, no less. Impressive! Instead of going in a positive direction, we're recycling old, used plots and adding in even more spectacle. Thanks, world. I'm going back to read my oldschool crap.
And that's how it is, I think. The manga that make it to the US are the ones that will definitely sell – something base that will appeal to fans. It's the fast-food of the anime world, and we're gorging ourselves on it.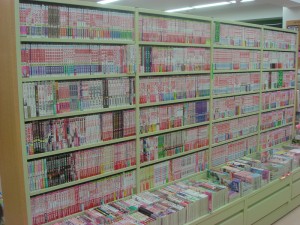 Manga manga everywhere and not a book to read
I'm a vegetarian, meanwhile. I'm picky about what I like, and maybe if I stick to stories I already like, I won't get my heart broken.
Ragnarok, Kodocha, Pet Shop of Horrors, Dramacon, Tokyo Babylon, Fruits Basket, Saiyuki, Ruroni Kenshin, DeathNOTE, Excel Saga, Fushigi Yugi, Magic Knight Rayearth, the first volume of Kare Kano – some of these titles aren't very old (hell, two of them aren't even Japanese), but still managed to bypass this craze of copying everything around them. I would recommend any of those stories to an anime fan who wants to know what real manga looks, smells and feels like. They're all stories readers can identify with and sink their teeth into. Those series are what helped make anime special to me as a fan. They have action, adventure, romance, drama, and everything you could possibly want as a man, woman or child.
I'd also recommend FAKE to our more daring readers. It's the only example I know of what yaoi SHOULD be. Although I like to imagine that it's entirely a metaphor of a man's internal struggles between his Id (Dee) and Superego (Ryo). It gets really Freudian if you think about it like that, since most of the other characters resemble facets of Dee's personality, so it's like the Id is attempting to overpower the Superego by cloning itself.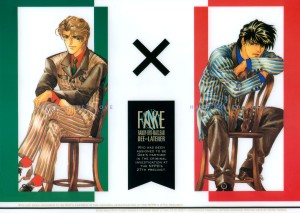 Ryo, on the left, may be sitting pretty, but he's one tough NYC cop
ANYWAY, all hope is lost for the time being. If you want something good, chat up older anime fans and coax them into lending you their manga. In the meantime, suffer with recycled garbage like Bleach and Junjo Romantica, or whatever's hot right now.
I always vastly preferred manga to anime, but with how awesome anime dubs are getting, I've been enjoying anime way more. I guess everything goes in cycles. I just can't wait to be able to go to Borders again without feeling foolish.