Posted on Jun 10 2011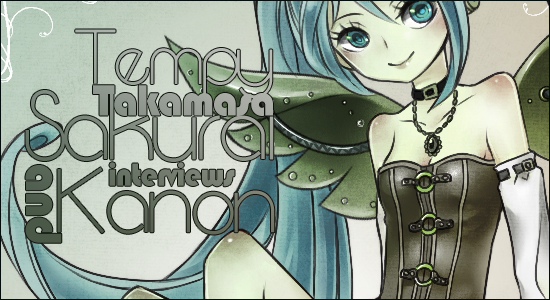 Tempest here and I got to interview the very handsome Takamasa Sakurai and Kanon. Both were wearing the most incredibly frilly clothes — they looked like they stepped out of a twisted Steampunk convention that could only be held in Japan.
———————————————-
For those of you at home who don't know, Kanon is the bassist for An Cafe, an amazing Harajuku-influenced band that is currently on hiatus. Sakurai-san is a fashion-genius who specializes in Harajuku and is a big fanboy of An Cafe, so it's sort of like they inspired each other.
They sat side-by-side like old friends, Sakurai-san with the wisdom and relaxation of a person who has been through too many press conferences, and Kanon with his quiet, shy style as if he preferred to be on stage right now rather than face a barrage of questions.
A group of reporters, and myself, who could barely string together words in front of such awesome, got to ask these gentlemen a question each. Here's how it went:
Q: When you were younger, what sorts of things did you do to prepare for your career today?
A, Kanon: I wanted to be a (super)hero.
A, Sakurai: Japanese kids like anime and manga. Those are what inspired me.
Q: What is Kanon X Kanon?
A: In Los Angeles in July, An Cafe had their first live concert. This either carried the theme of, or helped inspire, the story of a mysterious cellist/vocalist and an Akiba-style creator who are both named Kanon. Together they create a new music unit through space, time and reality. This is, of course, a fictional account.
Q: Sakurai-san, how has fashion evolved for you?
A: Anime and manga in general have a huge affect on the fashion world in Japan. Harajuku then inspires people all over the world. An Cafe is very Harajuku-styled — it's like Harajuku as a band, and that influences people on a wider scale.
Q: Japanese celebrities always seem surprised by how popular they are in other countries. Does this still hold true?
A, Kanon: I'm surprised every time. I still feel like an ordinary boy, so it's hard to believe it.
A, Sakurai: companies like Disney try to make their style known throughout the world. Japanese people don't create to spread the fashion and style: it's more in the culture, while people worldwide pick up on it. People support it without the intention being to support it because people all over the world have the same interests.
Q: Both of you started in two different areas but have come together regarding fashion and culture. Did you two know each other beforehand?
A, Kanon: Sakurai went to an An Cafe concert and was very interested in how we got to know each other.
A, Sakurai: An Cafe fans are called Cafe-ko and I can see why they're fans of An Cafe.
———————————————
Stay tuned for more from Tempy over this weekend!