Posted on Dec 08 2011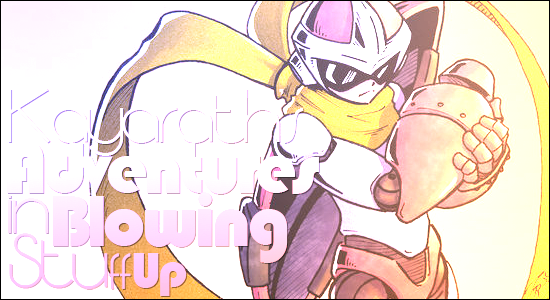 When I was at Otakon a couple of months ago, there was an awesome event that I missed. Admittedly, there was dozens of great events that I missed but one in particular stood out to me. While I was walking by looking for camera batteries, I found a cosplay inspired by The Protomen of all things. More surprisingly, said cosplayer informed me that they were performing in a nearby venue that night. Learning of that on such short notice without internet access (I have a dumb phone) and with events to cover, I simply couldn't go see them. That was a mistake I did not want to repeat.
Months later, I was pleased to learn that The Protomen were going to play in Philadelphia. It was for the 2011 Mechanized Explosion Tour with the band I Fight Dragons! The show even included Chipocrite! I knew I had to go to that concert! Subscribing to The Protomen on Twitter was a good idea after all! It's actually good for more then one liners!
Standard traveling issues such as highway traffic, going to a place for the first time, and parking caused me to arrive later then I would have liked. I arrived in the middle of Animal Style's set. He does chip music and put in a solid set that night. It would make sense to open the show with chip tune artists since the type of people who like The Protomen should in theory also be open to chip tunes.
The location of the show is the North Star Bar in Philadelphia. I consider it roughly to be a dive (or local) bar. The building has a regular bar on one side and a small two floor stage on the other. It has a big sign, making it easy to find for newcomers. It's general focus appears to be hosting live shows of various types. It also has the distinction of serving me the best bowl of pasta I have ever eaten. You would not expect a place like that to serve noodles tasting that good but it was. The wait was on the longer side but their kitchen is small and they admit to such on their website.
As I took in the general vibe of the place, I ran into Chipocrite again. When he saw me, he reached out and shook my hand warmly. As two men who hold each other in good regard, I was glad to see him again. We chatted for a bit to catch up then I let him be. Even though seeing him was a strong factor in my coming in the first place, I figured I shouldn't take up too much of his time and let other people interact with him. Chipocrite's set was short but sweet and any of you who are attending MangaNEXT should totally see his show there because it's always better live.
I Fight Dragons was there too (but you should know this already). They are a rock band that incorporates chip tunes into their sound but I personally would label them "Nerd Punk." It was easy to see the influence video games had on them. Their setup included NES/SNES controllers for playing chip music. They also had their mascot, an 8-bit sprited knight, scroll through classic video game backgrounds on TV screens behind them. I would rate their show as pleasant overall, with some very interesting surprises. For example, live playing the music from Contra while playing through the first level of Contra! I will always find that hilarious.
If nothing else, they are gentlemen of the highest order. I was dumb and asked them to sign my poster; of The Protomen. They did so without justifyingly biting my head off. I was so embarrassed once I realized what a huge mistake I made. If anyone from I Fight Dragons is reading this, I'M SORRY! PLEASE FORGIVE ME!!!!
Animal Style, Chipocrite, and I Fight Dragons are all cool people who could all headline their own shows. However, the main I reason I went was to see The Protomen. When I first told the rest of The Fan staff that I was going to see the Protomen, Christmas intermediately responded by saying, "You ." Listening to their emotionally charged music here on The Fan was good and I bet seeing it live would be better.
There are a couple of things that set them apart from other bands. For one, there are seven of them; which is fairly bigger then the average American rock band. They also have an unusually diverse selection of instruments. Besides the normal drum set and guitar/bass, they have three keyboards, a frame Drum, music shakers of some type, and even a music box. When they do a show, some of them will even don face paint and a hockey mask. What sets them apart is that even the fans get into the cosplay too. I saw a few helmets and even a self made arm gun among the crowd. How many bands inspire cosplay among their fans? Okay, KISS does that too but it's still a small club to be in.
The first thing they did when they played their set was set the mood. The frame drum lead a foreboding instrumental piece while blurry black and white images flashed before the audience. Their performance began by singing some selections from their first album "Hope Rides Alone." The most dramatic part was when the lead singer bended down to have the helmet of Mega Man placed upon his head. It was like watching a person get knighted. After that, they went for a change of pace by changing singers in order to do some Queen covers. He even changed into a black and white leotard for it. It seems they want to make an album full of live Queen covers. They got the look down if nothing else.
After that, The Protomen went back to singing some of their original works. They did another helmeting scene, this time putting the helmet of Protman upon the lead singer's head. They even gave him an arm cannon complete with a rotating mini-gun! The Gambler (but this is an educated guess on her name) then took her turn at center stage for a song. She sings the role of "Emily" in Act II. Never has the raising of arms combined with singing been so epic! Their segment ended with "Due Vendetta" which is a good way to end a segment honestly.
Even though the show was over and some epic rocking was rocked, I wasn't done yet. There was one more thing I had to do. It was merchandising time. I finally got to buy "Hit and Run" from Chipocrite. I've been wanting to do that for a while now and I'm glad that I did. It's the best chiptune CD I ever brought and that's no lie! After that, I when over and brought some Protomen related things. I got the usual assortment of CDs and a T-shirts. They had some more unique items such a vinyl version of "Hope Rides Alone" and a meter tall, two foot wide poster of ACT II which is pretty cool. I even got a bunch of them to sign it for me.
After all of that, it was time for me to head home. I did enjoy it mostly but I feel that each single act didn't have enough spotlight time to fully display their talents. Oh well, I'll have another chance sooner or later. Like in every dark night, there's always be people willing to light it up.