Posted on Oct 28 2011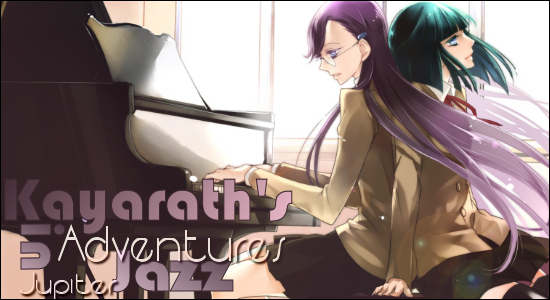 It must be ironic that despite the fact that 91.8 The Fan is an online radio station, we rarely write about music itself. Today I would like to amend that by highlighting a musical artist named Hiromi. Who is she exactly and how did I learn of her? Read on.
It all started years ago, before I became part of The Fan. Back then, I was a frequent listener of Pandora, another online music site (that's a lot less cooler then 91.8 The Fan by the way). The way Pandora works is that you would name a song or artist that you like and then Pandora would play songs that are similar to said song or artist. One of the bands that I named was The Seatbelts, who did the soundtrack for Cowboy Bebop. Most of the songs that Pandora selected for me were from old school American Jazz bands/performers.
I also heard a song called "Love and Laughter." It quickly became one of the songs that I looked forward to hearing. I grew to really like "Love and Laughter". It's so distinctive; I recall parts of it even though it's been years since I last heard it. That was the first song I heard from Hiromi.
Hiromi Uehara is a Japanese pianist/composer. Taking to the piano at the tender age of six, she proved to be very talented and later studied at the Berklee College of Music in Boston. She is a Jazz musician in the same way you would consider Neon Genesis Evangelion a show about giant robots. In 2003, she debuted with Another Mind and has released six more albums since then. Although she's more then capable of playing solo, she seems to prefer playing as part of a group, forming first the "Trio" and later "Sonicbloom". Currently, Hiromi is part of the Grammy winning Stanley Clarke Band.
One thing I noticed from researching her is all the praise that people give her. I admit, my research wasn't as exhaustive as I would like it to be, but it sort of sticks out. I think Jazz fans love Hiromi as much as Bronies love My Little Pony: Friendship is Magic. Okay, maybe not THAT much but it's up there. One of the hardest acts of persuasion is the fanboy trying to convince the non-fanboy to love what the fanboy loves. The non-fanboy sees it as a bunch of hype and the fanboy can't figure out how a person could not love the thing that he adores so much. It's a divide that is not easily crossed.
If you're wondering if Hiromi lives up to the hype, I would like to recommend you watch a live performance of her song "The Tom and Jerry Show." I'm sure finding a video of it shouldn't be too difficult a task. Pay particular attention to her hands playing on the piano. If that doesn't win you over, I don't know what will.
The second surprise I got was that doing this research was actually pretty easy. She has an official English website, a MySpace profile, a Facebook page, and she tours in the US as well. It's safe to say that Hiromi has traction here in the US. You can even buy her MP3s and albums through Amazon's US website. I know this because I brought one myself.
Spiral is the third album recorded by Hiromi Uehara. I know it's a bit strange to focus on a person's third album when they have seven out but this Spiral has "Love and Laughter" and I really wanted that song. It's still awesome by the way. For the bonus track "Return of Kung-Fu World Champion," the keyboard synthesizers was taken out for a high tempo jam fest. It feels like a video game song done with chip music. I think that's a good thing, since I like video game chip music! There's also the song "Spiral." When I first listened to it, I felt weird and tense. I'm not sure how to describe that feeling. It felt like I was being emotionally coiled up and was desperately trying to spring myself out. No song ever me feel that way before. For those of you who care about SACD, it plays on those too! Overall, I don't regret my purchase.
Although I do really enjoy some of Hiromi songs, I don't enjoy all of them. Some of them just make me go "meh." I'm not gonna tell you to go buy every album she's ever done because I don't think you'll adore all of it. There has to be something you'll really enjoy though. I just can't imagine a person listening to Hiromi's works and not find something they love. When you dig it, you'll really dig it and it will be worth it. Consider buying MP3s of the songs that you really want. Some of those suckers clock in at nine minutes each! That's a great value for your ninety nine cents.
At this point, I'm sure you all have the question of, "If you like her music so much, why doesn't 91.8 The Fan play her?" The answer to that question is simple. Hiromi, being a jazz pianist, doesn't sing, she plays the piano. The Fan, like many radio stations, doesn't play instrumental pieces, no matter how cool they are. Of course, there are exceptions like the opening song to Cowboy Bebop, "Tank." 91.8 The Fan also prides itself on being extra attentive to the desires of our listener base (serious, in case we didn't tell you today, we totally love you people). So, either Hiromi will have to inexplicably end up making an anime/video game soundtrack or a ton of people bug Kana to add Hiromi to the playlist. Both scenarios seem very unlikely. Looks like I won't be hearing her on The Fan anytime soon. This reminds me of something I read from Spiral's CD booklet. "Welcome back to reality. It is sometimes hard to face, but it is, indeed part of one's world."