Posted on Feb 14 2011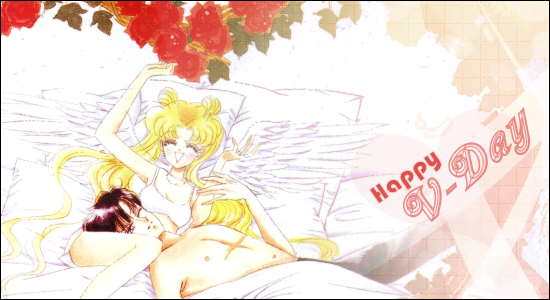 The staff here at 91.8 The Fan would like to wish you a happy Valentine's Day! In honor of this sweet holiday the staff has composed a list of anime that girls out there might find suitable to watch with their special someone. Even if you're all alone you might find a new show to enjoy regardless so make sure to hit the jump below. Also, where's our chocolate?
Bargin Gamer
For V-Day I would recommend Yu Yu Hakusho as it has a ton of action in it for the guys but it also has some very interesting character interactions and romances for the girls. And if that fails there's always Yoko-Kurama waiting in the wings! Seriously though scenes like when Yusuke squares off against Suzaku and gives his own life energy to protect Keiko are a great combination of action and romance, giving both sides something to enjoy here.
Cerulaine
Without a doubt Soul Eater!
Both males and females seem to love this show, there are many characters each gender can relate to and there is action, depth, and Halloween themed things all over the place which EVERYONE LOVES so girls should watch this with their guys because it's completely perfect.
Christmas
For the one for girls to watch with guys, I think One Piece is a good pick. Not all of One Piece, but a good chunk of it. It's got a lot of action, but still has a good feeling that should be shared with someone else.
Elk
The Japanese Valentines' Day is a day where girls give to the people they like (or out of obligation). Keeping in mind the hetero-normative stance of most the world, I'mma assume that person would be a dude. So what better an anime to watch with YOUR dude than one you will BOTH enjoy, but seem like it's FOR him.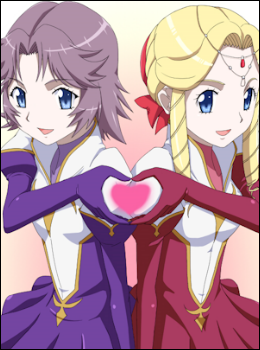 So keeping that in mind, a good anime to watch with YOUR dude would be Super Robot Wars OG: The Inspector! This is of course the sequel to the original Super Robot Wars OG anime, unfortunately, it's not up on Crunchy yet, so I will direct you here, I don't think too much is missed by having not seen the first series. And as the title implies, it is about a War, with Super Robots fighting each other!
Why should YOU watch it with your dude? Because besides the fact it's a mecha anime, it has a lot of strong female leads, probably more strong female leads than there are male leads. Of course for the guys that's because there's some fan-service, but that doesn't detract from the fact these girls kick butt.

Haku
I'll be watching Clannad with the girl I like. I'd been trying to get her to watch it, and I finally managed to do it. Anyway, Clannad is a school-life anime, which are my favorite kind, and it was very moving throughout all of the different arcs. Every story had happy points and sad points, but they usually end on a hopeful note, even if they're sad, which is something I admire about the series.
Kanashimi
Girls should take the plunge and watch something a little bit out of the norm with their guy of choice, but let's not skimp too much on drama, tears, and emotional scenes! Mobile Suit Gundam: The 08th MS Team is an impacting series that is about war with lots of explosions so it's sure to get any guys attention, but at the same time the characters are very real and experience deep character growth. As such while your beau might be excited for the next fight a women could focus more on the tension pulsating from each character as they prep themselves for battle.
Kibs
For Valentines' Day, I think girls should watch Tengen Toppa Gurren-Lagann with their guys.This anime has many female fans, but not enough, and a lot of it can seem off-putting to women in general…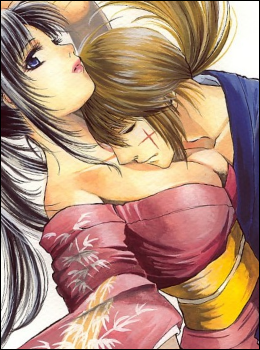 …it being something Gainax brought into existence, however, the good far outweighs the fan-service bad. Any man who calls himself a man enjoys TTGL, I think it can be an enjoyable experience for both, if the ladies would give it a chance. So sit back, cuddle together and get ready to FIGHT THE POWAH!
Kusari
For V-Day I would have to go with Rurouni Kenshin. It has a wonderfully shounen storyline with beautiful animation and a pretty main character for the ladies to swoon over. Plus it has an overcompensating sword! Do your other anime have over compensating swords?! Probably. But this one's FRIGGEN HUGE!

Leviathan Mist
I hate stereotyping males and females, which is why it's taken so long to choose some anime for this. It really depends what type of person you're looking at, regardless of whether they're male or female. I know of lots of guys who like girly anime, and I used to have female friends who obsessed over male-oriented anime such as Dragon Ball Z. Assigning a gender to an anime is near impossible, unless you follow a set of stereotypes. That being said, I would probably say something like Death Note for Valentine's Day.
Molly-Bibbles
Nothing says Valentine's Day like giant robots. Enter the Galactic Pretty Boy! Every girl should sit their boy down for some overly fabulous mecha action found only in Star Driver. The story takes place on an island when a mysterious boy washes up on the shores of a prestigious academy. Besides his femininely dashing looks, this boy is the key to saving the world from the bad guys (more or less). Okay, actually, he is trying to save the maidens of the island (more or less). So, you may wander why this series has garnered a name such as F*ing Fabulous. The fact that the main character is called the "Galactic Pretty Boy" should make it obvious to you. Sparkly giant robot action. Something here for all! The story is pretty basic, but a robot in high-healed boots is something you just can't possibly pass up! "It's a pinch!"
So get to watchin' because now you have a list of serious you need to check out!