Posted on Feb 14 2010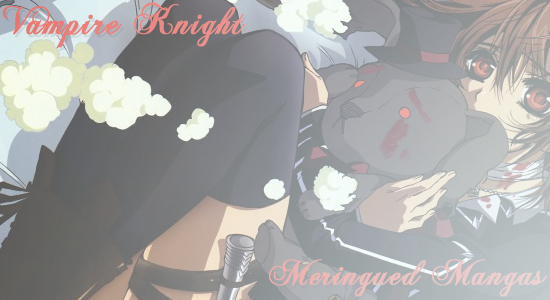 Hey guys, welcome back to Meringued Manga! This month I'm going to talk about Vampire Knight, a very popular manga written by Matsuri Hino. It has an anime adaptation of the same name. The series was serialized in January 2005 by Lala magazine, and is still on-going. There are currently eleven volumes out in Japan, and the series is licensed in English by Viz Media with currently eight volumes out.



The story starts with Yuki Cross, as she recalls her earliest memory. On a snowy winter night she meets a pure-blood vampire named Kaname Kuran, who saved her from the attack of another vampire… Yuki is a prefect of Cross Academy and is the adopted daughter of the school's headmaster, Kaien Cross. Kaien is a pacifist at heart and truly wishes for vampires and humans to coexist, and for that purpose, built on that philosphy, Cross Academy was created.
Alongside her is her childhood companion, Zero Kiryu whose parents were killed by a pure-blood vampire. Because of this, he refuses to trust them, and is fixated on eliminating them all, one by one. The ironic part about it is that Zero, himself, is now manifesting vampiric (lol new word) traits, having been turned into a vamipre after being bitten by the pureblood Shizuka Hio that killed his parents.
Yuki, being the adooorable main that she, is tries to help Zero with his bloodlust, while trying to regain the memories she lost before Kaname found her in the snowy field. By allowing Zero to feed off her blood, it prevents him from becoming a level E vampire and prevents him from losing himself and giving in to his monstrous instincts.
Now while this manga may be popular, I find the main plot of the story a bit overused, as most shojo's tend to take the same route in all their plots. Girl meets boy, girl likes boy, boy possibly likes girl, and, yeah… you catch my drift right? I mean, yes, we get vampires are sexy and enticing, but can we please get back to the story. The beginning of the story, I'd say wasn't 'hard' to get through, but it proved a problem to me, as I like my main girls to at least have a bit of a backbone, and when they do, please show it! I guess it's to be expected from Shojo manga; but aside from the lack of action, this manga holds it's own extremely well.
For a manga with an almost cliché storyline that includes common fictional creatures, it's doing fairly well, and I have to amend it on it's ability to keep us drawn and coming back for more each month. I find that its strong point doesn't come from the action, it's mostly about luring the reading into the storyline (however tedious it may be) whilst continuing to have that element of surprise.
The characters are a bit predictable in a sense, and even though the cast is huge, it seems like the better characters get less screen-time the more the story goes on. They kind of get thrown in the backseat. (Though, this may seem biased of me, as my favorite character is Akatsuki Kain, who is more or less a supporting character anyway.) You have your adorable, innocent main, and your two hot guys, one that's obviously tsundere for the main, and the other, who she wants to be with, but just can't. But even so, the range of personalities of the characters is very diverse, and you can almost feel that, under the circumstances, their actions can truly be considered 'humanly', acceptable, and plausible.
I think you should also be aware that there is an anime out with two seasons and they are both finished; so if you liked the manga, you might want to check out the anime as well. It's interesting and very amazing how insanely popular this manga is, especially for a shojo (which are detested so much for their similar plot). Vampire Knight also has a Drama CD, Light Novels, a Fanbook, and a Video Game! Which in my book, is pretty impressive.
Now usually I'd get put off by this, as I am a girl who loves her action+suspense, but I don't mind a little lovey manga every once in a while. Although Vampire Knight is not as great as it CAN be, it is still immensely enjoyable, and until the time comes for its conclusion, I will continue reading it. I'm looking forward to the day when Zero and Kaname have an actual fight because, come on, it's gonna happen! So yeah, I'm actually looking forward to more of Vampire Knight because it can be a really great read, if you're really into this sort of thing, and if not, then it should at least pass the time for you.
Well, we've reached the end. I know, you're said. I would be too~. Make sure to keep a look up for my next review, where we'll take a look into a comedy. I'm not quite sure which one as of yet, but I'm always open to suggestions! Until then, later guys.