Posted on Jan 10 2010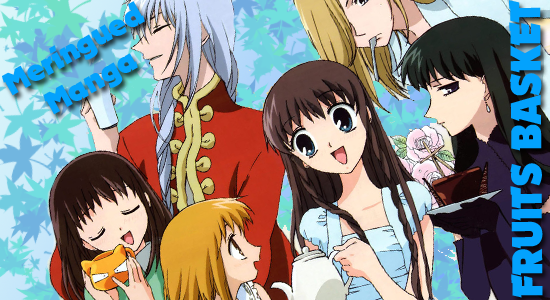 Well it's that time of the month again! Time to read one of Llian's Manga Reviews and Recommendations. This week she takes a look at the popular Fruits Basket series. Read more to see what she thought.




Hello once again and welcome back for another round of Meriguined Manga's Review! Before we begin, I'd like to apologize for last weeks article, I was lackadaisical and because of that last week's review ended up half finished, and for that I'm sorry. No doubt, it won't happen again…you have my word! Now…this week's review is on a shojo manga! I decided to take a different turn as I've only been reviewing mangas of a shonen or seinen genre; so let's get started. This manga has been recorded as the 2nd most popular shojo manga in Japan and in North America it is the queen on shojo ranking in 1st! Sit tight as we explore the world of Fruit Baskets a manga that I've recently come to love and adore!
Fruits Baskets is a popular shojo manga series created by Natsuki Takaya. It was first serialized in the semi monthly japanese magazine Hana to Yume (well known for Skip Beat), and published by Hakusensha from 1999 to 2006.
The story revolves around a highschooler named Tohru Honda a hardworking and energetic young girl who recently lost her mother, Kyoko Honda, in a car accident. After Tohru's mother dies she was sent to live with her grandfather but he decides to renovate the house so that a few of his relatives can roam with him leaving Tohru homeless. Tohru then decides to live outside in a tent and obtains a job to maintain herself. Although things looked bleak, Tohru continued on with a optimistic mindset! This girl is pretty strong, even by manga standards…
One day while setting out from school, Tohru discovers a Japanese style mansion nearby her pitched tent. While looking at a set of zodiac ornaments that were place outside the house she meets Shigure Sohma. The two engage in a conversation about the twelve zodiacs and Tohru living close by (hence her appearance by their house). Twelve animals were invited to a banquet by god and all the animals were able to attend, save for the cat, who was deceived by the mouse and his love for tricks. This happens to be Tohru's favorite childhood story, as her deceased mother often told the tale. Tohru's favorite zodiac sign is the cat despite her sign being that of the dog! The conversation ends abruptly and Yuki Sohma is introduced who happens to be a popular classmate of Tohru and Shigure's cousin.
After a series of events Shigure and Yuki take a walk in their backyard, and spot Tohru walking off in the distance. It's strange, she mentioned that she lived close by, but… all the land surrounding the house belong to the Sohma family. Let's investigate! And thus, the two find Tohru, with her pitched tent… Shigure bursts into laughter, and so did I~. After taking Tohru back to their house, they make a deal. Tohru can stay there as a permanent guest if she cooks and clean and she agrees. Afterward Shigure detects a landslide and Tohru's things are buried underneath, she has a fever so the two suggest that she rest for tonight, and she does. In the morning, her things are found to be retrieved by Yuki! (How sweet). While showing Tohru her new room, an orange haired boy kicks through the ceiling and tries to pick a fight with Yuki. His name is Kyo Sohma. And as Tohru runs to stop the two, she ends up tripping and hugging the Kyo from behind. And the result….he has been turned into a cat and the real story of Fruits Basket begin to unfold!
From here the story spins a tale about the Sohma family, who have been cursed with the fates of the twelve zodiacs. When a member of the Sohma family comes into contact (usually a hug) with the opposite sex, they turn into their respected animal representations. Each character is unique in their own way, and equally hilarious in every aspect.
Between Kyo and Yuki's ongoing fight and the sweet moments between the three as friends, the manga
is incredibly appealing to read; and shows the benefits of friendship, and learning to cop with one's own personal problems rather than running away. The manga also hints at the reward of effort and hard-work towards anything in life, whether it be friendship, work, or school. It's very down to earth and very enjoyable. Personally, my favorite character so far is Momoji, he'll be showing up later in the manga if you decide to read it. Might I add, he's just too adorable!
Although the art is not top notched, it is still decent and understandable in turn of grasping situations and whatnot. And I find that it's cute art fits the story amazingly well. It just helps you to identify and understand the artists style in a way that makes you appreciate it just a little bit more.
In closing, the manga itself is very good and hints and some underlining factors that originally you'd never pick up on.I have yet to discover the; but I have a feeling that it's going to make for great story telling. I'm usually not such a huge fan of shojo but I've really come to love this manga. Dare I say, from the first chapter! And I'm glad I decided to pick this up. This manga also has a 26 episode anime adaptation so if you like the manga watch the anime too!
Well, we've come to the end, but don't cry! I'll be back again next month to recommend another manga that's hopefully to your liking! Thanks for reading and look out for my next review. If you have any mangas that you want me to check out and write a review on, leave a message in the comment box below.