Posted on Dec 13 2010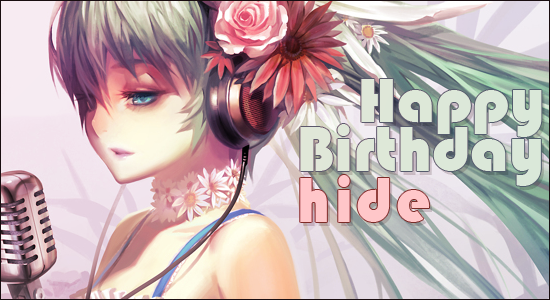 DJ Twilly has written a post in honor of X Japan's hide. He has dedicated his shift today to celebrate the birthday of the late guitarist.
————————————————————————————————-
The date was December 13th, 1964; the place, Midorigaoka, Japan. Unbeknownst to the world at the time, one of the most successful and influential musicians to the Japanese music scene had just been born. Hideto Matsumoto, more commonly referred to by his stage name, "hide" (yes, always written in lowercase), had a musical potential that would soon blossom him into one of the most talented guitarists Japan had ever seen, as well as my favorite musician of all time.
"When I look upon these days that are coming to an end, I remember the faded sunny days" – ever free.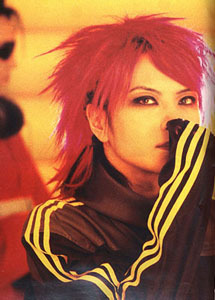 Most commonly known for his key role as lead guitarist for one of Japan's more prominent and successful heavy metal bands, X Japan, hide was able to grow musically and develop his own style, all the while gaining more and more fame and fans over the years. He occasionally wrote songs for the band as well, "Joker" and "Celebration" being among those, which you can definitely tell, have a very distinctive hide-feel to them. Another song he wrote for X Japan, titled "Scars", is one of those songs that shows how well hide could handle a guitar with amazing technical prowess, all the while maintaining his ability to create an extremely catchy melody. While not the band's main composer, nor frontman, hide was probably the most recognized member in X Japan, not only for his incredible guitar playing, but for his excellent stage presence and the fun that he brought to the performance, as well as his eccentric and flamboyant attire and stage equipment, most notably being his bright pink hair and signature yellow heart guitar (continuing even after X Japan dropped the whole visual kei aspect of their band).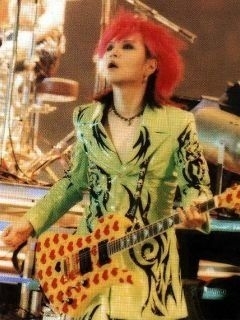 A lot of his fans refer to him as the "Pink Spider", a nickname given to him by his friend and fellow X Japan member, Yoshiki Hayashi. "PINK SPIDER", is also the name of a single written by hide, during his solo career; arguably his most popular song. Personally, it is one of my favorites, right up there next to "Hi-Ho", "ROCKET DIVE", "Junk Story", "FLAME" and so many more. It is incredible to me that a guitarist who was so successful and well-versed in the heavy metal genre could go off on such a wild tangent and create such an appealing alternative sound. Three full studio albums and numerous singles put hide's solo career into the musical spotlight during the 90's. The songs he wrote during his solo era are so varied in style, even when compared to others on the same album, which fascinates me so much. I mean, listening to each album from start to finish, one after another, is like listening to a handful of different artists; so much variation, so much talent. Near the end of his career, hide formed the California-based, industrial rock band, "zilch", with various members of from different bands from the U.S. While they never reached a huge mainstream audience stateside, they did fairly well, considering.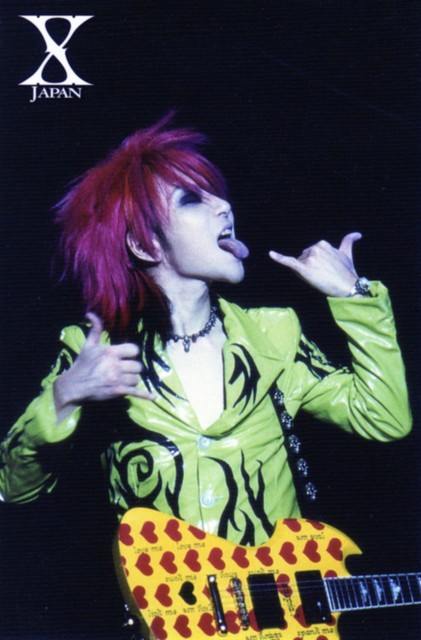 Though I may have never been able to see him perform live, or have the privilege to meet him, I feel as though I knew him, as I'm sure many fans do. Watching videos online is about the best most of us have to work with and refer to, but there is no doubt that hide was an amazing person, on and off the stage. His energy and presence was unmeasurable and the way that each of his songs can make me feel a completely different emotion gives me the feeling of being somewhat connected. Interviews with him that I've been able to find and watch show that he was really dedicated to his music, pretty damn humorous and easy going. Having a strong musical background and being a musician myself, I feel comfortable saying that with artists like hide, there are only a few in each lifetime. Each generation has their greats and hide is definitely one of them, for my lifetime.
As with all things in life, nothing lasts forever, nor lives forever. May 2nd, 1998 is a day I will never forget, nor will any fan of the Pink Spider. It's hard to believe that it has been over a decade since the passing of this legendary artist. Authorities and official records labeled his death as a suicide, but his close friends and fans alike do not believe it was intentional and whether it is was or not is not important; that day we lost a very important person in the music world and to what a lot of us fans consider, a friend. His funeral was held on May 7th, 1998 at the Tsukiji Hongan-ji temple in Tokyo, where the fans showed everyone just how much hide meant to the world. Over 50,000 mourning fans showed up and lined the streets for miles, all very confused and hurt. At the service, the members of X Japan performed their song, "Forever Love", through choked tears, lamenting the loss of their guitarist and good friend.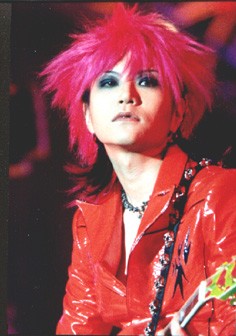 After his death, there was no mistaking that hide had left his mark on the world. A museum was dedicated in his honor, showcasing some of his guitar collection, record achievements and much more. Many artists, to this day, still tribute our Pink Spider, but most notably, is his former bandmates of X Japan. Shortly following hide's untimely passing, the band separated, for years, but In March of 2008, X Japan played the Tokyo Dome and did the incredible thing. Through the usage of holographic technology and pre-recorded footage, the band briefly resurrected their fallen friend for his last show, playing their song "The Art of Life". To me, that is an amazing thing to do and the fact that they still consider him a member of the band and address him as such at their concerts is really showing that he wasn't just some guitarist; he was hide. Later that year in May, the "hide memorial summit" was held at the Ajinomoto Stadium (exactly 10 years after his passing), where many artists including X Japan, Dir en grey and even Luna Sea (who reunited for this one day).
Here we are, 13 years later and hide's memory still lives on. I truly believe anyone who listens to and appreciates an artists' work is, for all intents and purposes, a friend of that artist. Music is a universal language and speaks on so many different levels, as well as connects us to one another, hide did a good job of showing us that. Fans are the spark that keeps a musicians' career afloat and what ensures that legends like hide never die. His music is and forever will be a living monument to his accomplishments and personality, until, as far as I'm concerned, the end of time. We will never forget our Pink Spider and here's to hoping that many more fans will be born. Have a great rest, hide, you are definitely missed and we will see you soon.