Posted on Dec 03 2010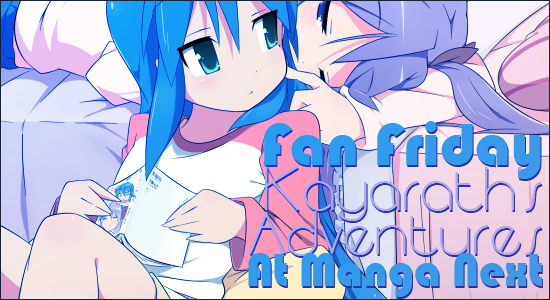 Not only do we give you guys some of the greatest content on the internet, but we give our fans a chance to have their work shine. Fridays belong to the fans, that means if you have an article or video you want us to post up, go ahead and submit it! While we have very talented Content Providers, we believe that everyone should have a chance to have their work published on 91.8 The Fan!
This week's article is submitted by Kayarath:
————————————————————————————————————
Kayarath's adventures at Manga Next

By Kayarath
There are a lot of anime conventions out there. EXPCon, AnimeVegas and Another Anime Con are just a few of the many conventions out there. There are so many anime conventions it would be very easy to miss a convention based on say, Manga? While it may be too late to attend a Manga convention this year, you can read all about me going to one right now.
MangaNEXT is a convention focused on Manga (in case the title didn't give it away).
It's the little brother of AnimeNEXT. They're brothers in the sense that they share last names, forums, production company (or whatever you call a group of people who organize and run these conventions) among other things. MangaNEXT is the little brother due to being the younger and smaller convention. While AnimeNEXT requires a 4 building campus to hold it all, MangaNEXT fits comfortably in a single hotel.
Getting to MangaNEXT is remarkably easy thanks to being right next to a New Jersey Turnpike exit. Seriously, I get lost like Kenpachi gets lost so me finding it easily means it's easy to get to. Be prepared for the tolls though. One heroic quest for a parking spot later, I entered the hotel and brought a one day pass. Along with the badge was a bag for holding stuff and a 72 page Manga style program book that even reads right to left. It was a nice touch.
Like any convention, there were many panels where you can discuss all those Otaku topics you could never talk about anywhere else. There were plenty of panels for the aspiring mangaka. Seriously, if you have any interest in entering the manga industry, you could have learned a lot at MangaNEXT. Sadly, I only attend a tenth of the panels available.
I first attended a Copyright panel hosted by Nina Paley and I can honestly say it was the best event I went to. As a person who's not completely unaware of the conflict between open and closed information systems (like in Linux vs. Windows or the OGL vs. GSL from Dungeons and Dragons), I found myself swayed by her pro-openness arguments. The general theories are that artists benefit more from not using copyright and allowing people to alter/reuse/copy the work as they see fit. By altering/reusing/copying the work, it get promoted and therefore becomes more valuable (like a meme). All of that promoting will lead to the artist getting more hardcore fans who are willing to directly support an artist. The hardcore fans will also protect the artist from people who attempt to steal their work by calling the thieves out on their actions. Then again, a small time publisher spoke from her experience of not benefiting at all from people altering/reusing/copying the material she sold. Fully examining the complexities of intellitual property management would be enough for its own article at the very least.
If IP issues isn't your thing, there was plenty of gaming and other stuff to do. The video gaming section was fun to check out. Scott Pilgrim vs. The World (the game) is as awesome as they say it is and Katamari Damacy is fun but its harder then it looks. The Smash Brothers booths were always full but there was also Halo, Mortal Kombat and even Tetris (which I suck at now L). There was also Table Top Gaming where you could play all sorts of board games. I didn't really hang around there much since I have another place I can go play board games. I regret that I forgot to find a group to play the Fruits Basket Card Game with. (also, CARD GAMES ON MOTORCYCLES!)
If that's not enough stuff for you, you can always go buy some stuff. The Dealer's Room had the the usual collections of toys and stuff. I personally brought the first season of Afro Samurai for $10 and well as some Pocky because isn't eating Pocky a requirement of being at a convention? The Artist's Alley contained the usual collection of, well, artists. As always, you can find some awesome pictures and stuff if you're willing to look. There were plenty of buttons for sale but I didn't buy one. Buttons just aren't my thing; I'm more of a sticker man myself. There was also that artist I saw at AnimeNEXT who does those clay thingies. My most whimsical purchase was the indie graphic novel "Sacred." Can it be called a Manga if its not drawn by a Japanese person? Here's a very quick review of "Sacred;" it's pretty good and can stand with the best of 'em. I should have gotten her to sign my copy of it! CURSES!
Aside from shopping and gaming, there was more things to see and do; like more panels! The "Surviving a Mecha Attack" panel was both entertaining and educational. In the event of a giant robot attack, I'll know what to do! I also attended the 18+ versions of Anime Paliament and Dating Game. In case you don't know, Anime Paliament is where you can discuss the crimes anime characters commit, aruge for and against punishing them, and come up with unsual punishments if they are guilty. Due to the family friendly policies of The Fan, I can only say that those two events were worth attending; espically the all Pokemon segment on the Dating Game.
MangaNEXT was a lot of fun and there was plenty of cool stuff to do. The thing is; I didn't even check out half the stuff going on. There was so many cool things that I missed or forgot to mention like the Cosplay Sock Hop, the Dance Party, the Manga Library, the Manga Book Club, the Karaoke, and at least five more panels I would have liked to check out. You can't forget the cosplay either. Appearantly, I was one of only six people who recognized a cosplay of Sayla from Moible Suit Gundam. WATCH THE CLASSICS PEOPLE!
————————————————————————————————————
If you would like your content posted right here on 91.8 The Fan, send your e-mail titled "Fan Friday" to Kibs(at)918thefan.com.