Posted on Jul 05 2010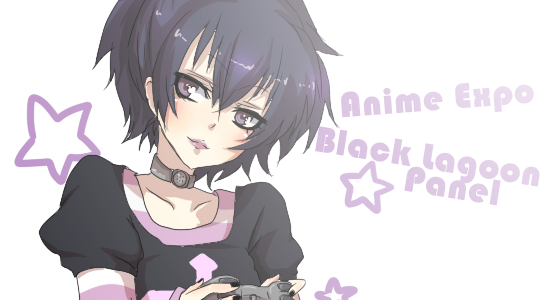 Black Lagoon? I do think so. Elc made his way through the dangers of glomping fangirls and bad cosplayers to make sure he brought back information from the Black Lagoon panel at Anime Expo. Have a look at what he found out while he undergoes some much-needed therapy.
When Elc sat down to view the panel, he was in for a most pleasant surprise. The panelists featured were Rei Hiroe; creator of the Black Lagoon manga, Akinobu Natsume; the manga's editor, and Mitsutoshi Ogura; producer for Black Lagoon's anime adaption. The director for the anime, Sunao Katabuchi, was originally going to make an appearance at the event, but decided to remain behind to work on the Black Lagoon OVA project.
The panel itself consisted largely of the three guests sharing their experiences and a few stories that stemmed from their work on Black Lagoon. At one point during the event, the three were asked questions pertaining to some of their favorite aspects of the series. The first question in the notes prompted the participants to name their favorite weapons used in Black Lagoon. Natsume and Ogure agreed on the katana being the most awesome weapon with Hiroe opting for the BAR (Browning Automatic Rifle). They were later asked who they thought the best character in the series was. Natsume expressed a preference for Chan, Ogura selected Roberta, and Hiroe picked Revy.
Although the panel was mostly good fun and stories, they did give us a little teaser about what we should expect in the future from Black Lagoon. Apparently, there's some plans in the future for character backstories to be revealed during the course of the story. We were also told to "expect some twists". What they're plotting, we can only guess, but it's sure to keep the more maniacal fans of the series up all night in suspense until they find out exactly what these 'twists' are. (Hopefully, they aren't the M. Night Shyamalan kind of twists…)