Posted on Jul 27 2010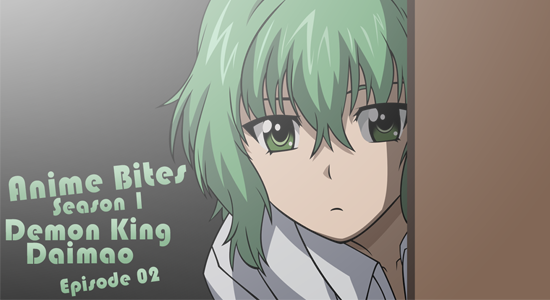 Metrocon just happened (out of nowhere) and I hadn't had a chance to work on this all week. Only my second episode and I'm already a day late. Things are looking up!
——————————————————————————-
Demon King Daimao – Episode 02 – The Strange Observer
Now, on to the boring part!
Animation
The animation in this episode was in slight decline compared to the first, which isn't abnormal for an anime, I just don't want to see it continue getting worse.
Soundtrack
The music in this episode picked up a little bit, and I actually remember a lot of the tracks, rather than the more forgettable themes in the first episode, so this is a plus.
Story
It doesn't really seem like too much happens in this episode, and it seems like this was just a big time waster to set up the events in the next episode. I'm not saying nothing important happened in this episode, I just feel like not too much happened at all.
Characters
Our characters are starting to round themselves out, and are showing signs of where they'll fit in the story. Though one thing I should note is that I mention to the other staffers that I strangely cannot remember the names of any of the characters, this is probably partially due to the nicknames I've given them all, but I honestly can't remember even our main character's name. This speaks badly of either myself, or the anime, and I'm inclined to believe it's not me.
Wrapping up
After everything is said and done, this episode felt rather uneventful, but it was still entertaining, and not boring in the least, just lacking in things going on.
——————————————————————————-
You can watch Episode 2 on Crunchyroll or on The Anime Network.
Or if you're a stickler for censorship, you can pick up the DVD here.