Posted on Nov 12 2010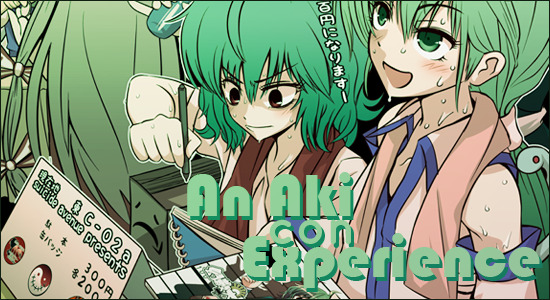 This article comes from our very own Guest Relations expert, Derek. The likes of which you all have probably never even met.
————————————————————————————————
There is a change in the wind and a whisper could be heard pass through my ears, Aki Con. Yes that's right! Aki Con 2010 is here and with it the throngs of hundreds of otaku in a feeding frenzy to make BK201 blink. The convention has appeared in Bellevue, WA at the Hilton and the next 3 days are going to be bliss.
As the start of every con, Friday is the cream of the crop for any new or veteran con-goer. It's seeing the multitudes of men, woman, boys, and girls in full costume walking through the hotel and enjoying eachother's conversations about the exciting world of anime and manga. The vendors room packed wall to wall with almost anything anime that your heart desires. Potions, costumes, posters, movies, games, and much more were waiting to be bought up by the conglomerate of attendees that were beckoned into its hall. But these are just the tip of this amazing iceberg. The guests invited to this con were among some of the best voice actors in anime, including: Johnny Young Bosch, Spike Spencer, and Robert Axelrod. Curtis 'Takahata101' Arnott, from Team Four Star, also graced the con and attending were bands like Eyeshine, Soul Candy, and Rai Kamishiro. This is going to be a great weekend indeed. As the evening progressed, Soul Candy made a stage appearance and rocked the house followed by Rai Kamishiro with her amazing vocals. Spike Spencer then ended the night with "What happens at con…stays at con" where hilarity ensued.
Saturday rolled around at a fast pace, leaving the last nights festivities behind to start anew. There was karaoke, more panels, Eyeshine, more panels, Masquerade ball, and …more panels? Wow, there are a lot of panels. Oh, I forgot to mention gaming. The tournaments showed off Aki Con's most skilled players and pushed each of them to greater heights.
Sunday came and the excitement was relight, more pictures were taken than I have ever seen. With so many different costumes, there could almost be a catalog made. Hmm, that would be an awesome idea *pencils it down on his things to do list*.
Now comes the moment of truth: Do I recommend Aki Con as a viable anime convention? Hell yeah I do. Even smaller cons have their own way of making things fun. I have been to the large conventions and sometimes having too many places to go and not enough time can be a burden. Smaller cons allow for more free time to enjoy not just the panels and concerts, but the convention air and its attendees. Getting to know new people is one of the best things about a convention.
As I depart, dear friends, I say that you should make Aki Con a stop on your anime convention roadmap for next year. See you around.
————————————————————————————————
There you have it, if you'd like your own article published right here on 91.8 The Fan, don't forget you can always submit your article or video to Kibs(at)918TheFan.com.