Posted on Nov 22 2009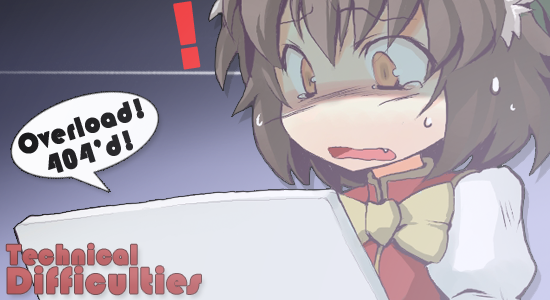 Whaaaaaaaaaaaat?!
So it seems we've run into a temporary problem, but don't worry 91.8 Fans, we will be back up 100% by Tuesday at latest!
What happened?
Well to put it simply, you guys love us too much! It seems the load on our servers was a bit big, and a few things broke under the pressure. We've called our hosting company and they're going to have their best men in to fix it once the weekend is over! So sit tight!
There may be a few problems you run into here and there, but just about everything is up and working properly, you're just going to see a few issues with all the pretty graphics I made on the forums. The only known error on the main site right now is that the banner ad up top isn't working.
Oh no, the ads have disappeared! How ever will we survive?
Smart-aleck
In technical terms?
A "smart alec" or "smart aleck" is a person regarded as obnoxiously self-assertive and impudent.
Not that, Jerk.
Okay, okay. Basically our DNS decided that the server load is getting too big, so it stopped recalling certain things, all of the images are still there, but they're not being retrieved. Unfortunately, the problem is spreading as the server starts thinking more and more parts of the site are dead. However, it is fixable, and nothing that's done from now until it is fixed will be lost, so continue to post as usual!
That's a mouthful of complications!
Yes, but thankfully, between our lovely tech staff (Myself and Kanashimi), when something is broken we actually know what the problem is!
The problem is all fixed now, visitors can view the site normally and this shouldn't happen again.