Posted on Mar 30 2009

So I recently went to the "Krazy" Cosplay Party at the New York Japan Society in conjunction with the "Krazy" Anime, Manga, and Video Games exhibit. And let me tell you, it was crap.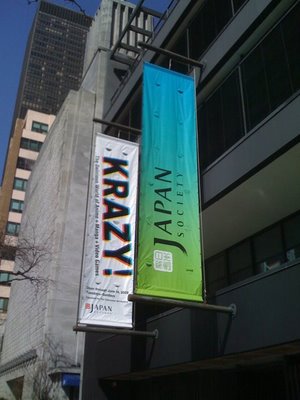 Before I got there, I actually was one building behind and I saw a person in a strange religious costume and I thought, "What strange anime is THAT from?" Then I saw that it was in front of a church. Thank God I didn't ask that guy.
Anyway, I arrive and admission costs $15. Expensive, but I thought it's probably worth it. I go in and see maybe fifty costumes in the front room. They were all really embarrassing, so I didn't feel too self-conscious when I put on my Dr. Derek Stiles costume on in the bathroom (It was really just doctor clothing). I come out and a guard makes fun of my costume. I'm off to a great start.
I look through the exhibit and give it a good chance. I love manga, anime, and video games, but the exhibit was actually really boring. Not that it was bad subject matter, but it was done really badly. In the manga room, there were hundreds of manga books, all in Japanese. There were a few large plaques, but they just explained what the manga were about. And there were plenty of small plaques telling stuff like copyright dates. Thanks. That's real helpful. Anyway, there wasn't anything in the room to keep my attention unless I read Japanese, so I advanced onto the next room. This is the real kicker. The video game room had THREE GAMES. I swear to GOD. Pac-Man, Mario World, and Wind Waker. There was Pac-Man arcade table, and 4 TVs, two cued up for Mario World, two for Wind Waker. This was meager at BEST. The only other thing in the room was a few plaques and some concept art for Mario World. And guess what? They said that they used Mario World because it showed how a game could display a COMPLEX NARRATIVE. How can they vouch for that at all? Anyway, fairly miffed, I walk into the anime room and what do I see? Five anime movies playing and plaques describing what each is about. End of exhibit. Museums are meant to teach people history, right? I felt like I was looking through a small private collection.
Well, there's still the cosplay party, right? I go back into the front room with my friend who has just showed up and we watch a costume competition on a TV screen. The auditorium was full. Yeah, I know. First, we watch a bunny-girl lip-synch to a Japanese song that she doesn't know, then watch people in crappy costumes go onstage and make stupid poses. There was even a guy who came on in regular clothing and waved a bo staff around. After watching this for a while, we decided that we could spend our time better walking aimlessly around the city. We left just as an obese man dressed as a woman entered. How fitting.
By Y-bot