Posted on Mar 10 2012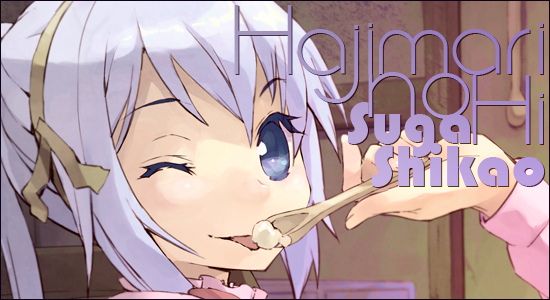 A little more relaxed this week on Merry Melodies, so let's go postal and and have a big adventure!
———————————————————————————————–
I'm gonna drop a mini spoiler to start with. Do not get too excited by the first episode of Tegami Bachi. I spent the rest of the series trying to get to the good part I was looking for, but it never came. That being said, the series is good as a whole, I just was let down by my own expectations. One of my favorite things about Tegami Bachi is the dark blue color scheme. There's almost a lack of most other colors, which makes the blasts of red all the more spectacular.
Suga Shikao does a great job with relaxing songs. While I do enjoy fast paced stuff, this is good to just sit back and enjoy. You might have heard a few other songs he's done in xxxHolic or Honey and Clover. This is one of the few songs I've taken the time to look at a translated lyric sheet for, and it fits the mood of Tegami Bachi quite well in pretty much every way.
The animation for the song is about as high energy as the show will get. It conveys the relaxed feel of the whole series very nicely. It also shows all the characters you'll deal with throughout the show, making you wonder more about them. Nothing about it goes too fast to follow, giving everyone a chance to keep up.
———————————————————————————————–
QUESTION TIME! What do you think of the color scheme? The whole dark blue theme is one of the things that caught my eye about the series.
–
Check Tegami Bachi for yourself right on Crunchyroll! Both seasons are right here