Posted on Jul 18 2018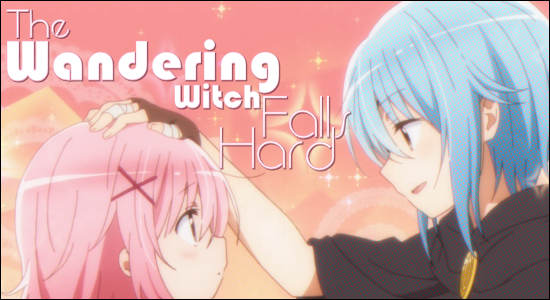 Welcome, all, again. As this viewing season winds down, at least one favorite show of mine is really ramping up: slice-of-life offering Comic Girls, which follows the efforts of a group of girls devoted to creating manga. Now, to be sure, the premise has seen plenty of use through recent years: The Comic Artist and His Assistants; Mangirl!; and Eromanga Sensei spring immediately to mind. This time, however, our young mangaka are high school students occupying Bunhousha Women's Dormitory, itself set up specifically to nurture the development of manga authors. This fact would make me think that perhaps the girls attend a school dedicated to the arts, such as Fiorello H. LaGuardia High School of Music & Art and Performing Arts of Fame fame, except that they seem to attend only regular classes. If they do have industry-specific classes or assignments, those situations have yet to be shown in situ or even discussed by the characters. So I don't know. But if they do attend such a specialized school, it must not be overly important to the plot since it doesn't warrant mention. Besides, as with most recent slice-of-life series, this show tends to be much more about characters than about circumstances.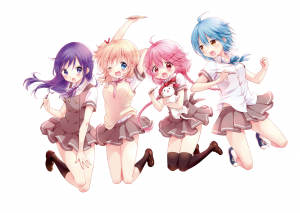 That said, this show takes as its initial catalyst a very specific and devastating circumstance of protagonist Kaoruko Moeta (nicknamed Kaos): that she received the very lowest scores on a reader survey. Not a peep of support, it seems. But what, you ask, does that even mean? Well, it apparently means a lot when you're trying to break into the Japanese manga market. I recently had the good fortune and great honor to write up a little something about Manga Art for Intermediates: A Step-by-Step Guide to Creating Your Own Manga Drawings by Danica Davidson and Rena Saiya, the first known especially for her Minecraft novels but the second being a professional mangaka and teacher of making manga. And in manga, it seems that prizes get you noticed and then surveys help prove that you've got staying power, that you're not just a flash in the pan. Quoting from Rena's website: In general, you need to submit. . .to manga prizes held by publishers and need to win the prizes to make your debut. The information of [for] the prizes are placed on the publishers websites. . .Once a while, there are some prizes for amateur manga writers and you can submit your works to them. The information of [for] these prizes are also on the publishers' website. In many cases, they are held with the manga prizes. [https://www.japanese-manga-artist.com/] Then come the reader surveys as a way of validating the potential that your editor thought s/he saw in your work. Poor survey results thus undercut and imperil the beginning mangaka, and it is just such a situation that leads Kaos' editor to recommend that she move into the supportive and instructive atmosphere offered by Bunhousha Women's Dormitory; she hopes to alchemize Kaos' glitter into gold.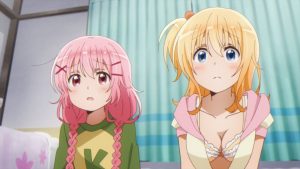 But we can't have a dorm to house just one person, can we? After all, this isn't Kanojo ga Flag o Oraretara (If Her Flag Breaks). And it turns out that the dorm has two new residents, the other being Koyume Koizuka, a beginning shojo manga author. They are assigned as roommates and soon meet fellow residents and serialized authors Ruki Irokawa and Tsubasa Katsuki. Being already serialized, Ruki and Tsubasa are immediate senpai material, and our two rookies latch on hard–particularly in the case of Koyume, who develops a crush on Tsubasa. It's a perfect match: a shojo mangaka who can't draw boys and a professional shonen mangaka who often dresses as her story's hero to in order to facilitate her writing. Kaos, meanwhile, becomes everybody's mascot due to her extremely small size and cutely innocent nature. Sadly, her newfound popularity does nothing to improve her storyboards, which continue to be rejected. (Which rhymes with dejected, describing Kaos.) Her dorm-mates rally to her support, including resident horror mangaka Suzu Fura and dorm mother Ririka Hanazono, but Kaos continues to struggle.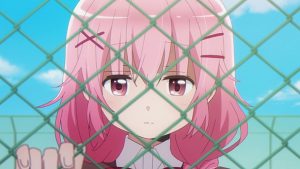 And here we see the strength of slice-of-life: the ability to elevate the mundane. Even as Kaos struggles to advance, the very friends who are helping her are also moving forward. Koyume becomes serialized; Ruki holds her first autograph session; and Tsubasa explores other genres. And in a poke-in-the-eye swipe at standard school-based storyline cliches, the girls face losing their dorm with dignified resignation. No ridiculous plans to oppose the loss, nor weepy protests to protect the place, but rather a surprisingly demure and mature appreciation that a very special time in their young lives is quietly closing. There is a steely realism beneath layers of soft, often fluffy story material. And despite her timidity, Kaos hides a strong, optimistic resolve. Please support her!