Posted on Apr 19 2016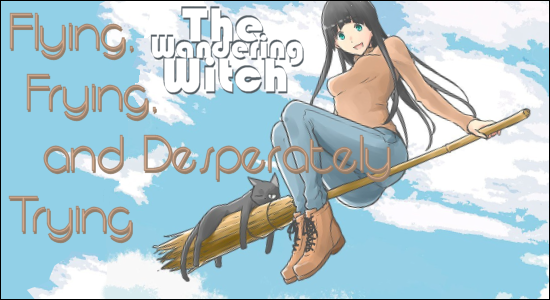 Welcome, all, again. Let me begin by admitting that I have been completely overwhelmed by the choices this season, and have not had the chance to watch even half of what I wanted or planned. That said, I love what I have seen! Past favorites God Eater and The Asterisk War have both returned, pulling us back from those respective cliffs upon which we were cast and abandoned months ago. (Just so you know, it was worth the wait!) Several entertaining new shorts have also joined the lineup, notably SPACE PATROL LULUCO, at just under 8 minutes per episode, and Tonkatsu DJ Agetaro, at 9 minutes per episode. Both follow young protatonists who struggle in developing and integrating new pursuits into their lives, one from quiet student to aggressive law officer, and the other from restaurant worker to aspiring DJ. But I'll focus this column upon three other offerings: Flying Witch; Twin Star Exorcists; and Anne-Happy.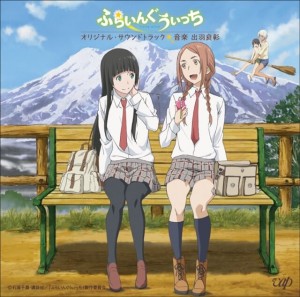 Flying Witch has thus far been a pure joy to watch, a simple and understated slice-of-life treatment of experiencing adolescence as a witch. [Imagine Kiki's Delivery Service if somebody had slipped Kiki a Valium–OK, several Valium–and you're getting there.] Makoto Kowata is a teenage witch-in-training who has been sent to live with her cousins, the Kuramoto family. Makoto is a sweet and friendly girl with an easy smile and a terrible sense of direction. She does, however, seem especially skilled in herb lore and the preparation of medicines, and exhibits great excitement when introduced to new plants. But just to make sure that she keeps up appearances, she also flies by broomstick (which she admits quickly becomes uncomfortable) and keeps a black cat as a familiar–obviously, some people just appreciate stereotypes! As her stay lengthens, Makoto's presence draws other magical beings into her orbit and her family's attention. This is subject matter that has been both well-covered and–much more rarely–covered well, but the quietude of this show works its own magic. This is so far my favorite new series of the season.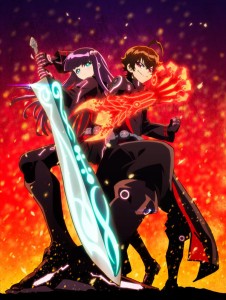 Twin Star Exorcists, on the other hand, is a loud and rambunctious riot of destructive magic, featuring fights between actual enemies (exorcists and demons), between should-be allies, and even between would-be spouses. Benio Adashino and Rokuro Enmado are two 14-year-olds with the shared power of exorcism. Thing is, Rokuro wants nothing whatsoever to do with this ability, still trying to escape the pain and guilt he feels from his friends' deaths at the hands of demons (Kegare). Benio, meanwhile, sees her role as exorcist as a holy calling and is determined to push as far as she can, vowing to personally destroy all Kegare. And once their paths cross, both of their lives become infinitely more complicated. Rokuro despises Benio's gung-ho attitude, while she is in turn disgusted by his rejection of his abilities. And just when they thought they couldn't dislike each other more, Arima Tsuchimikado, overall leader of Japan's exorcists, announces that they must marry and produce a child(!) who will become the ultimate exorcist. Hmmm, this show might get even louder.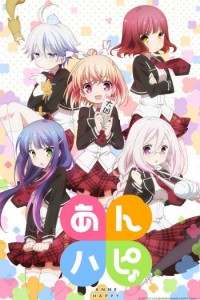 Anne-Happy is, by comparison, a rather happy medium–a comic slice-of-life following a class of students who seem unnaturally unlucky. Making matters worse, or at least more humiliating, is the fact that individual class members are diagnosed with particular forms of bad luck, such as unrequited love or poor health. And while the professed goal of their teacher is to help them defeat their difficult situations by overcoming their bad luck, these students will face plenty of pain and embarrassment along the way. But at least they won't face it alone! Anne (Hanako), Ruri (Hibari), Botan, Hibiki, and Ren are determined to support each other as they escape Class 1-7's doom and gloom designation. But sticking together comes at its own price as individual misfortunes coalesce into group calamities, so get ready to cheer these underdogs forward!
And so I find myself enthralled by this season's offerings, however little time I have to devote to enjoying them. The titles mentioned here are my primary picks for this Spring, although I am watching others. Old favorites have returned, even as new favorites emerge. Tonkatsu DJ Agetaro is probably the season's most original new show, but I find myself repeatedly drawn to the welcoming quiet of Flying Witch. I could simply melt into its peaceful rural setting. Twin Star Exorcists succeeds as both action/adventure and comedy, whereas Anne-Happy can be seen almost as an extended, serialized buddy film. And these shows, as good as they are, are just the vanguard of a promising season with even more titles waiting to be explored and enjoyed.