Posted on Mar 26 2015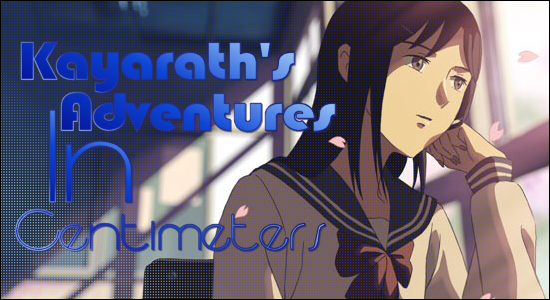 What is love? A crazy little thing? A second hand emotion? What you ask before you say baby don't hurt me no more? Love is all that and more. It's a complicated, inspiring, destructive force. It overwhelms our ability to live life yet also makes it truly worthwhile. Love is many things, including inspiration for manga. While many manga touch upon love, few do so quite like 5 Centimeters Per Second.
If you're an anime hipster, you probably recognize that 5 Centimeters as one of Makoto Shinkai's works. The easiest way to describe him would be a Miyazaki-like; as in he focuses on making movies that eschew typical shonen/shojo/ect. conventions and achieves wide recognition for his work. Unlike Miyazaki, he focus tends to be more on the characters' internal turmoils rather than creating wondrous worlds. At least that's what I gleamed from my limited understanding of both men. What I can say for sure is that Shinkai is no where near as popular as Miyazaki; and that's a shame.
While 5 Centimeters Per Second originated as a movie, it should be no shock that it would eventually be remade it into a manga. Vertical Inc. managed to get the rights to said manga and have been publishing the English version for quite some time now. The easiest way to describe them would be the manga hipster publisher, who tend to be a bit more on the cutting edge of manga. They also publish Japanese novels, craft books, and a bunch of other stuff. Look, if you're really interested, you can read up about them in this interview I did. You can also check out their ask.com account which I highly recommend if you have any interest on how the manga industry works in America.
If I had to sum up the 5 Centimeters Per Second Manga in two phrases, those phrases would be "The feels!" and "isn't it obvious?" This is an emotionally intense work here people! If you want a roller coaster ride of emotional highs and lows, you have found an epic ride. I can still remember the intense emotions I felt when I first read it long ago. It's a slam dunk. Vertical Inc. feels the same way too. In fact, it is their work that has undergone the most print runs. More print runs means that's more demand for it.
5 Centimeters Per Second follows the life of Takaki Tono as women fall in and out of love with him. It's not a harem manga, I promise. It's more like we follow Takaki through his life as he and others experience love and lost. It works because the writing is so expressive and real. There are absolutely no fantastic elements here. None. No magic powers or robots or unusual situations that don't happen in real life. It's all dialogue and thoughts you can imagine people actually have when they talk about love. It helps bring the focus on the feelings. It helps you relate to the characters and their feelings better.
The art also helps in that regard. Yukiko Seike does a great job at bringing it all to life. The human face can communicate emotion in a thousand different ways, but it's all very subtle. Slight variations in pupils, cheeks and lips can say completely different things, and Seike nails it every time. Sadness, happiness, and love shine through in a subtle but completely human way.
As seems to be the pattern with Shinai's material, I tend to end up lost at some point. I'm all confused by part three. Takaki is having a breakdown and I'm not really sure why. It just becomes muddy at this point. The clear road map of the first two parts just breaks up at the end. Maybe it's because the manga gives more development to the characters then the movie did (at least that's what I heard other reviews say). It must be a love metaphor of some type but I'm not sure.
One last thing that makes it stand out from the crowd is its compactness. 5 Centimeters Per Second clocks in at about four hundred fifty pages in total. That's enough to fit comfortably in an omibus sized book. It's a much better manga gift because it's a complete story in one book. A manga that doesn't need at least ten volumes is practically a novelty at this point.
Manga tends to portray love as a gooey, warm emotion that builds and slowly pulls people together into unbreakable bonds. While that is part of love, that's not all of it. It can also be painful, tragic, and fleeting. Yet in the agony of unfulfilled love, the sorrow you feel is true and genuine. It's a part of who you are. Make peace with it and carry within you as you go forward. If you want to hold that truth in your hand then get this manga. That is the beauty of 5 Centimeters Per Second.