Posted on Dec 17 2014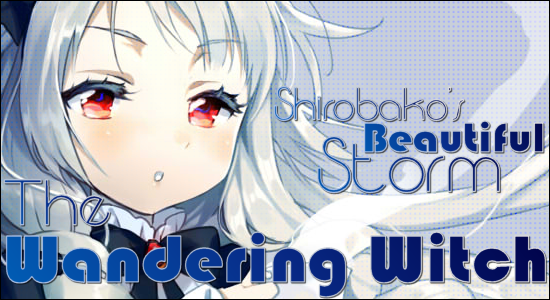 Welcome, all, again. Our subject this time is Shirobako, an anime about making anime. And while that might sound like an invitation to kid-glove treatment of subject matter and blatant self-serving promotion, this show deftly repudiates those concerns. It is both funny and engrossing, but makes me wonder how we get to see any anime at all! The story essentially follows five high school friends and anime club members who enter the anime industry after they graduate. As they pursue their individual interests within the medium, we the audience get a fascinating glimpse into the roles and interactions of various contributors to the process of assembling an anime series. Shirobako is of recent origin, with the manga and anime series both premiering in late 2014. The manga is carried in Dengeki Daioh, while the anime series (by studio P.A. Works) is broadcast on Tokyo MX and simulcast on Crunchyroll on Thursdays at 10:30AM CST.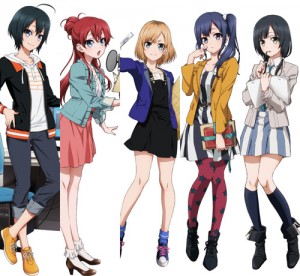 The girls from the Kaminoyama High School animation club are determined to make anime professionally, and hope to reunite to make their own anime one day. The story's protagonists are: Aoi Miyamori, a production assistant at Musashino Animation; Ema Yasuhara, a key animator at Musashino Animation; Misa Todo, a 3D computer graphics operator at Super Media Creations studio; Shizuka Sakaki, an aspiring voice actress with Akaoni Production who supplements her income working as a waitress; and Midori Imai, a university student and aspiring scriptwriter with no current industry affiliation. Although work has separated them, the girls still attend a monthly gathering to relax and encourage each other. They often meet in the pub in which Shizuka works (the owners being sympathetic to and encouraging of Shizuka's ambitions). The series takes place roughly two-and-a-half years after their graduation, and they remain relative newcomers to the industry, although Aoi, Ema, and Misa have become entrenched in their work groups at their respective companies. All five are still trying to advance their careers, and this is very much their story, albeit with many other participants.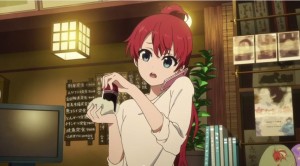 Meanwhile, the production process(es) detailed in Shirobako can be summed up with the single word frenetic. In truth, we anime fans already know that various processes are subcontracted to different companies during production. (Indeed, Misa's employer Super Media Creations is a studio specializing in creating 3D representations of automobiles and automobile components.) What I, personally, never considered is the coordination needed to mesh these separate efforts into a cohesive whole, that whole being itself segmented into however many episodes. Consider that situation for a moment: that your product, to be whole and complete, must provide however many separate and distinct pieces (episodes) which must themselves each be made into a whole from disparate parts. Storyboards must become movement; voice acting must be segued to animation; sound effects and 3D graphics must be incorporated; and the whole must be edited. And to complicate matters further, episodes are not completed in order of their place in the story arc–rather, many different episodes are undergoing different parts of the various production processes all at the same time. To watch, it seems almost like trying to ship the cartons of orange juice while the oranges are still hanging on the trees. I cannot begin to know how accurate a portrayal this series gives of anime production, but what it suggests is an industry of interdependent companies and artists dancing upon a razor's edge of deadlines and production costs. Shirobako's storyline is light-hearted and humorous, but the industry it portrays is intense and vaguely intimidating.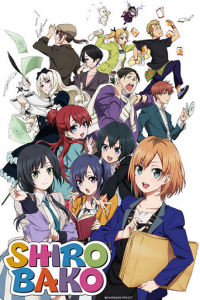 In my opinion, Shirobako has proven to be one of this season's most entertaining offerings. The struggles which the main characters endure are understandable to anyone who has tried to learn a new job, while the support which they offer each other is realistic and heart-warming; the truth is that sometimes you just can't help your friends directly, and all you can do is share a meal and kind words. The coworkers and competitors (sometimes the same person) with whom the protagonists must interact add to the realism of the series, keeping the storylines firmly grounded in the realm of business. But it is perhaps in its exploration of the commercialization of the artistic elements of the anime industry that Shirobako most distinguishes itself, detailing such challenges as overlapping production schedules, conflicting egos, and multiple deadlines. In an industry that has seen subcontracting lead to unprecedented specialization, keeping up with who is working on what (both in-house and outside) and when it is to be delivered and incorporated is shown as a daunting task! The difficulties of the individual artist are also addressed, from freelancers working on multiple projects (or, much worse, being without work) to trusted company men preparing to change companies. And we see it all, in all its confused and gritty glory. And I, for one, intend to purchase this series as soon as it becomes available for sale. It is that fascinating, and that good.