Posted on Aug 20 2014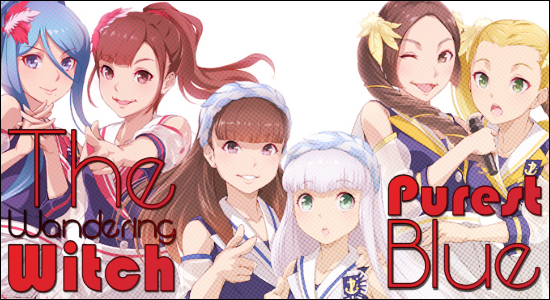 Welcome, all, again. Having last month reviewed a premiering anime series, I shall this month return us to a series from the recent past and follow its latest metamorphoses.
I refer to the series Ars Nova, otherwise known as Arpeggio of Blue Steel, which aired for 12 episodes from September-December in 2013. In quick summation, the series is set in a near future in which rising sea levels have severely reduced the amount of land available to humanity–a humanity further threatened by its overwhelming naval defeats at the hands of the alien and technologically advanced Fleet of Fog. Ars Nova follows the efforts of Gunzo Chihaya and his crew aboard the former Fog submarine I-401 as they defend against Fleet of Fog aggression.
Like so many anime series, Ars Nova originated as a manga; its ongoing run in Young King OURS magazine began in September of 2009. Studio Sanzigen, known for such series as Black Rock Shooter and Wooser's Hand-to-Mouth Life, produced the anime version, which is far lighter in tone than the manga. As might also be expected, some rather drastic plot alterations occurred between the page and screen, a necessary concession to produce a self-contained storyline through just 12 episodes. (For example, neither Gunzo Chihaya's father nor the Scarlet Fleet of Fog make appearances in the anime version).
So, you ask, what of the aforementioned metamorphoses? First, Studio Sanzigen announced in June the upcoming 2015 releases of two Ars Nova movies–one a summation of the anime series, but the second following an entirely new story. So there is hope that more source material will find its way from page to screen. Second, and more immediately important, is the release of the album Purest Blue in June, 2014. (Yes, this month's column is actually intended as something of a music review. That took long enough to clarify, right?)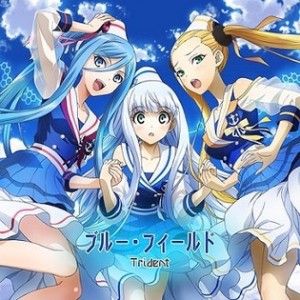 Japan is that mystical, faraway land in which musicians–particularly young female idols–are often encouraged to belong to several different groups and projects at any one time. It is also commonplace for voice actors (has the word actress really fallen into such disuse?) to sing a series' opening and ending themes. But Purest Blue is so much more(!), an entire album thematically linked to the anime Ars Nova and performed by Trident, a group formed by the three main female voice actors of the series: Mai Fuchigami (Iona), Manami Numakuro (Takao), and Hibiku Yamamura (Haruna). Purest Blue has 11 tracks, the first 10 of which are performed by Trident. (Honestly, hearing male voices singing the last track was something of a let-down for me, but that's why CD players come with "skip" buttons.) On the plus side, my copy came complete with a DVD containing a music video clip and a behind-the-scenes, making-of segment.
[Here is the short version of the title track's music video:
This is the most excited I've been over an album release in a long while, and the product itself has only heightened that excitement! The tracks are pure J-Pop, with a light, airy sound to the music. And while the lyrics' meanings might escape me, I find that these ladies have a real talent for singing, their voices blending beautifully and their harmonizing being very well-done. Purest Blue easily surpasses the hype surrounding its release (let us hope the same from the coming movies!). It will be interesting, however, to see what happens to Trident from here–whether they can sustain themselves as a functioning music group or if that group proves to be just a temporary extension of Ars Nova marketing efforts. Given the level of talent displayed on this first album, I hope that Trident's members are given the opportunity to continue their musical pursuits–especially together.