Posted on Oct 15 2014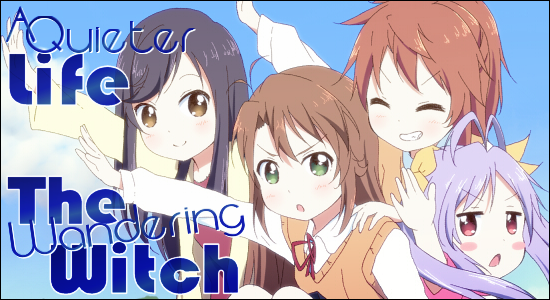 Welcome, all, again. I find myself at something of an awkward time for writing this column: the shows which I've been watching have mostly ended, while the new season's shows have aired only one or two episodes–too few for a legitimate review. And so I've decided to review a fairly recent title which has a second season in production, Non Non Biyori.
This slice-of-life anime has its origin in an ongoing manga by Atto which has been carried in Media Factory's Monthly Comic Alive since 2009. The series, produced by studio Silver Link, aired on TV Tokyo from October-December, 2013, and remains available for viewing on Crunchyroll.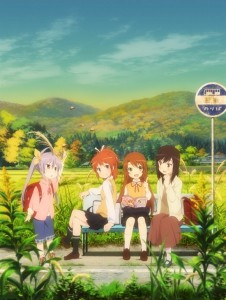 Non Non Biyori focuses upon the lives of a group of students in a small rural community, and quickly introduces the arrival of Hotaru Ichijo, a fifth-grade female transfer student from Tokyo. She becomes the fifth student in the village school, a mixed-grades class that now has four girls and one guy. The other students are: Renge Miyauchi, a first-grader whose older sister, Kazuho, is the school's teacher; Natsumi & Komari Koshigaya, first- and second-year middle school students, respectively; and Suguru Koshigaya, a third-year middle school student and the older brother of the Koshigaya sisters. Other important characters are Yukiko Koshigaya, mother of the Koshigaya children, and Kaede Kagayama, who runs a local candy store that seems more like an old-fashioned general store. Additionally, a cast of recurring secondary characters adds further depth to the community.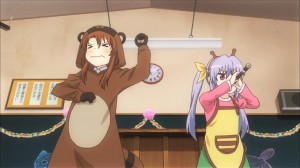 The show concerns itself with the daily lives of these children, especially Hotaru's settling into the rhythms of local life. After all, this quiet countryside is a far cry from Tokyo's busy streets. But her new companions are a joyful bunch, and Hotaru is immediately included in their activities. Renge, the youngest, is a curious child who enjoys jokes and playing the recorder. She has also trained a racoon-dog to come when she whistles, and hints at having taught it other tricks. Natsumi, although younger than her sister Komari, is more charismatic and often attempts to lead the girls into rather dubious endeavors. Komari, upon whom Hotaru becomes fixated, possesses a quietude that reflects her petite form. Even quieter, however, is her brother Suguru, whom I most often see mentioned in reviews as being almost non-existent in the storylines and used only for occasional physical humor. I cannot fully agree. Although Suguru is given limited screen time, his presence seems to fill the moment, especially when he makes himself available for his sisters. Likewise, another character whose limited appearances belie her actual presence is Kaede, also called "Candy Store." She is particularly fond of Renge, and will sneak her extra treats.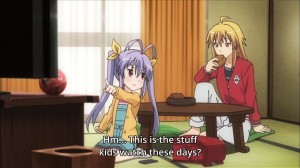 Non Non Biyori is that perfectly balanced slice-of-life that doesn't need to rely upon outrageous gags or grossly exaggerated characters. It's almost as if you were watching the whole thing through a window as it happens. In shows such as this, character development is a non-issue in that the characters are already grounded and well-established. And these characters are believable, both in their dialogue and their actions. Having grown up on a farm myself, I am very familiar with shelling peas, drying fruits to keep over winter, and tending fields. I am likewise personally familiar with the conflicting notions of contentment in one's self-sufficient country ways and curiosity as to what the wider world might offer. Non Non Biyori captures those feelings well. The animation is also well-done, with the artwork being on par with that of Aiura. (If you are unfamiliar with Aiura, then just know that I was really, really impressed with the artwork!) As a whole, the humor is subtle, as is the story-telling itself. And the stories are as delicate as the characters are tenacious. Slice-of-life is my favorite genre, and this is one of my two favorite shows, ever. So if you missed this gem, better catch up before the second season airs!