Posted on Aug 28 2013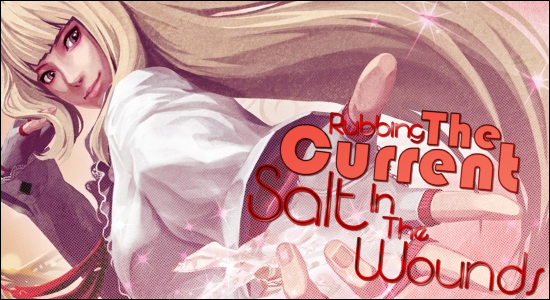 In an Internet-connected world full of countless video game streams showcasing various fighting game matches, single player adventures, and large-scale battles, one website has appeared to combine an extremely crazy, creator-driven game with an amazingly simple betting system to create an experience unlike any other.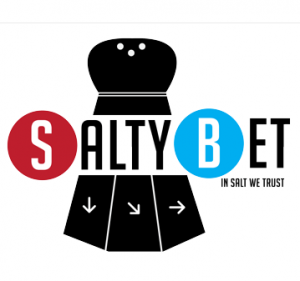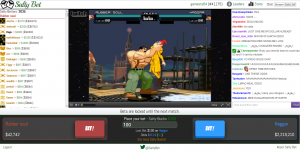 Salty Bet is a safe, money-free way of betting on mind-boggling fighting matches created by the ever infinite fighting game and creation engine MUGEN, as well as certain fighting game events such as those found during the EVO Championship Series. In a nutshell, MUGEN allows players to download any character they may desire to fight with from a seemingly endless list of characters: from various TV shows, to mascots, to anime, video games and more. Creators try their hand at placing their favorite characters into the game and programming their move sets, specials and animation, as well as creating stages for their new creations. Naturally, this leads to many broken, weak, unintelligent and overpowered fighters among the carefully crafted ones, which, in turn, allows Salty Bet to create a betting experience full of upsets, one-sided beat downs and beautifully balanced fights. There's nothing more exciting than seeing Ronald McDonald completely destroy Darkseid after watching a Touhou character beat up Fat Albert. I couldn't make this up if I tried, folks. The excitement can really get to you too! After betting on some tough matches my adrenaline was pumping and I was laughing like a mad man! My sincere condolences to my fellow staff members on Vent who witnessed one of the biggest laughs I've ever had in my life. RIP Kana's ears.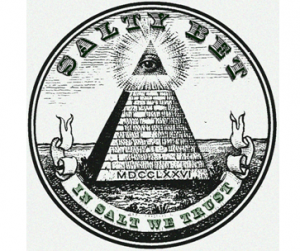 To begin their decent into madness, users sign up at www.saltybet.com and receive a head start of 400 Salty Bucks. Salty Bucks are one hundred percent fake and cannot be cashed in, traded, or bought. The only way to earn Salty Bucks is to bet on matches and win! The exception to the rule is becoming a member of the Salty Illuminati. For a small monthly subscription, a user's screen name will show up in gold on the chat box to signify Illuminati status. In addition, the user gains the added security of never being caught with less than 666 Salty Bucks, the removal of banner ads, extra statistics, an exclusive forum, and the ability to change screen names.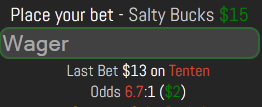 For those who choose to tough out the betting alone, the excitement never ends as they try to avoid the Salty Mines. Whenever a user loses all of their Salty Bucks, they are sent to the Mines and must now claw their way out. They are given a small buyout of 10 Salty Bucks to begin their difficult journey anew. This "danger" keeps users on their toes and leads them to bet safer while paying close attention to the extremely populated and extremely crazy chat box. Unfortunately, I tend to bet terribly and end up visiting the Mines on a regular basis. I'll consider it a new home away from home until the unlikely day I win big. Until then, I'll enjoy betting everything I have each round.
In the end, Salty Bet provides endless hours of entertainment at no cost aside from loss of sleep and sanity. It also makes for a great time with friends! 91.8 The Fan's very own Eternal Scholar and other staff members of The Fan had a gut-busting good time watching and betting at my side after I introduced them to Salty Bet. They still tease me about being in the Salty Mines to this day. Even the other staff members who weren't watching the live stream were dragged into the madness! During one match, I couldn't decide who to waste all of my money on and so I asked a bunch of the staff who I should pick. You'd be surprised how much we all disagree on a fighting game! It's a shame they made me pick a loser and threw me into the salt mines.
Should you find yourself curious enough to sign up and start betting, I will part with a few words of wisdom straight from the geniuses of the Salty Bet chat: Always bet on DBZ, Never bet on DBZ, Always bet on Touhou, and finally, mistakes will be made.