Posted on Oct 03 2013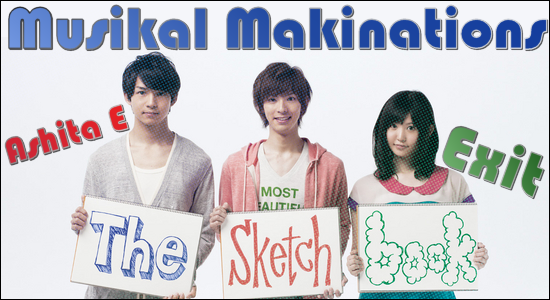 Greetings denizens of The Fan!
This month Musikal Makinations is getting this review to you just before it heads out on the road again! What is this with being the road all this time you might ask? Well, it is just incredible coincidence! But, never let it be said that anything stopped this reviewer from bringing you the latest from the world of Asian music!
Anyways, on to the review!
Anime fans of the series Sket Dance will instantly recognize The Sketchbook's music. They provided several OP and ED theme songs for the series, including Clover and Message.
Official Video for Clover
Official Video for Message
The Sketchbook is a three piece J-rock band that made its start in 2011 in a rather unique way.
It all started with The Sketchbook Project, which was born from the anime series Sket Dance official website and was based around the Kaimei Rock Festival chapters.
The project had two parts:
The first part was a Producer Battle, in which the 3 main characters from the anime "battle" each other in a series of web-shorts. The fans would then vote for which producer they liked the most, and thus had a hand in selecting which song would be used in the anime for the festival episodes.
The second part was Band Member Auditions, which was also announced on the anime series' official website. It held open auditions for a male vocalist, female guitarist, and male drummer. The three performers selected would then play the winning song from the Producer Battle. A total of 23 finalists were announced and then voting was opened to the public to select the three members.
The winners were Hiroshi Tada for vocals/bass, Riko Kohara for guitar, and Yuu Watanabe for drums and are the current members of The Sketchbook.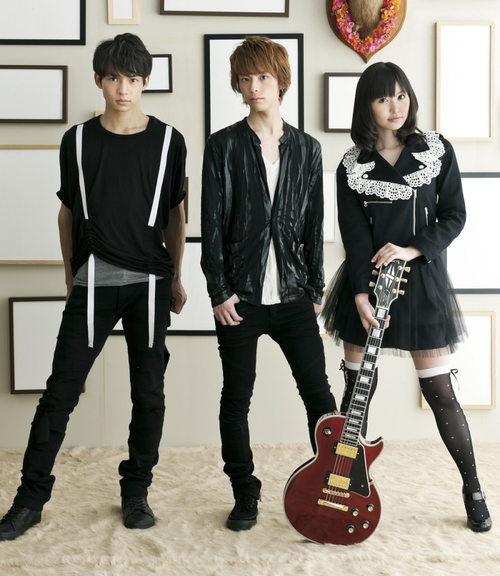 Left to Right: Yuu Watanabe (dr.), Hiroshi Tada (voc./bass) and Riko Kohara (gt.)
Pretty cool, huh? I love stories like this!

A little bit of info about the band members:
Hiroshi's nickname is Hiropin. He doesn't like tomatoes but seems fine with ketchup.
Riko's nickname is Rikopin. She enjoys cosplay as a hobby and seems to get her band-mates into it as well!
Yuu's nickname is Gummi Prince, which came about due to the fact that he loves gummis. Apparently they are his favorite food! At live performances, fans give tons
of gummis to them.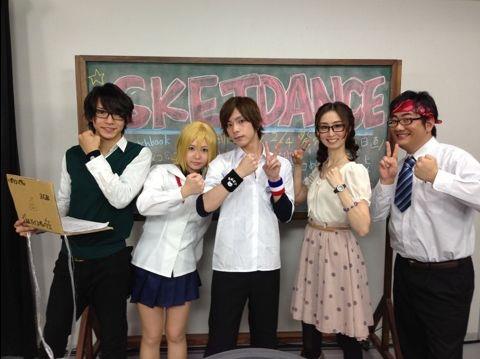 The Sketchbook cosplay as their Sket Dance anime character counterparts
Since 2011, The Sketchbook have released nearly a dozen singles and albums (including an amazing cover of The Pillow's Funny Bunny).
This month I'll be reviewing their most recent single, Ashita E/Exit.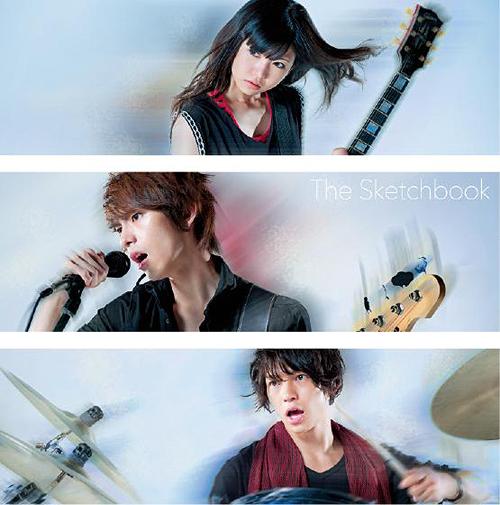 Ashita E/Exit, released September 25, 2013
Tracklist:
1) Ashita E
I'm always amazed at the quality of sound that good three piece bands can make. The Sketchbook is definitely one of these types of bands. You can clearly hear Hiroshi's bass, Riko's guitar, and Yuu's drums. I think it's a challenge for three piece bands to make their music stand out. But, in Ashita E, by keeping things simple, the song shines. Vocals start out with a somber, eased feel, working itself up as Hiroshi's vocals crescendo into the main part of the song. He does well to stay in his vocal range. Riko's guitar is crisp and clean with a decent solo. Ashita E doesn't showcase just how talented she is on guitar as some of their previous songs. However, she does a good job with what is a simple piece. Hiroshi's bass provides a solid and harmonizing background to Ashita E. Yuu's drums keep a good pace, though they could be toned down just a bit as they overpower some parts of the song. Overall, I really enjoyed listening to this song. It's clean and simple, yet it does everything nearly perfectly to make for a great song. (9/10)
Ashita E Official Video
2) Exit
Exit changes up pace a bit. It's used as the second ED theme for the second season of the anime Kingdom. Unlike Ashita E, The Sketchbook use additional instruments in the background beyond their three piece setup. A keyboard/synthesizer is used, sparingly, throughout the song in the background. I'm not fond of them being used in some music styles, especially in rock tracks however it works well in this song. It's not overbearing and ties the song together well. Hiroshi's vocals are excellent throughout the song. He's really good at keeping his voice soft and somber, almost like he's singing a lullaby and then ramping it up to generate the power when needed. His bass play is spot on and harmonizes well with the rest of the band. Riko's guitar sounds good. Again, not a song where we hear her cut loose like some of their other songs. I REALLY want to hear her play some more challenging pieces like she did in Clover and Message. Yuu does a good job of keeping everything on a good pace on drums. His volume was much better in this track (I suppose it wasn't really HIS fault in Ashita E as much as it is the producer and sound engineer for the single). Overall, the song was good. Not as good as Ashita E, in my opinion. (8/10)
3) Ashita E (Instrumental Version)
4) Exit (Instrumental Version)
Overall, I give The Sketchbook's Ashita E/Exit single a well deserved 9/10. They've kept up their sound quality from their previous albums. Though we don't hear anything particularly challenging in either song. Ashita E is done SO well, that I think it makes up for it in spite of its simplicity. Both songs showcase Hiroshi's great vocal talent and the bands musical ability very well. My hope is that we see some more challenging music similar to some of their previous songs in upcoming albums and singles. Riko needs to cut loose on another good guitar solo!
Anyways, I love The Sketchbook's story. It's something that could be made into an anime…Oh wait! They did that!
Though I love all types of music, I have a soft spot for rock bands, especially when they come together and make great music as The Sketchbook has in such a short period of time. I look forward to their continued success and hope that we might get a chance to see them at some convention in North America sometime (I'm looking at YOU 'insert name' convention organizers!)
To find out more about The Sketchbook, follow them on social media and get their music and merchandise through the following sites:
Well, that's all for this months article! Thanks for taking the time to read it. Post your comments, suggestions, gripes, etc. so I can fine tune my reviews!
Stay tuned for next month's review!
Until then, stay tuned to 91.8 The Fan, where you get Everything You Want, and Nothing You Don't!