Posted on Jan 10 2013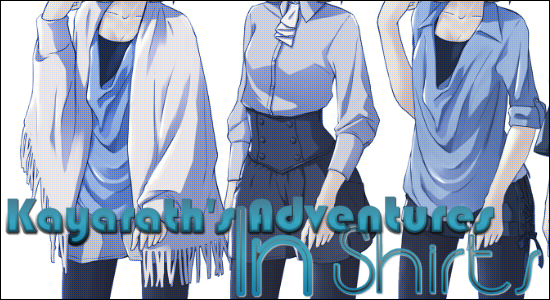 Today's anime fan has countless ways to spend their hard earned yen. There are many series on DVDs/Blu-Rays and that's only the beginning. Video games, music, action figures, conventions, and pocky all vie for a spot in your crunched budget. How does one decide what to buy? Luckily for you, there are people that can offer suggestions on potential purchases.
Now, at this point, you must be wondering, "What is he trying to sell us? Who bribed Kayarath into turning his column into a commercial?" Well I assure you, I have not been brought off by someone. If you ARE interested in buying me off, feel free to contact me as my rates are very reasonable. What I'm recommending to you truly has the potential to improve your life. The item I, Kayarath, want you, the reader, to buy is…
an anime t-shirt.
If you read my article about Kroze, you'll notice that the dramatic conclusion was spurred in part by my wearing a t-shirt that someone else recognized. I also have other anecdotes on conversations started because one person recognized something on another's t-shirt. Believe it or not, t-shirts can be a social tool. It actually makes sense once you think about it. It would explain why designer labels sell t-shirts with their names on it.
In general, anime fans do their anime-related socializing online, in an anime specific venue, or with friends whom they already know enjoy anime. Attempting to find other anime fans among the general population can be tedious and difficult. It would be a lot easier if there was some way for us to signal each other out in the general public. Some way to tell the world, "I enjoy stuff from Japan and wouldn't mind conversing with other people who feel the same way."
Like in any social situation, you'll need to approach it correctly. If you live in a lowly populated or highly private area like a small town, then a t-shirt may not be that helpful. Generally, you'll want to don your t-shirt in public places full of people. Events, festivals, concerts, and similar venues would be your best bet for such a place. Anime friendly locations like comic and gaming stores are a safe bet. You'll also need to pick the right t-shirt to wear. For example, a Hamtaro t-shirt isn't a good idea if you're not a small child. Many people may not recognize an obscure anime either. There will also be times where it isn't appropriate to wear a t-shirt at all. You'll need to exercise some caution here.
It's totally worth it though. As you walk among the crowds, people will remark on your cool outerwear by saying things like, "nice shirt" or "that's my favorite character." It's the perfect ice breaker for the person afraid to initiate conversation. With that conversation sparking remark, you can finally talk about those subjects you never could before. For example, why do the monsters never attack Sailor Moon during her transformation sequence or does watching Black Bulter make you less of a man? Since they commented on your shirt, the both of you already have something in common, making conversation easier to have and maintain. If you're an anime fan who has trouble making friends, then this is the perfect asset to have! Every +2 modifier helps.
If the prospect of increased social interaction isn't enough for you, there's more! By buying a t-shirt, you are financially supporting the anime industry. Making and bringing anime over to the U.S. (or whatever country you live in) isn't cheap and it's not wrong for them to want to make enough money to continue doing so. I think their efforts should be rewarded once and a while. Also, having merchandise related to your favorite franchises is yet another way to show and deepen your love for them! If you're a true fan, a t-shirt is the perfect way to show it! At the very least, you can take a few moments to browse various wares, assuming you can find them.
Finding an anime related t-shirt can be a difficult task. Anime is a niche field, so you may not be able to find that perfect t-shirt that suits you. I don't expect department stores to have Naruto or Bleach t-shirts for example. They do exist but you'll need to know where to look. Conventions are a good source but conventions may not accessible to everyone. Another option is to go online but it can be risky to shop on the internet, especially with an untested name. If only there was a respectable brand you could trust?
Well worry no more because there's a great place to get those life changing anime t-shirts; 91.8 The Fan! The place to go for the best in Asian music and anime coverage is also a hot spot for anime friendly clothing! We carry a full line of anime themed t-shirts suitable for everywhere from the convention floor to your mom's house! We have Pokemon and Kingdom Hearts t-shirts perfect for being anywhere clothing is required! If you want to show off your hardcore fandom, we got shirts celebrating Yaoi, Yuri, and being desu as frak! My personal favorite is the classic Brie t-shirt adored by our lovalbe mascot. Don't like those? Don't worry! We regularly come out with new designs that may be just the thing for you!
Our primary T-shirt distributor is Sharkrobot. Sharkrobot is an online shirts and stuff store that caters to gaming and anime geeks. They're the merchandise distributor for many brands you're already familiar with such as YuGiOh Abridged, Team FourStar, and The Megas. The people over at Sharkrobot are very understanding and The Fan is quite happy to have them as business partners. They even have things on clearance like our Brie t-shirts for only 9.95 (as of January 2013). Get them while they're cheap!
Our secondary T-shirt distributor is Red Bubble. Red Bubble is an online store that defines itself as a place for independent artists to share and sell their works. If you find yourself bored by mainstream graphics, then Red Bubble is the place for you. 91.8 The Fan has a large variety of t-shirts to choose from there. The downside is that they are a bit more expensive then what you would pay at Sharkrobot. Still, it's worth it if it'll get you that uber t-shirt that you'll always enjoy.
If you don't have a credit card, don't worry! 91.8 The Fan can come to you! We get invited to many popular conventions like Kami-Con, Youmacon, and Anime Vegas just to name a few. Check out our events to see if we're going to your local convention, and just come up to our table in the dealer's hall (or artist's alley). You can check out our stuff in real life, and get to hang out with some super cool staff members (and why not buy a fanatic subscription while you're there?). If you can't wait, many stores carry gift cards that operate just like credit cards. Just be sure that they are issued by a credit company like Visa or Mastercard. I would like to note that they do have an activation charge which you'll need to account for. It's the perfect option for the security minded shopper weary of going online.
I hope I convinced you to buy an anime themed t-shirt for yourself. A t-shirt is a great way to publicly show your love of anime! When fellow anime fans see your shirted splendor, they be happy to know there's at least one other person out there who also enjoys anime. Who knows? They may even walk up to you and say, "Nice shirt. Where'd you get it?"