Posted on Jan 01 2012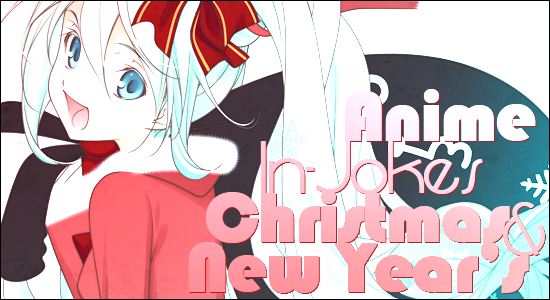 What better way to start the new year than with another edition of Anime In-Jokes? As we struggle to take in that extra hour of sleep and some of us fight hangovers, we think back to the holidays that left us feeling like zombies: Christmas and New Year's. (As soon as an anime features Hannukah, Ramadan or Kwanzaa, you all will be the first to know.)
I mentioned these two holidays in a previous article article, but there's a lot more depth to cover. So bust out that egg nog once again as we settle into Anime In-Jokes: Christmas and New Year's.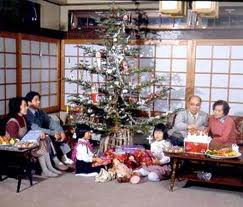 Christmas in Japan is viewed in much the same way Valentine's Day is treated in the west: it is a consumerist holiday meant to be shared with a romantic partner (or alone and full of chocolate in some cases). Only about 1% of Japan's population is actually Christian, with the rest typically ranging from "I don't know" to "I guess we're Buddhist."
Despite that, Western Christmas traditions have integrated into Japanese society. Malls feature trees and Santas, while the majority of Japanese households celebrate Christmas with a variety of strawberry-vanilla sponge cake.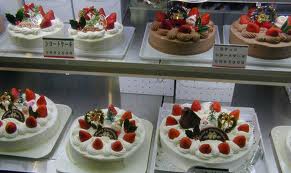 A variety of Christmas cakes.
Interestingly, "Christmas Cake" is also a phrase used in Japan to describe women and marriage: desirable until the 25th, and then stale and crumbly with each year that passes.
KFC has also become a huge hit during the Christmas season. Seriously though – google image search "Japanese Christmas" right now. The Colonel's creepy face will stare back at you in the majority of the pictures. According to tanutech.com, this is because of KFC's brilliant marketing campaign that has convinced the population that chicken is typical Christmas fare – not ham or turkey. Next thing you know, McDonalds is going to try to convince us that burgers are Christmas treats. Oh, wait…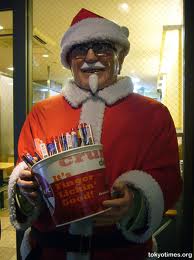 Colonel Santa
Christmas is not recognized as a national holiday and people in Japan do not take the day off from work. Meanwhile, the emperor's birthday, December 23, is viewed as the more important holidays. Christmas Eve is a very popular time for couples to go out to dinner or spend the night in a hotel – so much so that About.com warns not to wait until the last minute to book reservations.
Year-end parties, or bonekai, are viewed more as part of the holiday season than Christmas. These parties are held amongst friends or coworkers with the sole purpose of drinking the worries of the past year away, though sometimes presents are exchanged.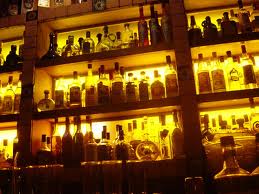 A tequila bar in Japan.
Bonekai are not held on a specific date in December, so About.com states that it is common to see drunken people throughout the month. Originally, Bonekai were a way to solemnly end the old year with poetry and deep thought, though that all changed in the Edo period and remains a drinking party today.
The year can't end without a New Year's celebration. New Year, or shogatsu/oshogatsu, is considered to be the most important holiday in Japan. Most businesses shut down for three days around the New Year and families all gather to spend the holiday together, much in the way Westerners celebrate Christmas together.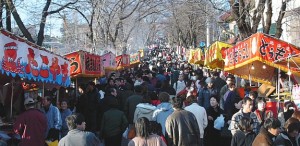 Beware of the crowds during New Year's.
Instead of watching the ball drop at midnight, Buddhist temples ring bells a total of 108 times to symbolize the 108 sins of humanity, according to Buddhism. The bells are rung to alleviate the citizens of these desires and feelings so they may have a fresh start the following year.
The people of Japan stay up to watch the first sunrise and typically view it from a high point – like on mountains or the roofs of their houses. They send postcards to loved ones marked for delivery on January 1st and give money in colorful envelopes to children, in an act called otoshidama.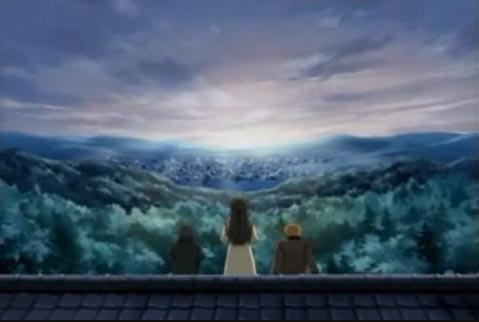 Tohru, Yuki and Kyo enjoy the first sunrise of the new year on the roof.
With any Japanese celebration comes traditional food. (The same as Hannukah – seriously, why are there not more Japanese Jews?) Mochi with a bitter orange on top, kagami mochi, are served and are actually the cause of some choking deaths on New Year's in Japan. Other traditional foods include soba noodles, for longevity, and a series of different sea-based and bean-based foods called osechi ryori that are kept in fancy bento-like boxes.
Traditional games for New Year's in Japan are badminton, kite flying and a card game. Though recently, these have fallen out of favor and instead families gather around to watch the TV show Kohaku Uta Gassen. This show features Japan's top pop idols competing on teams in musical battles.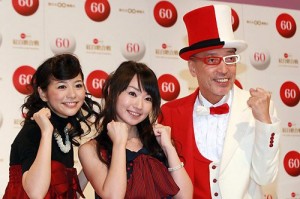 Kohaku Uta Gassen.
The most important tradition is the "firsts of the year." Everything is treated as special, from the first trip to the temple to the first day at work to the first shopping sale of the new year.
Shrines and temples expect a large influx of people visiting, so they normally have food stands set up to appease the enormous crowds. Japan-guide.com warns that navigating Japan on New Year's can be rewarding, but is mostly frustrating since nearly all businesses are closed and crowds of people are everywhere.
On January 2, the emperor makes several public appearances and opens his palace to the public to wish everyone a happy new year.
Akemashite omedetou! (Happy New Year!)
Sources:
http://gojapan.about.com/cs/christmasinjapan/a/chrismasinjapan.htm

http://www.japan-guide.com/e/e2299.html
http://tanutech.com/japan/jxmas.html

http://www.japan-society.org/index.php?nav1=section&secid=5&subsecid=67&articleid=28
http://en.wikipedia.org/wiki/Japanese_New_Year
http://www.japan-guide.com/e/e2064.html