Posted on Jan 15 2012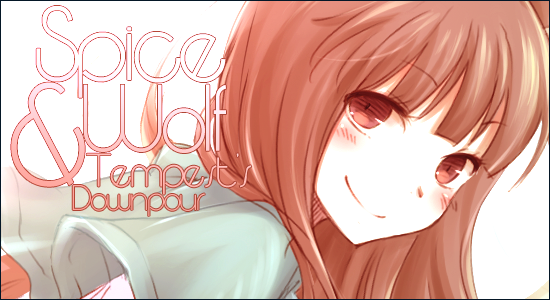 Spice & Wolf is the story of an unlikely duo, a merchant and a goddess, who travel across a European-esque land on a personal journey. They fight for survival, and mostly to turn a profit.
Characters
Holo – the wolf-goddess, as she will remind readers about one hundred and fifty times. She's unusually proud, but crafty enough to make up for it. She develops a soft spot for wine and apples.
Lawrence – a travelling merchant whose all-encompassing goal seems to be to make as much money as possible. He has developed quite an astounding social network for the sheer purpose of turning a profit. He doesn't seem to care about anything other than money.
Extra characters – so many of them are introduced, but as Lawrence and Holo travel, we never see them again. This story seems to be solely about Lawrence and Holo until…
Norah – a shepherd who is…. tiny. And adorable. And that's all we know about her in volume 3.
(Of note: when I first encountered Norah, who is clad in androgynous clothes and is a shepherd, I was totally chill until a character pointed out that she was, in fact, female. "IMPOSSIBLE!" I declared. "HOW CAN THIS TINY, FEMININE, SUBMISSIVE THING BE FEMALE?" And then I realized that this may be a mark that I've been writing too many articles on yaoi.)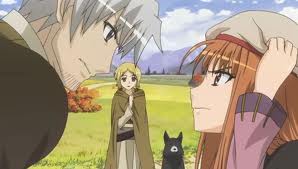 Left to right: Lawrence, Norah, Holo
Strongest Character
Both Holo and Lawrence win. That may sound like a cop-out, but bear with me here: they both start off as characters you will never encounter in another anime. Holo is proud beyond measure and Lawrence seems to be a sociopath who cares only about money. As time goes on, they develop a bond of sorts. That bond seems to exist only because Holo is good at trickery and conning, which benefits Lawrence.
Then Holo starts to reveal how lonely she's been. She opens up a more sensitive side to herself, which I honestly felt was a little too weak. It was turning this marvelous goddess into something with weakness.
Then Lawrence started showing signs of weakness and attachment when Holo was in trouble. There goes my theory about his being a sociopath. Oh, AND, all he wants to do is settle down and own a shop because travelling is lonely….. really? Really guys?
So both Holo and Lawrence are equally strong – and equally weak – so that they balance out one another. They're also the only main characters thus-far in the books, so there wasn't exactly a list to choose from.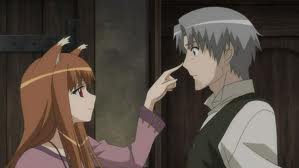 ""You win!"
Strongest Scene
With the fewest spoilers possible, Holo and Lawrence are trapped: cornered by an enemy too fast and intelligent for them. They have no friends to rely on except each other and, injured, they face a dozen well-armed opponents.
Lawrence is given the offer to abandon Holo in order to save his life and earn a large cash reward. Lawrence doesn't hesitate to say that he'll stand by Holo. Holo shows her gratitude by taking some of Lawrence's blood…
She transforms into her true form: a beast so large and dangerous that it crowds every corner of the mausoleum they are trapped in. She tears apart the enemy as if she were picking fleas off herself.
Lawrence begs her to spare a life…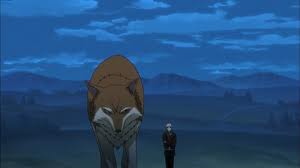 Compare heights: that's Lawrence on the right, Holo on the left.
Art
Though the artwork is done by one person (and a team working under said artist), the artwork is not incredibly consistent. Sometimes, it honestly looks like someone else has drawn a few frames. Look at the front cover of volume 1. Then compare it to the full-color pictures inside the book. They look like two totally different art styles.
This doesn't hinder the quality of the comic and it isn't frustration-worthy. The art is really quite nice.
Also, the art tries very hard to make Holo sexy in the most awkward ways. If she isn't stretched out luxuriously on a bed, she's cramming apples into her face. And when all else fails, she's grooming her tail… with her mouth… like a real dog. Correct me if I'm wrong, but that's not sexy. It always makes me a little confused, honestly: why bother with making her do that? It's an interesting character quirk and I like it, but it doesn't live up to its purpose.
Cover Art
HOW MUCH SEXY CAN WE PUT INTO THIS? C'MON GUYS. MAKE HER STRETCH JUST A BIT MORE.
Seriously though, that seems to be the point of the front covers and the random scenes in hotel rooms: make Holo stretch luxuriously so we can acquire more male fans. Okay, guys.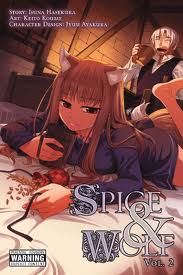 The front cover of Volume 2. Streeeeetch…
Back Cover Summary
These summaries contain reckless use of exclamation marks. Otherwise, they do a pretty good job explaining the plot. The summaries were, in fact, the reason I purchased the first volume. (Also because J. Michael Tatum voices Lawrence in the anime…)
Also, of note, the summary always makes sure to include mention that the manga is an adaptation of a novel by Isuna Hasekura, which is good marketing because Yen Press publishes both the manga and the novel.
Author's notes
The story was written in novel form by Isuna Hasekura.. The characters were designed by Jyuu Ayakura. But the manga itself was drawn and abridged by Keito Koume. Confusing, right?
Well, at the end of every volume, Jyuu and Isuna leave messages and drawings for Keito, with messages like, "Great job! The characters look so cute," etc. The notes aren't terribly exciting, but it's nice to see so much support.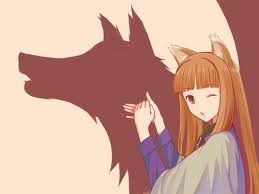 So the Wolf is Holo, and the Spice is Lawrence because he trades… spices. Yeah.
Who Will Enjoy This?
People who only read manga if it's shrink-wrapped. I'm kidding of course.
This story will appeal to anyone who enjoys anime, but wants to encounter a story that hasn't been told before with characters that are new and refreshing. The author does "European" well – it's not like Kyo Kara Maoh where everything has a strangely Japanese twinge to it.
Regrets
I really wish Holo and Lawrence hadn't revealed their sensitive sides so soon in the story. I would've liked to hear more of the tale of the proud goddess and the sociopathic merchant before emotions came into play.
Also, what's the point of a series being shrink-wrapped if it isn't even that naughty? Holo's nude in a few panels of the first volume and in a color page of the third volume and that's it. Sailor Moon is nude more than Holo is. WTF.