Posted on Sep 04 2012

The MSRP for The Testament of Sherlock Holmes, an upcoming adventure game for Xbox 360, PS3, and PC from Frogwares (the series' long-time developer and the studio responsible for the acclaimed Sherlock Holmes vs. Jack the Ripper), is now $39.99 for all three platforms.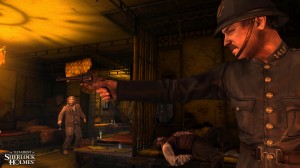 Title: The Testament of Sherlock Holmes™
Platform(s): 360, PS3, PC
Release Date: 09/25/2012
Genre:Adventure
ESRB: M for Mature
Players: 1
Website: www.sherlockholmes-thegame.com
MSRP (Updated):$39.99
The reduced price point aims to help the title, which has received positive buzz since it was revealed, better compete amid a crowded holiday slate.
For more information about the game, visit www.sherlockholmes-thegame.com.