Posted on Aug 07 2012

The most exciting fighting game in recent memory is now on shelves across North America!
Irvine, California – August 7, 2012 – Atlus, a brand of Index Digital Media, Inc., today announced that Persona®4 Arena™, its spin-off of the acclaimed Persona series of RPGs and now one of the best-selling fighting games of all time in Japan, is now available in stores across North America for Xbox 360® video game and entertainment system from Microsoft and PlayStation®3 computer entertainment system.
Atlus also today revealed a host of launch day downloadable content (DLC), some of which can also be unlocked through challenging in-game achievements. The DLC varies from sets of glasses for every character (an iconic aesthetic element from Persona 4) to additional Navigators providing in-game commentary and quick tips. The content is assured to be entirely cosmetic, offering passionate fans a chance to further customize their characters and play experiences without affecting the game's critical balance and mechanics.
The publisher furthermore addressed reports of lag from Xbox 360 system users, confirming that a patch was in rapid development and would be released as soon as possible.
"Hailed as 'The coming of age of the anime fighter' by IGN.com in their glowing 9/10 review, and still dominating both the arcade and console charts in Japan, Persona 4 Arena is a singular phenomenon," commented Aram Jabbari, Manager of Public Relations and Sales at Index Digital Media, Inc. "The game's tremendous momentum aside, we still have every intention of remaining committed to P4 Arena and the fighting game community beyond the title's launch window. Today, a new challenger appears in the fighting genre, one we believe is poised to Galactic Punt the competition."
An unprecedented collaboration between Atlus' internal studio and genre masters Arc System Works, Persona 4 Arena represents the biggest, most noteworthy expansion of the esteemed series to date.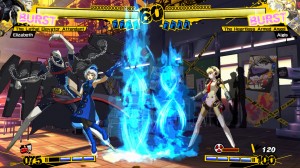 Its gorgeous, hand-drawn, high definition 2D anime-style fighters and colorful, over-the-top special effects bring to life a roster of characters from the critically acclaimed, highly popular Persona 3 and Persona 4 roleplaying games. Brought to home consoles with a host of additional modes and content not available in the arcade version, including a Story mode in excess of 30 hours, not to mention months of play-testing and refinement during the game's run atop the Japanese arcade charts, Persona 4 Arena is the ultimate 2D anime-style fighter, and the most exciting entry in the fighting genre this year.
Persona 4 Arena is out now across North America for Xbox 360 and PlayStation 3 systems. For more information, visit http://www.atlus.com/p4arena.