Posted on Jul 06 2012

Growlanser: Wayfarer of Time now has a shiny new website to complement its shiny (and beautiful) character art. Please, if you'll just follow us–wait, what's that? You don't know a thing about Growlanser: Wayfarer of Time?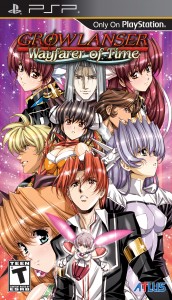 That's silly talk. Haven't you read all of the previous emails we've sent you on the topic? No? We're devastated, truly. If only you knew how hard our team of capuchin monkeys works on each one of our PR emails. Their adorable little monkey hands tremble ever so rapidly as they type away, their minds cheerily thinking of the banana treats we've lied to them about. So precious.
Anyways, as I was saying before you rudely interrupted us by not knowing a thing about Growlanser: Wayfarer of Time, it's actually a rather highly anticipated strategy RPG for PSP system. Perhaps not by a ton of people–THOUGH THERE WOULD OBVIOUSLY BE MANY, MANY MORE IF THEY KNEW EVERYTHING THAT MAKES THIS THE ABSOLUTELY AMAZING, INCREDIBLE, SHINY RPG THAT IT IS–but folks in the know know that it's one of the best entries in a legendary roleplaying series but is one of the only ones to never make it to North America……… Until now. Did you enjoy that dramatic pause? We lost one of the capuchins as he/she tried to make a run for the window. There, there, little monkey.
Anyways, a story of a threat from long ago, now forgotten by the denizens of the present but no less damning of their futures, combined with some terrific strategic RPG goodness, not to mention the beautiful artwork of Satoshi Urushihara… Look, it's amazing, that's what we're trying to say. And we're not just saying that because we're supposed to. Or because we want bananas. Sorry, the capuchins wrote that last bit.
So, in short, there's a new website. VISIT IT, WON'T YOU?
Growlanser: Wayfarer of Time for PSP system releases in stores and via PSN on 7/31.