Posted on Jul 13 2012

Flower Mound, TX – July 13, 2012 – FUNimation Entertainment announced today at San Diego Comic-Con that it has acquired the broadcast, home entertainment, video on demand and theatrical rights to the motion picture Athena: Goddess of War. This live-action movie is a spin-off to the hit Korean series Iris and stars award-winning actress Soo Ae.
The Blu-ray/DVD Combo Pack is scheduled to release on October 23, 2012 with an SRP of $29.98.
Rating is TV-14.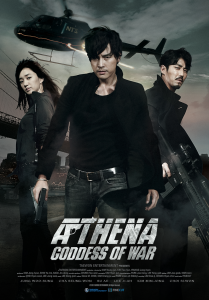 Series Synopsis
Beautiful double-agent Yoon Hye-in is caught in the middle of a game of nuclear espionage – and torn between two very different men. One heroically fights beside her on the anti-terror task-force known as NTS. The other ruthlessly controls Athena, the extremist organization NTS is trying to stop. As Yoon Hye-in struggles to choose between them, growing suspicions from all sides put her life on the line. Can she keep her double-life hidden? How long can she play both sides of the law – and two powerful men – before her cover is violently compromised? The countdown to an explosive stand-off begins now!
Additional information may be found at: http://www.funimation.com/athena-goddess-of-war
About FUNimation® Entertainment
FUNimation® Entertainment is the leading anime company in North America. FUNimation has a proven formula for launching and advancing brands. They manage a full spectrum of rights for most of their brands including broadcasting, licensing, production, internet, and home video sales and distribution. For more information about FUNimation Entertainment and its brands, visit www.funimation.com.