Posted on Feb 26 2012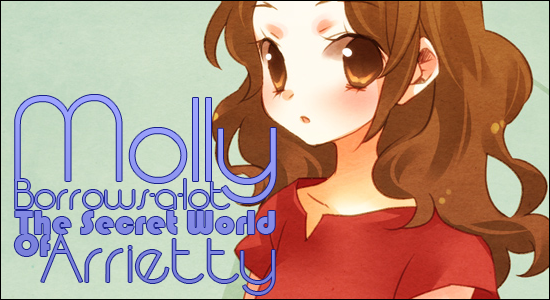 Ever wonder what lives under the floorboards? Take a peek into a world where everything small is could be the greatest danger and every human step is a natural disaster. Explore unique and unlikely bonds as "beans" and "borrowers" peacefully coexist. Welcome to The Secret World of Arrietty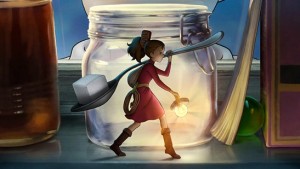 Let's be honest here, I don't care that I was in a theater audience of primarily 8 years and under. I don't care that there is an unspoken stigma of adults going to a kid's movie without a 5-year-old reason to be there. I don't care. Why? Because it's Ghibli. I wasn't about to waste this chance to finally see my first big-screen Ghibli film. And I am glad I didn't. Arrietty is a gift that just kept on giving throughout the following week. It is for the events that transpired the days after that I will hold this film close to my heart. With that said, let's get on with the review!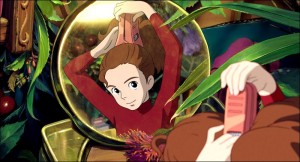 Arrietty is a modernized interpretation of Mary Norton's popular 1950's children's book series called The Borrows. Hiromasa Yonebayashi of Ghibli Studios took the basic premise of little people living in human dwellings and set it in suburban Japan. It's to no surprise that Ghibli kept certain defining features of the books intact, such as the character names, but squeezed in a few of their calling cards as a nudge and wink towards loyal Ghibli fans such as myself. This quietly whimsical retelling follows 14-year-old Arrietty as she embarks on her first "borrowing" with her father, a long time borrower, Pod (voiced by Will Arnett). Arrietty is of a species of humanoid creatures called "borrowers" or, as the human "beans" call them, the little people, as they strongly resemble their full-size counterparts. The borrowers, living hunt and gather lives under the homes of "beans", take the supplies they need to survive under the shroud of night.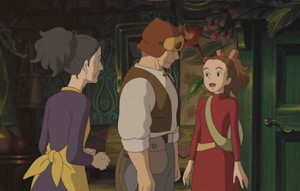 Arrietty is a brave, efficient girl (a classic Ghibli heroine by all means) and claims to be unafraid of the "beans". Her mother, Homily (voiced by Amy Poehler), is an excitable worry-wart, who is in a constant panic over Arrietty's need to venture outdoors where the "beans" could find her. Pod, a bit of a crafts-man, is a soft-spoken man of few words who sees his daughter as a strong, capable girl. Together, they have built a happy little home under the floors of one sneaky house-keeper, Hara (voiced by Carol Burnett, yes, THAT Carol Burnett) and an unimpressed Aunt Jessica (voiced by Amy Poletti).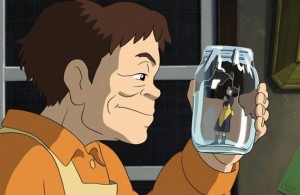 Here's where things get fun. Shawn, a weak-hearted boy resting at his aunt's home before a major heart surgery happens upon these little people of his mother's stories. In the dead of night, Shawn spots Arrietty trying to filch a tissue. In a panic, she drops her borrowed sugar cube and gets right out before matters get worse. Well, matters got worse, but I won't get into that. You'll just have to see for yourself.
I simply can't sell this one short. For every aspect that this film fell short, it was made up for in pure, heartwarming and imaginative engagement. Sure, the story's end was a tad abrupt and certain characters just lacked the development they needed, but I can't possibly hold anything against Ghibli for this refreshing little adventure. I will say, I felt a severe deficiency of soot-sprites. What's a Ghibli movie without soot-sprites?!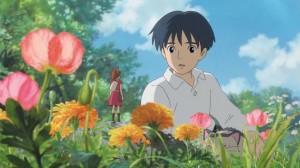 I suppose I do have a small bone to pick. When all is said and done, this film barely breaks the 90 minute mark. In about an hour and a half, we see little to no character development on the part of our to main protagonists, Arrietty and Shawn. Half of the film was spent establishing the distinct social isolations imposed on the Borrowers and beans. To that end, only one conflict came to pass and its resolution left me wanting just a bit more meat. Shawn, played by up-and-coming Disney Channel regular, David Henrie, had little to do but weeze a bit and awkwardly spit out his own take on the meaning of existence. Though his story lacked a bit of backbone, his quiet, contemplative nature allowed his character to be the perfect vessel for accepting some less-than-ordinary circumstances.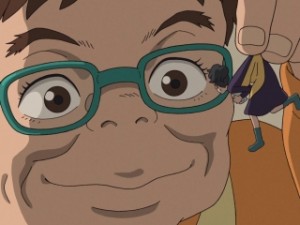 In short, the characters felt a bit flat. Take Hara for instance. Donning the typically Ghibli frog-face features, Carol Burnett had the room to flex her charismatic muscles. I only wish we got something more out of her character. She was crazy with no motive. She had no reason to want to capture the Borrowers nor did she have just reason to call pest control. She was simply a well-acted fruit-loop with a loose end. But one can't deny that Carol Burnett hit her voice acting right out of the park.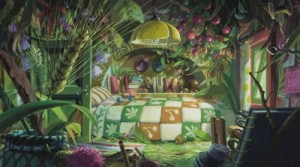 Here's where I get all sentimental, so just humor me for a bit. I hold a special place in my heart for Ghibli's films if only for the real-life bonds they forged and the memories they created. Arrietty brought me to place where I could see my childhood through the qualitative eyes of an adult but experience it with the abandon and whimsy of a child. Something beyond our wildest imaginations could be hiding in the grass we step in every day. To us, it is simply grass, to a child and to a Borrower, it is a forest rife with the potential for earth-shaking discovery. Something in the setting, with its traditionally painted skies and rich greenery brought me back to this mind-set that I abandoned years ago.
I had the pleasure of exchanging thoughts on Arrietty this past Monday with a professor of mine with two young children. She opened me up to a perspective that I cannot even begin to imagine for myself. Viewing the film as a parent of a young child gave her and myself insight into just how keen children really are.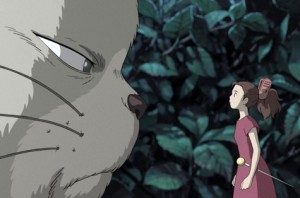 She wrote, "I asked my daughter (6 years old) what her favorite part was and she said 'all of it'." This film is quiet with barely as much action as the trailers boast in their clever editing. We tend to assume that children need constant activity to warrant sitting through a movie for a couple of hours. It really doesn't take much to evoke an emotional response in a child when you introduce them to a story that could take place in their own backyard.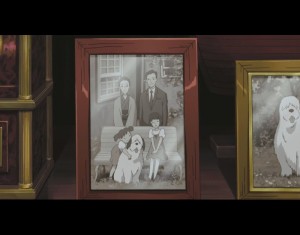 She continued, "I think that she started to consider the fragile nature of life with the Shawn character's heart condition (she hasn't really faced that in much media, since things have gotten sort of Barney-fied for kids)." Faced with the brutal nature of his own mortality, Shawn's story introduces children to the idea of scary circumstances that are simply beyond their control. We are gently assured that though life is fleeting, there is no reason to live in a state of perpetual acceptance of fate. However, we don't skirt around the issue. It is ever present in the world, there is no denying it, but can't we enjoy what we have with a little reckless abandon?
What I suppose I want you to take away from this movie isn't just a feeling of relief with an abrupt return to the everyday, but a new perspective, or perhaps your old childish instincts, on the world around. The grass in your yard is a jungle to a Borrower and that house cat a giant among beasts. We, as adults, tend to overlook the potential for exploration and discovery in our own backyards. Kids and grown-ups alike can benefit from seeing the "unexpected" in the everyday. Perhaps if we saw things the way the Borrowers do, we can get a fresh, exciting perspective of the otherwise monotonous and ordinary. We forget about that little thing called imagination.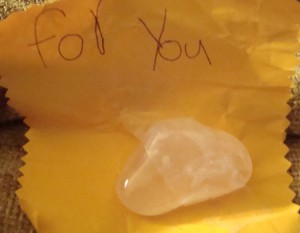 "What I love the most is that she wanted to leave things around the house for Arrietty with notes attached", she continued on. "I take them and she gets really excited about it — again, there isn't much out there to push kids to use their imagination and live in the 'abstract' or 'unseen', so I love that she is going to that instead of playing so much Angry Birds." This. This made my heart sing. This movie did its job. The following day my professor caught me on my way into class and handed me a crumpled orangeish-yellow sheet with "For You" scrawled along the top. Within the paper's jagged edges was a gleaming, polished rose-quartz taped down with scotch tape. This was her daughter's latest gift to Arrietty. In return, I filled a Borrower-sized bottle with tiny bits of polished garnet with Arrietty's sewing-pin sword coming out of the top if the cork. "For you; From Arrietty" I wrote. It is my hope that she carries that as a reminder to never let go of childish whims. You never know when a new adventure is afoot.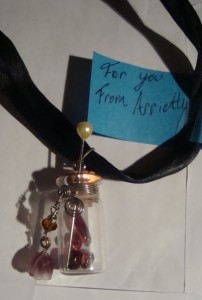 Films rarely evoke any sense of nostalgia the way Ghibli films do. Perhaps I speak for myself, but Arriety brought me back to days I had long forgotten and my professor's daughter reminded me of how a little time spent at a Borrower's eye-level could refresh my otherwise tedious, regimented life-style. Friendships arise in the most unlikely of forms, even of Borrower and human "bean". And most importantly, when that cube of sugar or stack of crackers mysteriously go missing, remember to step lightly because you never know when a Borrower is in your midst.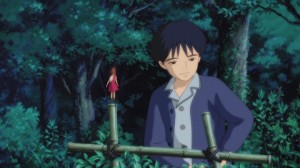 This was a special treat for me to share with you this month. I want to graciously thank my professor once more for giving me her time, insight and treasures. I am more than happy to play Arrietty again at any time. Of course, thank you, my dear ranters, for another month. Come back in March for a continuation of this family-friendly series. Until then…
Bibbles out