Posted on Jun 14 2012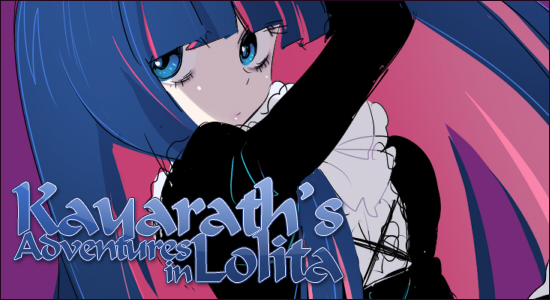 I find it ironic that I'm the one who ends up writing about Lolita fashion. In fact, I would say that I'm the least fashionable person on staff. I can't really talk to people about the subject either. As an adult male, I can't be going around asking people, "hey, do you know where I can find some Lolitas?" without getting arrested. I'm glad that conventions like Zenkaikon exists. There, curious people can learn more about Lolita fashion. There was a fashion show and panel where one could get an eyeful of Lolitas and some know how on dressing like them yourself.
The "Tokyo Stomp! Japanese Alternative Fashion Show" was held at Zenkaikon 2012. It was hosted by the store Miyumart and the group Frilladelphia. Zenkaikon is an anime convention in southeastern Pennsylvania. Miyumart is an online store that caters to fans of Japanese styles; with a IRL (in real life) presence in the Philadelphia area. Frilladelphia is a group of (mostly) young women who enjoy dressing up in Lolita styles and live around the Philadelphia area.
As per my policies on covering fashion shows, they are better seen then read about. I took a good sixty or so photographs and they'll all be in the Zenkaikon Cosplay Gallery. I urge you all to go check it out once it becomes live. As for the show itself, it was full of women walking around in highly detailed dresses, as if they were modeling them! There was an immaculately dressed hostess or two who gave explanations of the various styles that were being worn. After all the models had their individual turns on the (metaphorical) catwalk, they all stood together so people could take group photos. It was all very pretty.
If that didn't have enough Lolita for you, you could attend the "Lolita Fashion: Where to Start" Panel. There two two fine ladies named Tola and Skyler lectured a respectful crowd on Lolita basics. Apparently, it was formed during the late Eighties and early Nineties. Lolita fashion aims for a look that is frilly, feminine, and young. This is achieved through highly detailed quality dresses, skirts, and leg wear that emphasizes modesty (that means the clothing really doesn't show that much skin) and petticoats. Petticoats are sort of like underwear; they're a poofy skirt you wear under your dress in order to increase the dress's volume. I like to describe Lolita fashion as basically highly elaborate dresses, almost to the point of being cosplay.
There are many, many different sub-types of Lolita fashion. The types that are most familiar would be the Gothic, Sweet, and Classic styles. Gothic is darkly elegant; Sweet is bright colors and a sweet motif (having pictures of cupcakes, candy, and other treats adorn your clothes); and Classic has earthy colors and flowers. You can do Punk Lolita if you can figure out how to combine punk's general anti-order philosophy with Lolita's more well put together vibe. Casual may be easier to do since it's meant to be Lolita lite. The exact opposite of that is OTT (Over The Top) where you take Lolita's style philosophy up to eleven.
Lolita fashion goes well with whatever theme floats your fancy. You can combine Lolita with pirates, sailor, and steampunk ideals just to get you started. You can do WaLoli with traditional Japanese style or QiLoli with Chinese styles. There's also the Hime or princess look or you can go shear/pearl which is focused around a single color. I wonder if people tried combining Lolita with things like fantasy or business wear? There's a lot of different options out there to try.
If you want to get your hands onto some Lolita fashions for yourself, that's gonna be a bit of a challenge. Obviously, the ability to sew and make your own clothes is always helpful in fashion, but not everyone has that skillset. While some Lolita set ups can cost between three to five hundred dollars, you can dress up for less then a hundred if you know where to look. It shouldn't shock you to know there are Japanese places to go purchase Lolita clothing. While they are great (and authentic), they are expensive and designed to fit small Asian women. I'm not saying you're fat; I'm saying that on average, Asian women tend to be smaller and less curvy and not everyone has that body type.
There are plenty of other places to get your Lolita (fashion) on. There are tons of sites like Bodyline and Fan-Plus Friend where you can buy it. There are also EGL Community sales (EGL stands for Elegant, Gothic and Lolita). You can find good stuff just by keeping an eye open. You can always commission something from a seamstress if you can find one and even thrift stores can have a great hat or accessory for your ensemble. EBay is always an option, but watch out for scammers! You can generally tell if it's a scammer by their photos. If you've seen it before on another shop's website, chances are they're using other people's photos to trick you. Whatever you do, don't shop at Milanoo! The panel presenters have good reason to specify name that site to not shop from. There's plenty of complaints against them online. While you could shop from them if you're that desperate for a low price, you'll be rolling the dice and may end up with a piece of junk that wasn't worth buying in the first place. You're better off just avoiding them and all of their proxy sites.
What you should look for are Lolita websites where you can talk and learn from fellow wearers of Lolita clothing. The biggest Lolita website of them all is the EGL Community. I'm man enough to admit when I am completely outclassed and EGL completely outclasses me when it comes to Lolita knowledge. If you at all serious about Lolita fashion, go there! Other online communities to check out include Daily Lolita and Sew Lolita.
If you're interested in meeting and hanging out with other Lolitas IRL, then you should seek out your local Lolita group. Yes, there are local Lolita groups! There are groups of women who join up with each other for the sold purpose of enhancing and sharing their love of Lolita fashion. Philadelphia's local Lolita group is Frilladelphia which I would like to thank for informing me about Lolita basics. In fact, this article is largely me regurgitating what they said during their panel. While this information could largely be learned on Wikipeidia, they did share some unique info you don't normally find (for example: always dry clean your Lolita outfits because they are expensive). Either way, this isn't my proudest moment of journalism but it's important to spread the word.
At the very least, I hope I shed some light on the Lolitas. They're nice women who are well dressed and are always welcoming to new members or curious onlookers. Any women with the right mindset could be rockin' Lolita styles before she knows it! If you do decide try on some petticoats, let me take your picture! After you put your outer dress on over your petticoats of course. I'm no pervert.