Posted on May 16 2012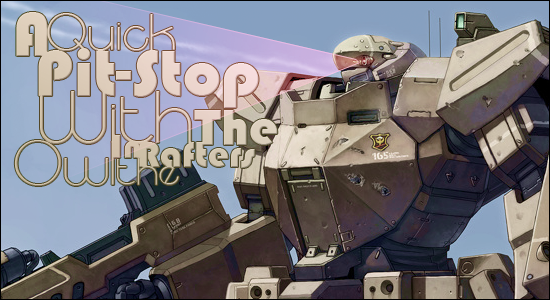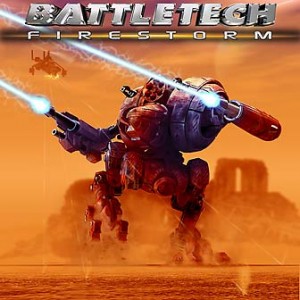 Ok, so I lied when I said I wasn't going to update again until the 4th Wednesday of the month. I have a mini update to plug in before my next big article. Anime Central still has a little more content to pump out of it for the year. I'd like to take the time to draw some attention to the Virtual World Entertainment, MechCorps Entertainment LLC, and VGCorps groups involved in the touring BattleTech road show that regularly visit anime, gaming, and sci-fi conventions around the southern and mid-western United States.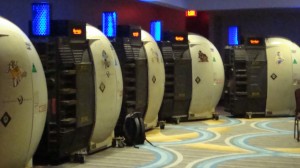 The BattleTech: Fire Storm game is a multiplayer arcade game stemming from the same BattleTech franchise and affiliated fictional universe that spawned the MechWarrior series of PC and home console video games that were popular during the mid 90s and early 2000s. Firestorm is the second generation of BattleTech arcade simulators, following the 1990 BattleTech VR which ran on the original Tesla arcade pod. The 2009 released Firestorm game runs on the updated Tesla II arcade pod, each of which is outfitted with 5 different MFD(multi-function display) screens surrounding the main heads up display, as well as a sort of PFD(Primary flight display): that is a total of seven different monitors. Each MFD displays information and menus pertaining to specific functions of your mech: Navigation, Communications, Armor, Targeting, and Weapons (as you can see in the illustration flyer to the left/right) each with corresponding buttons with which to cycle through and select your various different available options. basic controls are split up between throttle(1 axis, 1 button), two foot pedals, and a joystick. (if I am remembering this correctly it has 3 buttons and 1 trigger)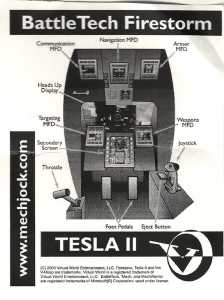 The arcade pod itself has a very nice retro, industrial sci-fi look about it and the look and feel of being seated in the cockpit with the door shut and only the light of your 7 monitors to see by creates a genuinely unique experience. In spite of what sound like a complicated barrage of conflicting interfaces and controls, any giant robot fan with a little bit of genre savvy will appreciate the appropriately complicated detail. In reality though, it's not as convoluted as it may look at first glance, really the somewhat daunting array of monitors just break down a standard HUD or game menu into an every present collection of status updates without the hassle and mood breaking process of pausing and navigating drop down menus, and with the added rush of excitement in adjusting and managing your mech's weapons, armor, and equipment in the heat of battle.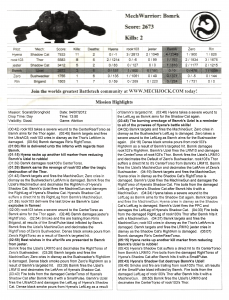 The game itself is remarkably simplistic. As one of as many as 5 to 15 other pilots engaged in any given conflict, you have your choice of dozens of mechs, divided into various weight/mobility classes, and all with their own unique combination of weapons, equipment, and stats. Once gameplay starts you and the other mechs are deployed onto a fairly barebones 3D rendered battlefield and depending on whether you're fighting in a free for all or on teams you have at it. When your mech gets trashed you're briefly warped out of and then back onto the battle field and let back into the fray. Individual matches last something around 7 minutes, and a single match can cost either $5 or $4 if you pay for a $20 card with 5 game credits on it. While you and your friends play in the Tesla pods, the entire conflict is broadcast over any number of standards TV or computer monitors cycling through different camera angles of the overall battle field, and when you're done you are even offered a full printout of your performance stats, and a summary of the entire conflict.
What I absolutely love about this concept is that it is the embodiment of a nearly 3 decade old dream of sci-fi geeks bearing just the earliest signs of fruit. With the original BattleTech franchise spanning back into the 80s and permeating almost every medium of fiction available on the company's admittedly modest budget, the development of the Tesla pods and updated Tesla II pods is a hardware development that has sadly gone unnoticed, under appreciated, and holds an enormous amount of potential that remains altogether untapped.
I'll spare you my usual ranting today in favor of just sort of fanboying in a somewhat organized manner: The first BattleTech center was opened in Chicago Illinois, USA in 1990 and later spread as far as Japan where it saw great success. While the American activities and expansion of the Virtual World Entertainment company have gone about over the past twenty years without much disruption to or by the rest of the game industry, the Japanese branch folded by the end of 2000 and has since gone without resurrection. But I personally don't believe that this was due to any real lack of interest so much as financial complications in either trying to run and overseas outlet or maintain a foreign division of what was always a fairly small company and one that frequently saw a change of hands in ownership during the late 90s. Where as the American market for arcade games and the arcade scene in general fell prey to a violent crash and burn during the late 90s and early 2000s, Japan's has always held a firmer grip on its place in urban Japanese culture and so I suspect that the domestic competition was just too steep.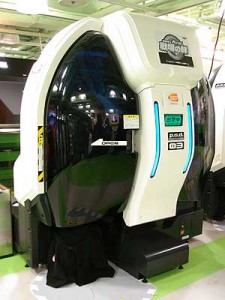 Of course it could also be possible that the Japanese simply didn't take to the BattleTech title as an unfamiliar franchise, considering that the Japanese revisited the base concept themselves in 2006 when Bandai Namco and game developers in Banpresto produced the Mobile Suit Gundam: Bonds of the Battlefield P.O.D. (Panoramic Optical Display) arcade machines. The beautifully designed machines offer a 180 degree screen, physical feedback, and online gameplay to allow for full 8vs8 matches ready to launch at all times. The game of course featured a wide selection of original Mobile Suit Gundam machines, both United Earth Federation and Zeon models, to pilot as well as a variety of different elaborate locations modeled straight off of the original 1979 anime TV series.
I don't mean to let Japanese big budget projects like Banpresto's P.O.D. overshadow the Tesla II by any means however. (I vastly prefer the Tesla II's mechanical appearance and performance to the P.O.D.'s) What I truly love about putting these two arcade machines side by side is showing just how much potential there really is for the Tesla pod series, for Virtual World Entertainment, and for the unique arcade experience in America as a whole. Think of what a system like the ones I've just described with not only a fully function mech simulator game available, but multiple different mech oriented games, with multiple game modes and map options in each would be like. Technically the Tesla pods have been used for just such an experiment, several Virtual World Entertainment centers around the US still feature both BattleTech games as well as a racing game called Red Planet on their Tesla pods.
Now imagine for a moment that the old 70s-80s arcade boom has somehow made a comeback. Imagine that you're on your summer vacation, you and four friends are off to the mall, or the movie theater, or if you still have one in your local town, an actual arcade for the afternoon. You and your friends find a machine like the Tesla II or the P.O.D. and between the bench of you, you split the cost of a 5 match card. You sit inside and settle into your seat, lean forward to your main dashboard and swipe your card before passing it off to your friends in turn. You watch the cycling title and leader board screens fade away and you're faced with a selection of games based off some of your favorite best selling sci-fi franchises: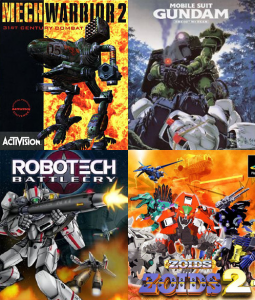 BattleTech, Gundam, StarWars, Zoids, Robotech, etc… as well as arcade original titles. You and your friends pick your game, your game mode, your machines, your weapons, your gamer tags, teams, and then server and open game. For the next 10 minutes you and your friends are rocked jolted and shaken in your chairs as you take on a team of 5 Japanese late night arcade crawlers in an explosive and fast paced team elimination game, or capture the flag, or territory capture, or race through well rendered well modeled set pieces from the show/ movie you're familiar with or brand new ones that you can explore and master.
When I see the BattleTech road tour team at events like Anime Central, I don't just see a cool arcade game with a unique gimmick, what I see is the potential inherent to the arcade scene: an immersive experience that you can't get sitting in your room in your parents' house or in a dorm in your boxers and a tee-shirt. The sort of mechanically awe inspiring and aesthetically and stylishly appropriate apparatus that makes your eyes light up, your heart skip a beat, and your inner child gasp and squeal with pure honest impulsive excitement: the sort of machine that you not only can't afford but that isn't going to fit in a house you'll ever afford in the next 10-20 years. What I see is the future of competitive online gaming. (after all, let's face it you're never going to get a decent lag-free internet connection to game on living out of a ruddy little house/apartment/dorm, and why even pay the obscene prices for a better provider when an arcade owner can shell out for a silky smooth T3 connection?) Given the right financial and public support from enthusiastic gamers, sci-fi fans, and just geeks in general, a group like Virtual World Entertainment could rock the world with something like the Tesla pods line in the near future.
The future will just have to wait for now though. For the time being, I'm just happy to spread the word and give a little bit of recognition to a group that I admire for their ongoing efforts to bring a fantastically fun and unique gaming experience to nerds here in the US. For those interested, information on both current permanent BattleTech centers and of conventions on the road tour group's schedule for the rest of this year can be found on the Virtual World Entertainment BattleTech Centers wiki and the Virtual World Entertainment LLC homepage, respectively. I hope you'll take the time to check out this group if you're in any of these areas at an appropriate time.