Posted on Oct 25 2011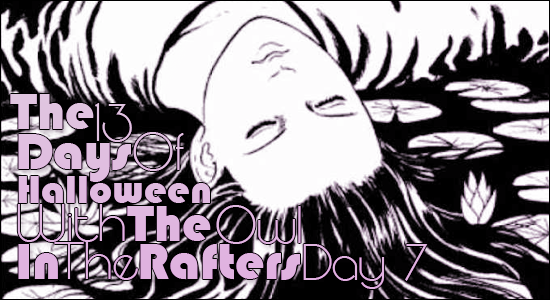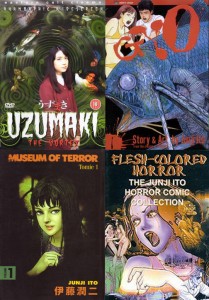 Welcome back to the 13 Day Halloween countdown! It's day seven, our approximate half way mark. Today I'm covering Uzumaki (lit. "[the] Spiral" though sometimes referred to as "The Vortex"), by Junji Ito. Junji Ito has been a well known horror author for close to thirty years now. Among his list of notable manga, the three volume long Uzumaki and the two volume long Gyo (lit. "[the] Fish") have been published in English by Viz Media; Museum of Terror, a collection of short stories by Junji Ito that each saw publication in various magazines between 1987 and 2000, was licensed by Dark Horse Comics; and Flesh Colored Horror, another collection of short stories, has been licensed by ComicsOne.
I'll get this out of the way and point out that obviously this has nothing to do with Uzumaki Naruto, of Masashi Kishimoto's Naruto. To clarify the joke there, the workd Uzumaki means "spiral"/"swirl", or "whirlpool" and Narutomaki is a specific kind of ground fishpaste roll sliced and used to top noodle dishes like ramen. This and the fact that Kishimoto's Naruto character loves ramen, and even the shape of his hair are all just one stupid play on words about fishcakes.
This is also why the Naruto logo has a pink spiral behind it and why the seal on Naruto's stomach is a spiral. If anyone had ever tried to translate Naruto's full name, his named would have been Swirly Fishcake, and would be the main character in the Fishcake manga and the Fishcake Hurricane show, and then everyone would be even more confused as to why some kid named after ground up fish guts is parading around in a bad Dragon Ball Z cosplay and calling himself a ninja.
Anyhow, today's title has absolutely nothing to do with Kishimoto Masashi's cashcow. Junji Ito is on some occasions looked upon as something of a genius of horror, and he is indeed an author with a great deal of cult appeal, though he's never been a huge name outside of Japan. Despite the occasional over-hype, Ito does really display a fantastic imagination for the bizarre, surreal, grotesque, and ultimately genuinely disturbing. His storytelling plays with elements of the Lovecraftian lore and his art style is wonderfully detailed where it counts. His entire art style gives off a distinct impression of something like aged discoloration, as if through a tinted lens, despite the obvious lack of color, and it somehow lends to the strangely unsettling nature of the art style, even before any of the horror elements come into play.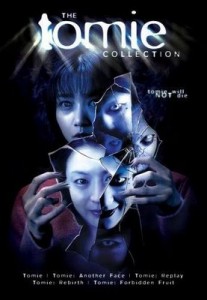 His manga Tomie, and of course Uzumaki have both had live action film adaptations, with Tomie seeing multiple sequels, prequels, and spinoffs since 1999. (The original Tomie film was followed that same year by Tomie: Another Face, Tomie: Replay in 2000, Tomie: Re-birth in 01, …Forbbiden Fruit in 02, …Beginning and …Revenge in 05, Tomie VS Tomie in 07, and Tomie: Unlimited just this past May of 2011) Also, recently the manga Gyo has been scheduled for an hour long direct to video release. If you're not familiar with the title, Gyo happens to be the origin of the GASHUNK! meme, which pokes fun at the English translation of sound effects from the manga, specifically during a scene in which a shark on mechanical legs breaks down the door to a house. Junji Ito is also the author of the short manga The Enigma of Amigara Fault which has become known in some circles for the line, "This hole was made for me" sometimes accompanied by the sound effect "DRR." The Enigma of Amigara Fault is also included as a bonus chapter in the back of the final volume of the English publication of Uzumaki though I won't be going over it as part of this review.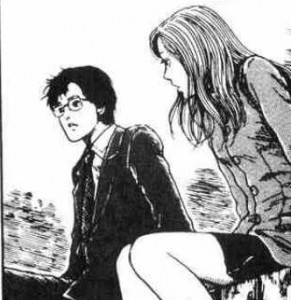 These are just a few titles out of Juniji Ito's repertoire however, but I've chosen to use just Uzumaki because of its notoriety, its pacing, and its easy accessibility in English. The story mainly follows Goshima Kirie and her boyfriend, Saito Shuichi living in their old home town of Kurouzu when strange things begin to happen. Starting with Shuichi's father, the town's population and even geography and weather begin to fall prey to a variety of bizarre problems. At first the incidents seem to be related only by the prevailing theme of spirals, until the frequency of strange occurrences gets out of hand and rather than different isolated incidents it seems more like the entire town itself is under assault. While all this happens we watch Kirie and Shuichi get wrapped up in uncovering the town's role in a freakish supernatural conspiracy and surviving the ongoing nightmare together.
To be perfectly honest, the story of Uzumaki isn't particularly believable, the characters aren't any more sympathetic than the next horror title's, and on paper the premise alone seems almost silly. Somehow though these components when brought together under Junji Ito's sense of style in art and writing creates a captivating little story. Perhaps what makes it so enticing is seeing the whole scenario develop and build from a few small incidents into a bigger ordeal that envelopes the entire town and everyone in it.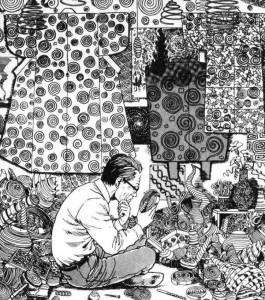 Certain events in the first phase of the story where the spiral incidents are still mostly random and mostly unrelated will likely solicit wildly different reactions depending on who it is reading, but I think one of the most agreeably unsettling and bone chilling series of events occur during Kirie's stay at the Kurouzu hospital after she is injured in the previous chapter. For two chapters Kirie stays in the hospital and bears witness to the curse of the spiral taking hold of an entire maternity ward's worth of mothers ready to go into labor within the week. The events continue on like things out of urban legend until around the start of volume three, where the town is struck by summer typhoons and the whole town begins to take on a distinctly apocalyptic look and feel as the curse's influence strengthens. By the end of the story Kirie and Shuichi find their way to the center of the mystery engulfing the town and .
Like Bio-Meat, I would like to have given this title and the author/artist himself more credit and kept it for closer to Halloween, but admittedly Junji Ito's work tends to be very hit-or-miss. His art is slightly dated, and his use of expressions can come across as more humorous than off putting to some people, and depending on what kind of attitude and/or expectations you have going into things, the little quirks can serve to distract some people from the real meat of the story and art. His sense of style concerning the supernatural is also highly subject to reader interpretation. Some people are more bothered by monsters or killers that function within and only occasionally bend a set of rules, often meaning the reader has an adequate explanation of what it is and how it works. Ito takes the very opposite approach, and insists upon the antagonistic curse having no feasible explanation and outright defying explanation all throughout the story, following a certain kind of vague modus operandi, but blatantly disregarding any scientific rationale.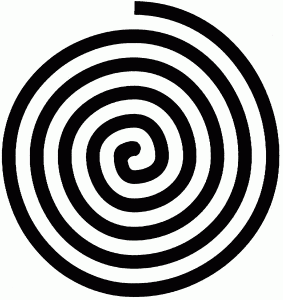 In the end analysis, Uzumaki really is a great little horror romp that plays with elements of urban legend, Lovecraftian supernatural horror, and small amounts of gore. The overall look and feel of the stories and the setting gives off a sense of eerie nostalgia and warm familiarity of the tiny little town slowly invaded by the chillingly bizarre, unnatural, and unexplained. The art has a somewhat unsettling and gritty texture about it and around mid-way into things you may start to find the omnipresence of spirals in nature to be just a little bit disturbing.