Posted on Oct 23 2011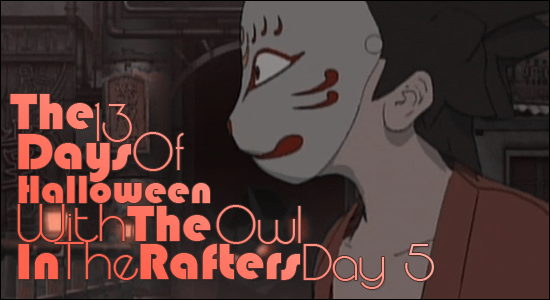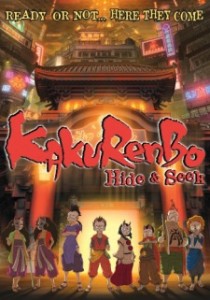 Today we're going over a shorter film, a 25 minute piece released in 2005 by CoMixWave inc., the small studio that was relatively unknown before they picked up young underdog director, Makoto Shinkai, whom I have covered once already, and recently a second time for the English premiere of his latest film at Otakon 2011. This is not a Shinkai film however, the director was one Morita Shuhei, who also wrote and drew the related manga under the same title. The short film in question is called KakuRenBo: Hide & Seek.
There isn't too much to go over with this one, as I said it's only about a half hour long, so this will probably be my shortest article ever. The basic plot is that in the heart of a busy urban environment there is a rumor about a game children play called Otokoyo. If you know what to look for and where, by follow the dying neon lights into the eerie abandoned district of the town you'll find a place where children in fox masks gather. The rules are simple: to play you must have a fox mask, and the game lasts until the final child is caught. The game itself is just a game of tag, with a play on the fact that in Japanese the "it" in tag is referred to as the "oni".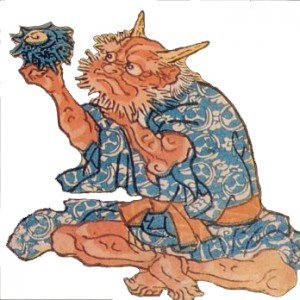 Let me just make an aside right now about something. (It has always been something that bothers me.) There really isn't a clean way to translate the word "oni" into English. Many times I've seen it replaced with "Ogre" or "Demon", but frankly while the physical descriptions may be vaguely similar, all of the cultural connotations are lost. The folk lore simply don't match up. Saying an oni is the same thing as a demon or an orge is like saying Eddie Murphey and Carlos Mencia the same person because they both match a basic description of "male/minority race/bad comedian". Sharing some common features does not automatically make them the same thing. I won't bog this down with a rant though, so we can just move on from here.
Getting back to the film, the plot and premise are really straight forward: a boy's sister went to play the game and never came back, now he is playing the game to try and find out what happened. Seven children gather to play the game and once it starts a number of monsters are released that chase them until only one is left. It's really just a typical horror/slasher plot, but it's done well and despite the straight forward plot, the whole thing is executed with a sufficient amount of style that keeps you entertained regardless of predictability. Funny enough however, the "oni" chasing the kids are actually a variety of different monsters, only one (arguably two) of which really fit the description of an oni.
The film is by no means a paragon of horror, but it is the perfect typical horror in that it embodies all the key elements any good horror should have. Under normal circumstances that might make it generic, but with proper execution it becomes exceptional. It utilizes good cinematography mixed with a well set mood of anxiety and tension which is supported by both the visuals and a fantastic soundtrack. The tension builds the way it's supposed to, the audio cuts when appropriate to create a sense of shock, the scenes and shots cut when most appropriate to give a sense of dread or uncertainty, and it all happens fast enough that you never really lose interest. Really, the story is just simple enough that there's not a lot to screw up, but the twist is actually quite clever and well foreshadowed: that is to say that there are clear hints at what the twist was well before it happened, but the kind only really noticed in retrospect. Also the twist I'm talking about is not the obvious one about certain characters, but there's that too. Speaking of the characters, they are fairly well designed, and well written enough that in just under a half hour you manage to get a pretty good feel for all of them.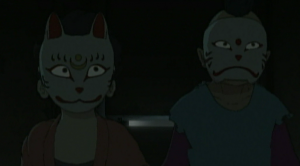 First is the main character, Hikora, who is defined mostly by his search for his sister, which pegs him as a typically innocent, honest, and heroic individual. His companion, Yaimao, who entered the game with him is an older boy also in search of the missing children tied to the game. The two appear to have some deep friendship, though it's not really elaborated on during the film, obviously as the whole thing focuses on the present and not on background stories or flashbacks.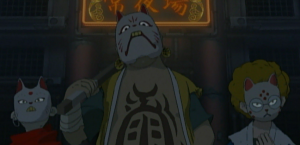 Next there is a group of three wannabe delinquents: a large boy who is the group's boss, a brainy looking kid in glasses, and a little boy in a scarf who doesn't really have any particular unique personality traits. All three prove to be cowards and the first to lose their cool and panic once the monsters show up. Technically the boys' names are Noshiga, Tachiji and Suku, respectively, but only the two goons are actually addressed by name during the film.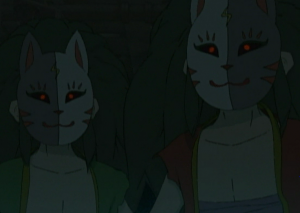 Then there is a duo of what are assumed to be twins. These two never speak so much as a word and have black eyes with red glowing irises, where as the other boys all have normal white eyes with brown irises. These two give off a distinct badass vibe, and where as the heroes sneak around looking for answers, and the gang of brats just run in terror, the twins actually try to fight the monsters. Like Noshiga they aren't actually addressed by name during the film, but their names are listed as Inmu and Yanku.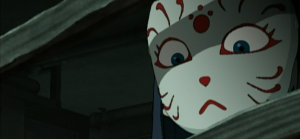 If you can count you know that already makes seven, and I said the game needed seven to start, but there is an eighth child. A nameless girl that Hikora insists resembles his lost sister, Sorincha, though behind the mask it's hard to tell. She at first seems to run off on her own, but crosses paths with Hikora pretty early in the game, causing him to give chase.
There are then the four oni, all of which are uniquely designed. The film actually makes a point of giving a perfectly framed mugshot of each and every one of the oni as they're introduced which I considered including here, but I feel like giving you such a clean shot of them would spoil things, since waiting to see what the next oni looked like was one of my favorite parts. Instead I'll just leave you with this classical illustration Hikora finds of the oni while nosing around the city. Starting from the left and moving right, they are: the Liver-Taker, the Blood-Taker, the Oil-Taker, and the Child-Taker.
The film uses the stock and standard classic cinematography and psychological angles of your run of the mill horror film but executes each cliche and staple with a refreshing amount of grace and poise. The animation also stands out as an early use of pretty darn well masked cel-shading and produced surprisingly clean results for early 2000s cgi, especially coming from a small independent company. It certainly helped that by using the gimmick of the fox masks, the children have no distinct or moving facial features to screw up on, save the eyes, although those almost appear as if they're part of the masks when seen close up.
Again, there isn't a whole lot to go over with this film. It's a good little horror romp that fits comfortably into it's half hour slot, and doesn't get the chance to ware thin or drudge on like many bad horror films are prone to.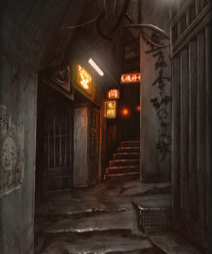 The art and design are really interesting and detailed and varied for just a 25 minute film and probably the biggest appeal point. No set is used more than once, each scene changes sets, and every set is remarkably detailed. The only real complaint I can think of is that the characters are all a little bit flat and can't really be sympathized with, but honestly that's something I expect of any horror film since the need for suspense tends to require dramatic irony, which in turn tends to make the characters seem oblivious or outright stupid, which tends to keep the audience feeling distinctly above them. Like I said though, that's something that tends to plague the horror genre as a whole, so with that small fault aside, this short film happens to be a personal favorite of mine -if only because it doesn't over reach its own potential and only does what it does, but sufficiently well- and one that I try to show to someone new every Halloween season. This year all of you are my victims! So, if you'll accept this challenge, now it's your turn to go out and spread this interesting little film to someone else this October. Tag. You're it.