Posted on Jun 06 2010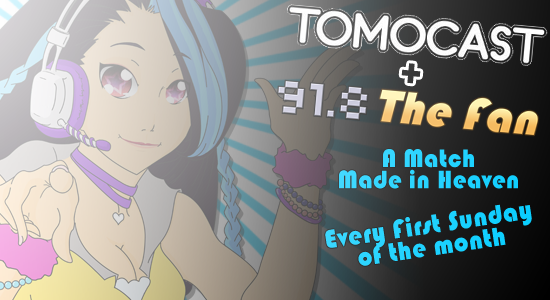 Everybody loves Tomopop, and everybody loves 91.8 The Fan, still. So what more could you ask for than to hear Tpop's podcast on 91.8 The Fan's air waves? Nothing, because if you did we'd call you greedy and take away your dessert privileges. Thankfully you don't have to ask for anything, because we've already given you what you need!
Every first Sunday of the month, from 12pm to 1pm PDT, you can tune into Tomopop's monthly podcast, Tomocast, right here on 91.8 The Fan. We'll be debuting their 8th episode today at 12-noon, so make sure to tune in, you don't want to miss out!
I know you're all curious about what happened to this weeks Japanator AM, unfortunate timing is the culprit! It turns out JTor AM's editor is in the land of the rising sun for an entire month! Keep it tuned, Fanatics!
If you're interested in checking out his daily Vlogs on his trip to Japan you can check them out here.