Posted on Apr 23 2010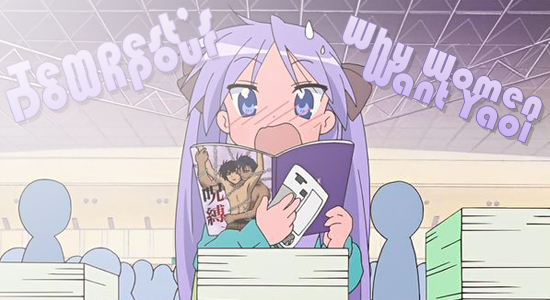 Why Women Want Yaoi:
Where Tempest answers the age-old question of why women like yaoi, and offends everyone.
Yaoi, shounen-ai, boys love, slash – it goes by many names, but one theme: boys who fall in love with each other for a predominantly-female fanbase. (For simplicity sake I will refer to it as yaoi.) Yaoi fans swarm more than just anime conventions and can be found wherever fanfictions live. They hail from every country, making it far beyond just a cultural phenomenon.
But why do women like this stuff? People have attempted to answer the question via everything from serious scientific studies to 3 A.M. answers on Yahoo Questions.
Here are a few of the answers supplied:
1)It's surreal.
2)Two pretty people are better than one.
3)Idealized romance.
4)No women to compare yourself to.
5)It can be aggressive.
6)The same reason men like yuri.
Yaoi isn't exactly your mom's anime. If it is, that's creepy. In yaoi, all the men tend to be absolutely, breathtakingly gorgeous. Especially in older programs, the male characters look almost like women and often crossdress (Patarillo!). Romantic scenes are sometimes displayed in wild technicolor (Kaze to Ki no Uta) and tend to involve themes that straight women never experience ("But I'm a guy. How can he love me?").
Now take that and times it by two. Spectacle is certainly a part of the yaoi experience, as any active fanart follower should know. It's rare to visit an art gallery without seeing at least a few decidedly straight male characters staring longingly into each other's eyes. And the sparkles. But if that were the case, women would be attracted to regular heterosexual pairings that are just super-prettified.
Women, as a generalization, tend to like drama in their romances. That's why chick flicks always have some earth-shattering moment where the two lovers seem like they absolutely cannot be together. And what better odds are their in pulling apart a relationship than public scrutiny and parental disapproval? ("I can't hold his hand in public – people will watch!") Then there's a conflict, which gets resolved when the one character declares his undying love to the other in an intense scene scattered with rose petals and shojo bubbles.
That's still not getting to the point though. The characters may be pretty and may declare their love for each other every five minutes, but any harem anime has those features as well. Why is it different when it's two men?
Lillian Diaz-Przybl, Senior Editor of Tokyopop, said in an article that women tend to associate themselves with the female protagonists in stories, and insert themselves into the protagonists situations [1]. My problem in associating with the female protagonist is that I tend to find her decisions completely inept – especially in regards to romance. Taking away that female component removes the desire to put oneself in the protagonists shoes, and allows women to sit back and enjoy the story.
But perhaps one of the telling reasons is that many women enjoy aggressive love stories [2]. However, the aggressor is typically male and is typically seen as abusive towards the submissive female. In the modern era, this is seen as something entirely negative and is one of the reasons most women take self-defense courses [3]. Change the submissive character to male, and suddenly it isn't a bad thing anymore!
It's amazing that I found so many articles devoted to why women like yaoi, and none about why men like yuri. It's just culturally acceptable for men to think two women together are attractive, while it is mind-boggling for women to feel the same way about the opposite gender.
No, yaoi fans and yuri fans aren't the same thing. In yuri that caters to men, often times the women look to the screen as if beseeching the viewer to join them. Meanwhile, yaoi has the two main characters stare into each other's eyes (for longer than should be considered healthy). Yuri doesn't always have an involved storyline while yaoi can have some very strange circumstances, but always tries to involve some intentionally heart-wrenching plot. Many women claim to like yaoi for its "liberating experience" while men often watch yuri for the spectacle.
Your turn, folks: agree, disagree, prove me wrong. It's your call! Leave a comment or discuss it in the IRC.
[1] Japanese Comics With Gay Themes Attracting Young Female Readers by Stephen Totilo
[2] Yaoi 101: Girls Love "Boys' Love" by Cathy Camper
[3] Educational – A Theory on Why Women Like Yaoi by Yaoi Press